People of Berlin send a loud OXI to Athens
This post is also available in: Spanish, Italian, German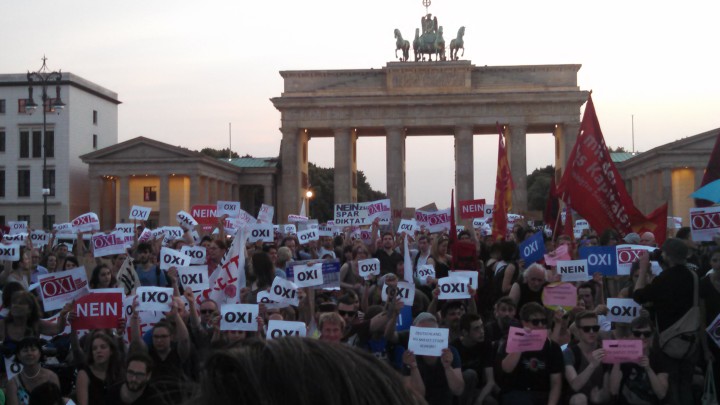 On the evening of Friday 3rd July, thousands of people gathered in Berlin for a demonstration under the slogan "Nein! Oxi! No! to austerity – Yes to Democracy!".
Organized by Blockupy Berlin, a broad section of the population and followers of many organizations found their way to Oranienplatz.
Despite a massive smear campaign throughout the mainstream media in recent days, calling the Greek Government stubborn, irresponsible and childish, and declaring in unison that Greece had finally squandered the little sympathy and solidarity that was left. Many people didn't agree and went to the streets in Berlin in support of the planned referendum and to support the Greek government's call to say No to European demands.
This isn't a solidarity rally for Greece, as the spokesman of Syriza Berlin emphasized but a rally for solidarity among the peoples of Europe, all of whom, sooner or later, will fall into the grip of austerity as one by one their necks are broken.
The Participants stood neither for a Europe divided by nationalist reflexes and national interests, nor for the neo-liberal and undemocratic Europe of today. It's more about the formation of an alliance between the people of Europe – another new Europe. Finally, we are all Greece.