South Africa: the man who walked 321km for harmony
This post is also available in: Spanish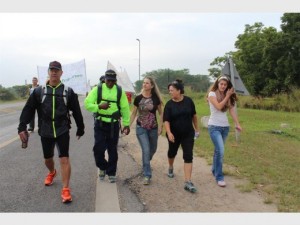 Mr. Duncan Nyawo is a teacher by profession who is troubled by a few things deep in his soul, and this caused him to walk from Nelspruit to Pretoria which is about 321 km just to deliver a message of peace and hope to the Presidency at Union Buildings in South Africa.
His memorandum covered particular issues; stop attacking white farmers; stop threatening the white people of South Africa by saying they must pack their bags and go!; stop defacing statues – to mention but a few.
When interviewed Mr. Nyawo said: South Africa needs whites,  Chinese, coloureds, blacks whatever. Therefore, let us live together as we need one another.
This one-man show was fully supported by Africa Forum Youth Leader Mr. Henke Maree; who said they have supported Mr. Duncan Nyawo from the beginning by providing him the likes of water and other needs. However, most people interviewed with regard to this one-man show peace walk were taken by surprise in the way in which Duncan has become bold enough to tell some hard truths about what this country is going through.
J.T. Jiyane is a Pressenza correspondent based in South Africa