Rohingya – falling between the cracks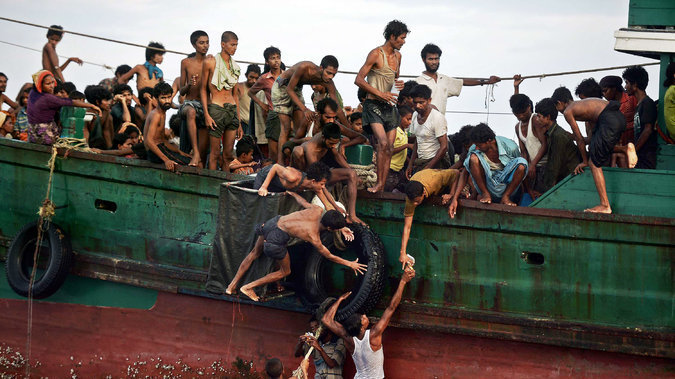 Myanmar has once again banked on its old trick to describe Rohingya Muslims as Bengalis to avoid its responsibilities amid growing international pressure on it to rescue thousands of boat people trapped at sea.
Following the rescue of 208 people from a boat on Thursday, Myanmar government officials claimed all of them were from Bangladesh and they would be deported to Bangladesh soon. However, government officials and experts on migrant issues in Dhaka termed it a ploy to push Rohingyas into Bangladesh.
Myanmar does not recognize the Rohingya population as its citizen. Its claim came under fire as Reuters news agency found at least eight Rohingya Muslims among the 208, after interviewing a group of them at Kyauk Taw in Rakhine state where the rescued have been kept.
A team of Bangladesh officials will go there immediately to interview them, said a top foreign ministry official. Over the recent years, thousands of "stateless" Rohingya and desperate fortune-seekers from Bangladesh embarked on dangerous sea voyages to Malaysia and other countries. A recent crackdown on the people-smuggling trade in Thailand led to scores of migrants being abandoned by trafficking gangs in the Bay of Bengal and the Andaman Sea.
Taking advantage of the situation, the Myanmar authorities are labeling the rescued as Bengalese. Even when the international media reported that several thousand Rohingya and Bangladeshi people are floating in the sea. Myanmar Vice-president U Nyan Tun on May 21 said most of the boat people were not from his country. On the same day, its information ministry cited Nyan Tun saying the assumption that people are fleeing the state due to suppression and discrimination are completely at odds with what is happening on the ground, although some people may be trying to migrate for economic reasons.
The next day, Myanmar's military commander-in-chief said some boat people landing in Malaysia and Indonesia were "pretending to be Rohingya Muslims" to receive UN aid and that the "boat victims" were from Bangladesh, according to Reuters.
Over the years, thousands of Rohingya people have fled to Bangladesh and other countries to escape persecution. The trend began in the late 1970s as its government continued to impose discriminatory regulations on the Rohingyas, estimated to be 1.1 million, mostly in Rakhine province.
According to the UN refugee agency UNHCR, the Rohingyas were not formally recognised as Burmese national group after the country's independence in 1948. Also, the 1982 Citizenship Law denied them citizenship. They are subject to various exploitations, including forced labour, extortion, restrictions on movement, denial of residence rights, inequitable marriage regulations and land confiscation.
Dhaka put on alert the border guards and local administration to resist any possible pushback from Myanmar. Prime Minister Sheikh Hasina said steps need to be taken not only against the intermediaries but also against those who try to go abroad illegally risking their lives and tarnishing the country's image.