Words and photos by LolaMora Productions
Between the 20th of January and the 8th of February, Gislaine's income dropped by 50 dollars a day – usually she takes between 70 and 90 dollars – from her business recharging mobile phones. The blame for this loss fell on the government which blocked the sending of SMS messages, internet access and mobile phone calls and access to social networks, across the whole of the Democratic Republic of Congo.
Everything began on the 18th of January when thousands of young people and members of the political opposition went to demonstrate in different provincial capitals like Kinshasa, Kisangani, Goma, Bukavu… to protest against electoral law reforms, which they considered to be manoeuvres by the President, Joseph Kabila, to stay in power after 2016, the last year of his mandate under the current constitution. According to Human Rights Watch, the repression of the demonstrations caused the death of 36 people, among them a police officer, and more than 300 people were arrested, some remain in detention today awaiting trial.
It was hard for Gislaine, who every day spends hours under her multi-colour umbrella, sitting in her sales spot in a street of Bukavu, the capital of South Kivu province. For 20 days making 10 dollars in the best of cases, out of which she must pay 5 dollars, is a big loss for a single mother with one child.
Live from the streets
Article 8 of the electoral reform law proposes to carry out a national census as a prior condition to elections in 2015 and 2016; a register that, according to ex-MP M'Bachu Nyenyezi, could last at least three years given the size of the country (more than 2.3 million km2), its deficient or non-existent road network and the enormous mobility of the population, whether due to displacements caused by conflicts, or due to economic migration.
In a country with a tradition of protest and a youth in possession of new tools, Facebook and Twitter were the most used channels for exchanging information about the development of the protests between the different cities in the country. Through them, the deaths of several people at the hands of the police were reported, with photos and videos published in real-time from the marches.
In a country where there are no fixed-line telephones, mobile phones are counted in their millions. Around 21 million people use them in DRC. Despite the business that these statistics suppose, mobile telephone companies folded to government demands and cut almost all connections for individuals and small and medium enterprises. Besides preventing the cheapest way of communicating, with the cutting of communications and the blocking of SMS chains calling people to demonstrate, the government and phone companies exercised information censorship and violated the fundamental right to freedom of expression, to inform and to be informed, among others.
In a country in which discrimination and violence against women is high, days of telephony outage are a threat to the security of women in the province of South Kivu, according to Femme au Fone.
Eventually, and after the deaths and tension, the Senate and National Assembly gave in and withdrew article 8 demanding a census before the election. But the SMS and internet outage on mobile phones continued until the 8th of February and access to social networks continues to be banned until today.
Communication outage = insecurity for women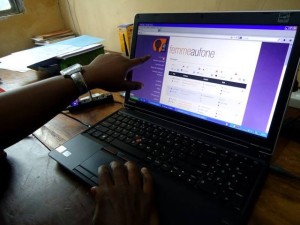 "I haven't been able to send you an SMS for more than a week. I tried calling but the network was down. I have information about cases of neighbours that need help." This was the message that a "reporter" for Femme au Fone could send by phone, eight days after the outage, from her home in Shabunda, a forested, mountainous area rich in gold in South Kivu, 2000 km from Kinshasa, which experiences a permanent armed conflict.
In Shabunda, the national army (FARDC) is fighting for control of the area against Raia Mutomboki (Outraged citizens). Raia Mutomboki formed a self-defence group in 2005 to repel armed groups coming from Rwanda and after having achieved their goal, they reproduced the tactics of their enemies controlling gold and cassiterite mines, robbing, raping and taking civilians hostage. In this unstable situation, all the information that reaches Shabunda about security and violations of human rights, and especially those of women, is dealt with urgently by the pressure group Femme au Fone (FAF).
Femme au fone, which means Women on the Phone, is a technological tool for communication and information, based on the systematisation of SMSs received and the security service of women in South Kivu. This system identifies and classifies every message (some 200 per month) according to the level of urgency and the subject it contains. The FAF team is installed in the Maendeleo community radio where programmes are broadcast to put pressure on the authorities. The system has been in operation since 2013 when a pilot project was tested.
The team made up of journalists, legal experts and social workers pushes the button every day to start FAF, although those who give life to it are the women and men who report the incidents, crimes and rights abuses related to human security, participation of women and peace in their communities. Bearing in mind that security and stability in the province are among the most fragile in the Great Lakes region, when serious or urgent SMSs arrive, FAF activates a protocol to send information to instances or organisations that can help the women where they are.
Against isolation and abuses
The last self-assessment carried out by FAF reveals that despite the pressure that they try to exert to put the subject of women's security and national security on the political agenda, there are many obstacles to overcome, among them a machismo with all of its consequences. But FAF has in addition the goal of consolidating a stable centre that will not be dismantled when Congolese and international organisations that thought of it and set it up stop receiving financial support from outside.
The challenge for this project has become even more evident during the telephony outage. Firstly, because women have transformed FAF into their most secure communication channel for incidents and cases of abuse; secondly because in 2015 municipal elections are planned, and in 2016 there are provincial and presidential elections.
Only when the government-enforced telephone outage on the civil population ended did FAF find out about a group of women that had walked from Shabunda in the direction of Bukavu (350 km) to denounce and seek attention after being assaulted and raped by the Raia Mutomboki. The women took 15 days to arrive: ten departed but only 9 arrived. One of the women died from her injuries.
When the SMS service was finally re-established, the FAF system went into overdrive. Women sent and recounted almost with outrage everything that had taken place in those days. The FAF team verified 22 cases of domestic violence, with the result that four women had been murdered at the hands of their husbands, two of them after having been accused of witchcraft.
The right to… nothing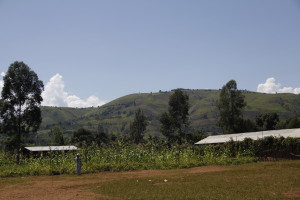 The demonstrations also served to demand the substantial modification of the new electoral law, article 13 that eliminates obligation by political parties to respect the gender parity of their electoral lists. But 13 was not subject to revision or media debate. Prudence Shamavu, president of the Women Members of Political Parties network in South Kivu, expressed her disappointment, "Our constitution recognised gender parity. I don't understand why our authorities don't respect the constitution and apply it to the electoral law. Here terrible things affect women and many times it's because they don't give us power to participate."
Acts of discrimination such as this are openly perpetrated across the country and especially in Kivu, as FAF underlines. In Bukavu, Kizito Bulindi, from the Alliance of Democratic Forces in Congo (AFDC) reveals that there is a lobby group formed of male legislators that are acting for a revision of article 14 of the Constitution, "Parity is something that feminists brought from Beijing, it's not something of ours in Congo." The politician considers parity a threat. "We have a culture that hasn't prepared us for parity. That's why our Family Law recognises the man as the head of the household and the woman subject to him. And then there's religion. I have never read in our holy scripture that there is parity."
On the other side is the National Parity Observatory. Facing two years of elections in DRC, "the fight for parity pertains to the whole of society because reconstruction, after years of conflict, must be undertaken with the contribution of everyone."