Greece, elections and reflections on the crisis
This post is also available in: Italian, German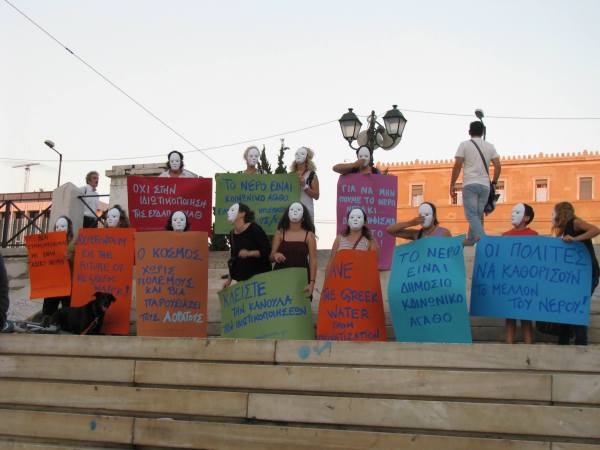 The forthcoming political elections in Greece could be a turning point not only for the country, but also for the whole of Europe. Here we talk about the possible consequences with Marianella Kloka, Greek member of the international organisation, World without Wars and Violence.
What do you think about the next elections and the possible victory of Syriza?
Well, first of all it's important to inform your readers that there is no "political stability" which is shown by the fact that Greece is holding elections again. Since 2009 we have changed the government more than 6 times (including governmental restructuring), so we are getting used to changes, if I may say that. Additionally the existing policies are not at all approved by the majority of Greek people, so going for elections is a good thing. Personally I wish we could vote (using referendums) for all important issues like new measures, the selling off of Greek property, policies to combat unemployment, health and education "reforms", new weapons to "secure" our borders, FRONTEX and migration policies, etc. I think we have the technology to exercise direct democracy in Europe. Of course the existing government that has approved more than 150 laws without any discussion not even in Parliament surely wouldn't like that.
Syriza is, for the moment, a kind of hope for many people. Of course Syriza's message has changed over recent years and has become less sharp. This is something that anyone who keeps a distance from political parties can even notice. But I don't think that there is anything worse than the existing government (and the parties that support it) so in this political "arena" Syriza is an option. At least until it has been proven (by governing) not to be. I have to admit that the first results of their governance, after the local elections we had last May in which Syriza took over the large district of Attica, are encouraging.
If Syriza wins the elections, which kind of dialogue will it have with the Troika?
Only Syriza knows that. I can only wish that Syriza will have strong alliances at least in the south of Europe and will use all available "weapons".
Are there other alternatives ignored by the mass-media?
From my point of view in the decades that followed the fall of the Greek dictatorship, we have seen a yawning gap between the existing governments and people. Insofar as we were promised a better future, jobs, more money and bigger salaries and part of this has happened. So we have foolishly left the parties to govern, without any serious involvement with social and political issues and we dedicated ourselves to hunt for better conditions for our personal lives. Nowadays there is a big social movement that has started creating alternative ways of existing, in the grassroots of our societies, based on solidarity and active nonviolence. We have seen some first actions based on practices of direct democracy, boycott, exchange of products and services; the creation of alternative ways of information, even some expressions in the field of social disobedience. Those examples are on a small scale but they are not only emerging in Greece.  And for sure they are totally ignored by the mass-media. I think that one of the challenges that Syriza faces is how much the party will be able to listen to and be guided by, in a matter of speaking, those social movements.
Is a growth of neo-nazi movements likely?
The core of the leadership of this party (Golden Dawn) is now in prison, so this makes their movements difficult. World without Wars and Violence is part of an alliance together with another 50 organisations trying to record on an annual basis the violent attacks against migrants and other vulnerable groups. There seem to be less violent attacks during 2014, though the final report will be issued in one month from now. In historical moments, where people are totally disoriented and left with no pride and dignity, there are some dark movements that keep growing. The last elections, though, kept the neo-nazi movement on the same or in some cases lower percentage, so this is at least encouraging.
How is the social situation today?
27% is the official rate of unemployment; this means that in every 4 persons 1 has no job. Among younger groups we reach 60-65% unemployment. The Greek emigration wave grows bigger. Increasingly our youth are abandoning Greece for other European countries, even to go to Canada, the USA or Australia. Several months ago it was calculated that those who have no health insurance are approximately 1/3 of the population. New measures were taken within the frame of so called "health reforms" and for many medical examinations and treatments people have to contribute; this amount sometimes reaches up to 25%. Several cancer patient groups have reached the point of asking for donations in order to assure access to medicine and the then Minister of Health  applauded this effort that came out of despair. According to the Hellenic office of statistics, budget cuts in the Health Sector are up to 25% throughout the years of crisis, a percentage that influences mostly the public health sector. The new health budget for 2015 – recently voted for by the Greek parliament – foresees more cuts to the health sector that will reduce the percentage spend to 6% of Gross Domestic Product (GDP). Of course there is no "success story". People are still kept in minimum conditions because of the existence of the so called "family net". But this life-jacket is reaching its limit. We are witnessing the collapse of the welfare state. Every year the consequences are bigger and deeper.
­What happened when Prime Minister Samaras suddenly closed the public TV and radios in 2013?
Well, the public TV was always struggling not to follow governmental orientation, sometimes this fight was successful and other times not. Shutting down public TV was a real shock for the Greek population, even though we could say that some reforms were needed, but surely it was not a priority. Today it is very obvious that this was a clear political gesture in order to be able to manipulate the new public TV (Nerit). Fear is being spread by all news outlets and broadcasters. The refusal to broadcast Syriza's leader (Alexis Tsipras) speech during the HELEXPO 2014 and the fake ultimate interview that Prime Minister (Antonis Samaras) gave to the new public TV show that there is no such thing as public television and public media in Greece right now.
What could be an answer to the crisis?
Crisis may be a Greek word but isn't something we experience only in Greece right now. Crisis usually is a good thing. It is something like a turning point; people lose faith in the existing forms and institutions and seek alternative ways to respond. So this state makes people more active and creative. For example at the same time when in Greece and in some other European countries people are working more hours with less wages, when tax policies are going mad, and when people are living under the fear of being fired, the mayor of Goteborg in Sweden is experimenting with an alternative labour system in the municipality by putting people to work 6 hours with the same salary when they used to work for 8 hours. Some examples of mixed economy implemented in several countries are also very good signs. Some people are getting rid of their TVs and getting their information through selective alternative internet media.
We need to change. And we need not fear change either. Nations and people must not be controlled by banks or markets or monetary zones. The failure of this system has been proved as millions of people are being left behind. We need to invest more in self-sufficiency but also in mutual support and solidarity. We need to address global challenges like poverty, climate changes, alternative energy sources, end military conflict, finish with all forms of violence and work towards global access to education and health. To do that we also need to change the perception we have of human beings (both in the East and in the West) and value more what we are capable of doing to improve our conditions. Humanity is at a crossroads. Sooner or later we will have to move in a more appropriate direction that is, let's say, closer to our destiny.