Myth in Art: Cameron at L.A. MOCA, African Cosmos at LACMA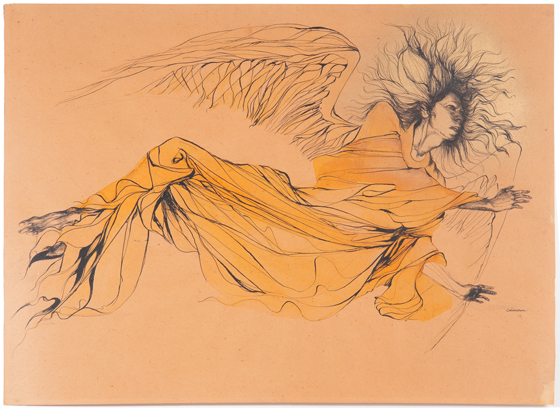 By Gabriela Jurosz-Landa
Cameron's world view and her resulting artistic expression predate contemporary art interpretation. To speak with philosopher Georg Picht, the fragmenting mind of industrial production has separated art, myth and thought. Art today, Picht states, is perceived and understood aesthetically and transgressed in "the realm of general non-commitment (ZS Mythologica 2002: 95), which then is confused with concepts like freedom and tolerance. Art history and the science of aesthetics have developed means of viewing art merely as art, disconnected from its mythic context. This has understandably resulted in some art magazines' with a preference for a deeper view on art, to have non-art specialist, like a lawyer, write their art column. Picht sees art as the only sector that can unmask industrialized reproduction. Contemporary consciousness, including that of church, believes itself as emancipated from myth which they ban into the unexplainable unconscious where its forces rage (2002:467). All transcendental religions separate subject and object. Non-western religion based on mythos perceives non-physical matter as soulful ("beseelt").
Cameron belonged to a generation which explored myth, and saw in it the empowerment of the individual beyond its day-to-day life. Originally from Iowa Marjorie Cameron (1922-95), known as Cameron, came to find her nurturing ground in California in the beginning of the mid 1940s. From a fashion illustrator, she developed into a painter, draftswoman and mystic. Encouraged by her husband's interests, the two endeavored in various esoteric societies, and Cameron developed an iconography of angelic beings and mythical creatures that sprung from her dreams and visions. Her fine drawing line resembles a notion of her being a medium to an external force; its sensitivity reminds that of Egon Schiele. While Schiele's portrayed women are very real individuals of his time, Cameron's seem to be known only by her. Both artists chose to ignore any relation to a background which mystifies the depicted by elevating them beyond reality. Using attributes, such as a crown or a grail she enhances the figure's mythical being. While abstract abstractionism started to prepare ground for the separation of the content of the artwork from the action of painting (J. Pollock), and fostered by the CIA's intentions to distinguish U.S. from Communist society, began to idolize industrial products, artists like Cameron drifted into the background of the art world's attention. Before and after her husband's sudden death, she moved to Mexico. Upon returning to California in 1953, she found herself a part of the counterculture which worked a great deal in experimental film. First by artists, later by Hollywood's public very much perceived as a mythical figure herself, Cameron starred in various avant-garde films, such as Kennet Anger's 1954 Inauguration of the Pleasure Dome and Curtis Harrington's 1961 Night Tide. Soon enough, society was ready to misunderstand and rejected her art which made her retreat to the Topanga Canyon, where she raised her child, continued making art, and was to become one of the movers of beatnik culture. She was inspired by Egyptian astrology as well as relations of the planets, and continued creating mythical figures out of her own life experience whose essence she tried to capture over and over again.
Mythos is not only an underlying rational truth or a pattern justifying social structures. Nor is it a means to merely compare cultures, as often portrayed in anthropology. It is not an esoteric nature common to all mankind, and certainly not the sum of folk tales. Myth is more a telluric dialog between conscious and subconscious sphere; forms and ideas coming from inside or outside and being transformed by man into matter of some sort and expressed with the function of transcendence of the everyday experience.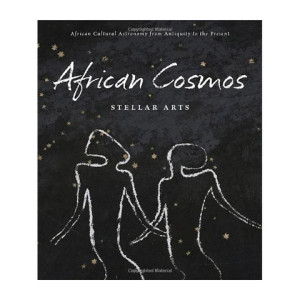 The Smithsonian's Exhibition AFRICAN COSMOS, recently shown at LACMA, explain in an extraordinary way a fundamental understanding of non-western "art": It shows how the Yoruba people of Nigeria/ Africa, as well as many other cultures, in their sculptures portray not an individual face or body, but rather this dialog. The exhibition presents a mask by an early 20th century Bamana artist from Mali/ Africa. In wood and fiber the artists created an animal figure with a huge arc bowing from its head. The arc is not an adornment, but symbolizes the arc of the sun across the sky which narrates a specific myth related to farming.
A vessel to the Yoruba as well as in the Republic of Benin means something more than an object containing something material. A lidded vessel stands for the universe. The lid symbolizes the supreme creator's heaven while the bottom bowl is earth with its physical creatures including humans. Through rituals and offerings, this vessel is brought to live as a mediator of communication with spirits. The importance of the ritual object lies in its function as a communicator, something that is beyond its material appearance and cannot be shown in any exhibition separated from its ritual practice and land.
What a Westerner would look at as a Yoruba figure, depicts in reality the relation between the human and non-human sphere, the planets and so forth. They admit and warship their reliance on others – humans, deities, other beings or planetary influences. This relationship then shapes the content of myth.
Art is ultimately the expression of a vitality that is individual and social at the same time. Its forms and ideas capture and recreate, ideally transform received images, feelings or thoughts to get understanding, and eventually communicate what they have learned to the peer humans. Great art can be thought compressed into a minimal amount of form, but it hardly will ever be pure ratio. The attempt to rationalize art goes against its nature. It has been tried last but not least in conceptual art. As minimalism in color and form, conceptual art mathematically attempted to find a "least common denominator" to the world. Conceptual art, as an expression of its social epoch also withdrew a great deal from myth or if, conceptualized it to a degree not understandable to the viewer unfamiliar with each particular and individual artistic vision. The difference to Cameron's work, or that of a Joseph Beuys who captured and created from his individual life a highly social mythology, is the withdrawal of the factor of experience. Beuys based his art on his personal life events. So did Cameron. Conceptual art speaks less to the senses through which man experiences the world than to the rational mind. As to the fairly recent re-cycled turn to painting in contemporary art, it seems once more to allow opening the senses to color, and even political themes reappear in galleries. Young people search for myth in Harry Potter, and MOCA rediscovers art such as of Cameron.
– – –
The Author: Gabriela Jurosz-Landa is a Czech-born anthropologist and art-historian, graduate of Ludwig-Maximilians-University in Munich, Germany, with graduate studies in Vienna and Prague. She has widely published in the field of art and art anthropology, and recently put out her research of twenty years about the Maya in Guatemala. As the founder and CEO of FORUM of WORLD CULTURES, she engages in organizing inter-cultural encounters. www.ForumWorldCultures.com.