A local voice from Sierra Leone
This post is also available in: German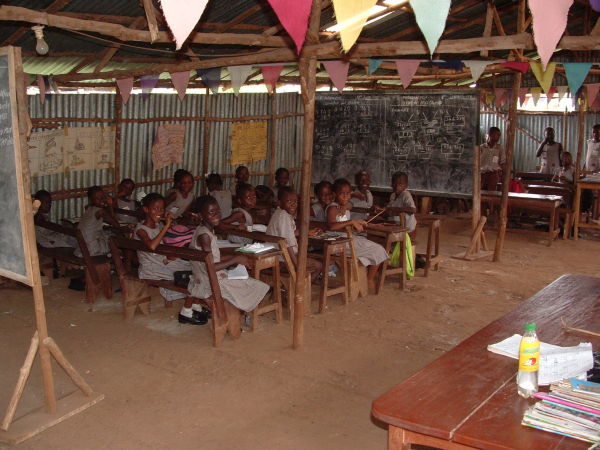 As the world gradually forgets about Ebola, life for people in Sierra Leone continues to be affected in all areas.  Reto Thumiger, from the German speaking Editorial Team of Pressenza, writes about the situation from his personal perspective having worked for many years in the development of social projects and social activism in the country.
Friends of mine in Sierra Leone. Actually I feel it is my other family, my African family – Edmond Kombe and his aunt Imelda Mansaray who did her Ph.D in Italy thanks to a scholarship and returned to Freetown to work as a lecturer at the Freetown Teachers College. In addition, she founded  a primary school in the district where she lives which is today run by Edmond.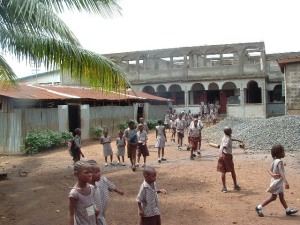 They built this school by themselves, with their own money and the support of the local parents. No support was given by the ministry of education and there was no funding by NGOs. Anyone who knows Africa even a little bit and the developing projects there will immediately grasp how extraordinary this is.
Whenever there is some money they continue to build the new school building. The 1st level is finished and is already being used for classes and the 2nd level is coming along well. It was coming along well, I should say, until this summer. Now everything has stopped, not just the construction but also the school, everything.
Of course I am worried a lot about them and luckily the whole family is healthy. Well, just the usual issues, some malaria etc., but no Ebola. The social "secondary effects" of Ebola are already harsh enough for one of the poorest countries in West Africa. Still struggling with the consequences of the civil war that ended about 12 years ago, Sierra Leone's economy was just starting to show some signs of improvement. However, as the new the situation unfolds, it is a big set back for the country and its people.
I asked Edmond to send me some lines about what is going on. As international focus is on Liberia and locals usually don't get the chance to speak in the media, this is my attempt to provide them with a mouthpiece:
Ebola is really threatening the country as a whole. Presently the entire country is still under a state of emergency.  There are no public gatherings, most businesses have closed down, the banks are not fully operating, there are no schools, no colleges.
All 14 districts have been quarantined and no movement between these districts is allowed. This has really caused economic hardship.
If somebody dies the burial teams do not come for that body until three to four days have passed. It is believed that they are trying to secure their jobs. They are paid 500.000 Leones (about 100€) per week, which is a lot of money in Serra Leone.
We have lost some school pupils, some of their parents too. The president wants to run for a third term in office and the people are very angry with him and want to demonstrate, so he quickly intensified the state of emergency. We are being partially ruled by the military. For now the Defense Minister is the "CEO" of the Ebola team in the country.
As you know we are not a government assisted project we cannot even afford to pay our teachers.
Your brother
Edmond