Putney Debate 2014 – 01 – Crash, Cuts. Crisis – Causes, Consequences, Solutions
This post is also available in: German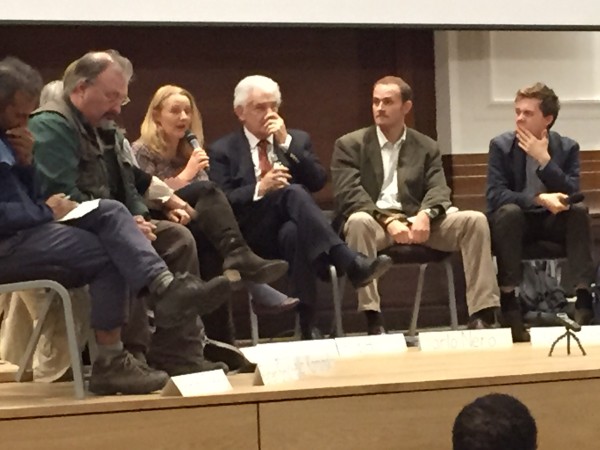 The New London Putney Debates began with a reflection on the history of activism and its achievements in the UK, followed by reflections on the environment, the economy, the Media and the increasing repression of protest in a so-called Democracy.
The invitation circulated by David Dewhurst read:
"We know our current system is nonsense, and a lot of the billionaire-owned media (or tax avoiding directed media, aka BBC) divert us from the solutions, but many of the alternative narratives are fuzzy or simplistic (except to agree that we're being ripped off – using economic fairy stories). Expect to think hard and get the rest of the assembly to do the same. We will do our best to expand the voices but murder the myths. And yes, there are answers.
 with
 Susanne Ismail, host- Quaker Peace and Social Witness.
Julie Timbrell, facilitator – Occupy London.
Owen Jones, Campaigner, Journalist & Author.  His recent book is, "The Establishment – and how they get away with it". Owen recently filled Birmingham Cathedral & had turn-aways at the London School of Economics. He is more than 'the Justin Bieber of the Left'. His dissection of establishment self-deceit and machination is forensic and the faint praise of the media and the purist left is testimony to his potency.
Izabela Kaminska, Journalist – Financial Times, Alphaville. Her work on the 'Dark Inventory' will make you more paranoid than you were already. Her new ideas on the balkanisation of social media by nefarious dynamics will scare you.
Emeritus Professor Victoria Chick,  University College London. Veteran economist who always saw through the hyperbole of monetarism. Her vivisection of recent banking dynamics might even make a finance billionaire blush.
Carlo Nero, Activist & filmmaker, showing the Killing Fields. Carlo depicts visually and emotionally the trauma which the Norman model of land seizure has inflicted on the world. If there is a one shot solution this may be the best bullet.
Fred Harrison, Land Activist, Author & filmmaker. He is part the intellectual inspiration driving his and Carlo's film about our right to our heritage.
Peter Smith, Conservationist. The planet comes first stupid – but we need the economic sophistication to prioritise it.
Each speaker will make their points and we will see a short film about the devastation of the current asset ownership orthodoxy. Then you will question, speak, get feedback, think and go on to act.
Here are some pictures of the evening. Videos of the presentations and questions/statements from the floor can be found here.