"The executioner always kills twice", Elie Wiesel once wrote, "the second time through silence". Historically, global issues – such as development, human rights, cultural pluralism and intercultural dialogue – have been characterized by a total absence of awareness and understanding of the Transatlantic Slave Trade.
To break the silence around the Slave Trade, UNESCO launched the Slave Route Project, a global inquiry into the means of promoting the rapprochement of peoples through the shared legacy of this tragedy. On 10 September, UNESCO will celebrate the project's 20th anniversary at its Paris headquarters.
"The Slave Route is not merely a thing of the past: it is our history and it has shaped the face of many modern societies, creating indissoluble ties between peoples and continents, and irreversibly transforming the destiny, economy and culture of nations," said UNESCO Director-General Irina Bokova.
Significant Impact 
Since 1994, the Project has had a significant impact. Its leadership helped secure the official recognition of the Slave Trade as a crime against humanity in 2001.
Working through a range of cultural and educational programs, the Project enhances awareness of this slavery and its consequences. It shows the contributions of enslaved peoples in winning recognition of universal human rights.
UNESCO helps Member States in supporting research, in enriching their own national history and in facilitating the sharing of memories through acclaimed UNESCO initiatives such as the "General History of Africa".
Other examples include training teachers to educate about the Slave Trade, developing educational materials, preserving memorial sites and archives, and promoting cultural interaction.
[media-credit name="©UNESCO/Michel Ravassard" align="aligncenter" width="300″]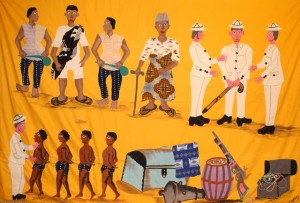 [/media-credit]
The challenge of 'living together' in our multicultural society…
For UNESCO, remembrance is a key part of the fight against racism. Transmitting the history of the slave trade strengthens the foundations for peace, and deepens respect for human rights.
"The challenge of 'living together' in our multicultural societies implies recognition of each person's history and memory, and at the same time the sharing of a common heritage, in order to transcend past tragedies," said Ali Moussa Iye, chief of the Slave Route Project.
Marcus Miller, UNESCO Artist for Peace and Spokesperson for the Slave Route Project, is helping us take forward this message through his music. "The story of slavery tells us that we can overcome. That the world can change for the better. And that we can do more than simply survive – we can soar!" said the eminent jazz musician. 
The Slave Route Project illustrates the power of culture in the fight for dignity.
It celebrates the artistic genius born from the interaction between people of different continents, through cultural expressions that have enriched our societies and demonstrated the wealth of intercultural dialogue.
Many global musical genres – jazz, blues, soul, R&B, reggae, hip hop, tango, capoeira, and much more – all have roots in the Slave Trade. These cultural expressions, as well as a number of historical sites with a strong tie to the Slave Trade like Gorée Island, are all safeguarded by UNESCO's programs in Intangible Cultural Heritage and World Heritage. UNESCO promotes this heritage as a bridge for dialogue and understanding.
[media-credit name="©UNESCO/Jean O'Sullivan The Gate of No Return, dedicated to the 1.2 million unknown souls shipped as slaves from Ouidah beach (Benin)." align="aligncenter" width="220″]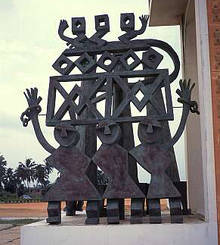 [/media-credit]"This history is part of the universal fight for human rights and equality, and it must be taught to children across the world as a struggle for peace, as their struggle," said the Director-General.
This history can also nourish our thinking about our multicultural and multiethnic societies today.
It inspires the struggles we lead today against racial prejudice and discrimination, and against all forms of slavery that still affect more than 20 million people worldwide.
A live webcast of the 20th anniversary celebration will be available on www.unesco.org.
Using the hashtag #slaveroute, audiences may share their thoughts with illustrious speakers, such as H.E. Mr Abdou Diouf, former President of Senegal; H.E. Mr Joachim Chissano, former President of the Republic of Mozambique; Christiane Taubira, French Minister of Justice; Michäelle Jean, UNESCO Special Envoy for Haiti; and Marcus Miller. Musical traditions, born from the Slave Route, will also be performed by Tazenco Gwo ka a; Anuanga, Masaï dancer; Mary Paz, Cuban eletropercussion; Gnawa music group Sefarat' al khafaâ; Brazilian music group Afro Samba Project. These cultural expressions all have roots in Africa, and have become part of humanity's common heritage today, woven into the fabric of societies across the world.
*Source: UNESCO Report.
—–
Read also:
The Measure of "Man's Inhumanity to Man" — Profits and Poverty: The Economics of Forced Labour
An International Day for the Remembrance of the Slave Trade and its Abolition
Modern Slavery: 21 Million Human Beings Coerced into Jobs They Can Not Leave