International Overdose Awareness Day — 180,000 Drug Related Deaths… Each Year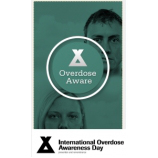 31 August 2014 — According to the UN Office on Drugs and Crime (UNODC) World Drug Report 2014, there are approximately 180,000 drug related deaths each year, most of them due to preventable overdoses.
Opioid overdose makes up the largest category, affecting mainly young people: 13 per cent of overdose deaths reported in Europe occur among those aged under 25 years. Additionally, in countries with low HIV prevalence, drug overdose is the main cause of death among problem drug users, accounting for up to 50 to 60 per cent of deaths among people who inject drugs.
International Overdose Awareness Day (31 August) was initiated in 2001 by the Penington Institute, an Australian civil society organisation.
This day is an opportunity to raise awareness and call for action to save lives and reduce the stigma associated with drug-related deaths. On this 31 August, UNODC highlights that death by overdose is preventable.
UNODC works in different countries to assist Member States in overdose death prevention. In Kazakhstan and Kyrgyzstan, for instance, UNODC supports projects which distribute naloxone through networks of outreach workers – reaching out to people who inject drugs, in the case of an overdose, while emergency responders arrive.
In addition, counselling on the risks associated with injecting drug use is also provided. Since most overdoses are believed to happen in the presence of someone else, the timely administration of naloxone is crucial to saving lives.
Programmes like these require the support and active participation of governments, health services, police and the communities of people who use drugs. In 2013, governments meeting at the Commission on Narcotic Drugs called for the promotion of measures to prevent drug overdose, in particular overdose by opioids. UNODC, for its part, is supporting pilot projects to introduce intra nasal naloxone to communities, families and peers through drug dependence treatment centers, reaching out and increasing access to this life saving intervention.
*Source: UNODC Release. Further information at: World Drug Report 2014
Drug trafficking
Drug trafficking is a global illicit trade involving the cultivation, manufacture, distribution and sale of substances which are subject to drug prohibition laws. UNODC is continuously monitoring and researching global illicit drug markets in order to gain a more comprehensive understanding of their dynamics. Drug trafficking is a key part of this research. Further information can be found in the yearly World Drug Report.
At current levels, world heroin consumption (340 tons) and seizures represent an annual flow of 430-450 tons of heroin into the global heroin market. Of that total, opium from Myanmar and the Lao People's Democratic Republic yields some 50 tons, while the rest, some 380 tons of heroin and morphine, is produced exclusively from Afghan opium.
While approximately 5 tons are consumed and seized in Afghanistan, the remaining bulk of 375 tons is trafficked worldwide via routes flowing into and through the countries neighbouring Afghanistan.
The Balkan and northern routes are the main heroin trafficking corridors linking Afghanistan to the huge markets of the Russian Federation and Western Europe.
The Balkan route traverses the Islamic Republic of Iran (often via Pakistan), Turkey, Greece and Bulgaria across South-East Europe to the Western European market, with an annual market value of some $20 billion.
The northern route runs mainly through Tajikistan and Kyrgyzstan (or Uzbekistan or Turkmenistan) to Kazakhstan and the Russian Federation. The size of that market is estimated to total $13 billion per year.
Global heroin flows from Asian points of origin
Source: UNODC World Drug Report 2010
In 2008, global heroin seizures reached a record level of 73.7 metric tons. Most of the heroin was seized in the Near and Middle East and South-West Asia (39 per cent of the global total), South-East Europe (24 per cent) and Western and Central Europe (10 per cent). The global increase in heroin seizures over the period 2006-2008 was driven mainly by continued burgeoning seizures in the Islamic Republic of Iran and Turkey. In 2008, those two countries accounted for more than half of global heroin seizures and registered, for the third consecutive year, the highest and second highest seizures worldwide, respectively.
In 2007 and 2008, cocaine was used by some 16 to 17 million people worldwide, similar to the number of global opiate users. North America accounted for more than 40 per cent of global cocaine consumption (the total was estimated at around 470 tons), while the 27 European Union and four European Free Trade Association countries accounted for more than a quarter of total consumption.
These two regions account for more than 80 per cent of the total value of the global cocaine market, which was estimated at $88 billion in 2008.
For the North American market, cocaine is typically transported from Colombia to Mexico or Central America by sea and then onwards by land to the United States and Canada. Cocaine is trafficked to Europe mostly by sea, often in container shipments.
Colombia remains the main source of the cocaine found in Europe, but direct shipments from Peru and the Plurinational State of Bolivia are far more common than in the United States market.
Main global cocaine flows, 2008
Source: UNODC World Drug Report 2010
Following a significant increase over the period 2002-2005, global cocaine seizure totals have recently followed a stable trend, amounting to 712 tons in 2007 and 711 tons in 2008. Seizures continued to be concentrated in the Americas and Europe. However, the transition from 2007 to 2008 brought about a geographical shift in seizures towards the source countries for cocaine. Seizures in South America accounted for 59 per cent of the global total for 2008, compared with 45 per cent in 2007. More Resources: Data and Analysis.
Read also:
East and Southeast Asia, World's Largest Markets for Synthetic Drugs — Major Drag on Development