Experts Discuss in Geneva on Use of Experimental Drugs for Ebola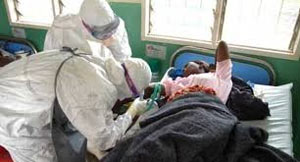 Geneva, Aug 11 (Prensa Latina) Experts in medical ethics are meeting in Geneva to set ethical limits on the use of experimental treatments for Ebola, a disease which since March has killed about a thousand people. Last week the World Health Organization (WHO) decided to convene this meeting, which seeks to determine if drugs still in preclinical trials can be used in humans, and in the case of authorizing its use to define who would receive the treatment and in what circumstances.
'This outbreak poses an unusual situation. We are facing a disease with a high mortality rate and for which we have no treatment or vaccine with demonstrated efficacy and safety," reiterated Marie-Paule Kieny, WHO assistant director-general.
"We have to ask the experts in medical ethics guidance on what would be the responsible attitude," she said.
The debate started after two people from the United States who contracted the disease and were repatriated to their country, received an experimental treatment, also indicated for another patient in Spain.
The current Ebola outbreak affecting several West African nations is the most lethal reported, hence the WHO declared a state of international health emergency.
Guinea Conakry, Sierra Leone and Liberia are the countries more affected and their authorities were asked to take emergency measures to prevent the spread of the disease. In Nigeria, where two deaths are reported, prevention plans are also under implementation.
Ebola, first described in 1976, has a high mortality rate and there is no effective treatment, the only option for now is to stop the viral spread in Africa by the infection control and education of the population, specialists say.
However, a vaccine could be ready by 2015. If the emergency processes are applied, the product would be tested soon, said Jean-Marie Okwo Bele, director of the Department of Vaccines and Immunization in the international health agency.