PACIFIC – Indo-Pak Peace Initiative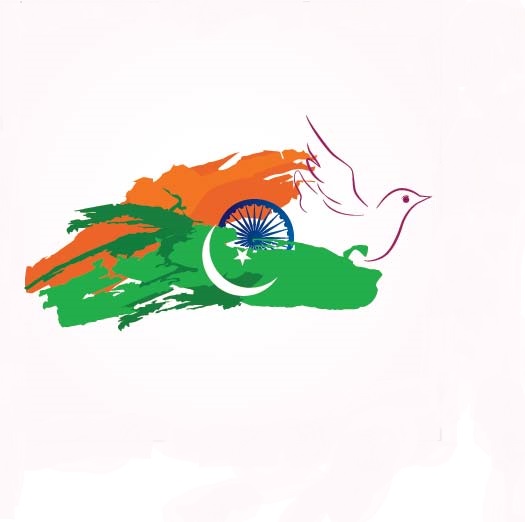 "Our object should be peace within, and peace without. We want to live peacefully and maintain cordial friendly relations with our immediate neighbours and with the world at large."
-Muhammad Ali Jinnah
"An eye for an eye will make the whole world blind."
-Mahatma Gandhi
A moving advertisement by Google India narrates the story of two best friends separated by the partition of the two nations, Pakistan and India and are brought back together just by few a Google search clicks. This poignant video has gone viral with more than 12 million hits ever since it was posted on YouTube. This is a heart-wrenching story of two boys who were best buddies when they were children and then got separated 66 years ago following the South Asian subcontinent's independence from British colonial rule and its subsequent partition. This Google video portrays how the two friends are reunited by their grandchildren using Google search engine.
The 66 year old Indian is called Baldev and he narrates to his granddaughter about how he and his friend used to steal a sweet called "jhajariya" from a shop close to "an old gate" in Lahore. His granddaughter uses these hints to hunt on Google and in due course tracks down his long-lost friend. The Pakistan-based man is called Yousif. Baldev's granddaughter rings up Yousif's grandson who also hunts Google for suggestions on how to get hold of an Indian visa and the advertisement ends with an emotional surprise birthday reunion in India.
Internet users left thousands of comments on social networking sites describing how the advert had brought them to tears and renewed their hopes for improved relations between the two neighbours. The partition of 1947, which saw some of the most blood-spattered rioting in South Asia, separated hundreds of thousands of families in India and Pakistan. Pakistan and India began peace talks in 2004 which saw the easing of cross-border travel rules but frequent militant-led attacks in India have become a stumbling block towards normalisation of bilateral ties.
Now, let's ask ourselves, how many more Baldevs and Yousifs are shattered over losing each other after the partition? How many families have been separated? How many are still longing to reunite with their folks? Is the grudge worth the pain? It's about time we forgot these indifferences and extend the fellowship with the other one!
"Pacific" is a pioneering peace and harmony rendering event aspiring to secure the lost peace between these two nations, India and Pakistan. This event is a youth initiative by the students of B.V.Bhoomaraddi College of Engineering and Technology, India and Lahore University of Management Sciences, Pakistan.
Pacific seeks to draw 20 engineering students from both of these countries to attend a 2-day workshop at Dubai, UAE. Through this 2-day event, participants will be fused into an environment of multiculturalism. Participants will be working in a team (comprising of Indians and Pakistanis) to come up with common solutions to a set of problem definitions which are mainly based on establishing peace between Indo-Pak. They will be provided with ufficient tools to illustrate colourful scenarios of their nations. Also, they will be depicting the culture of their proud countries in the evenings.
Pacific intends to abolish the stereotypical mindset that still lives on in the minds of the residents of both sides. Pacific promises to build a bridge between India and Pakistan and make that bridge a platform for growth, development, love, fellowship, and trust. We hope this event will be a gigantic leap in securing the love between India and Pakistan.