Argentina Deplores Announcement on Vulture Funds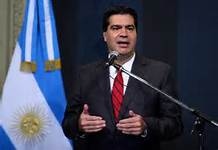 Buenos Aires, Jul 16 (Prensa Latina) The Argentine Government deplored today a paid announcement on the vulture funds published by the Clarin and La Nacion newspapers asserting that the country undergoes a technical suspension of payments. Jorge Capitanich, Chief of the Cabinet of Ministers, asserted this morning that Argentina does not undergo a technical default, as stated by that announcement, because the country pays off and meets all duties with its creditors in a regular and responsible way.
"It is a judge who prevents creditors from receiving the funds already paid in", said Capitanich in his traditional press conference at the House of Government, as a response to the statement published by the group American Task Force Argentina in the Clarin and La Nacion newspapers. Capitanich denounced that there is a deliberate strategy to prevent creditors from receiving the funds already paid in while reiterated that the term "technical default" does not exist beyond the literature of those domestic and foreign agents seeking to place Argentina in a position that does not exist.
"Creditors are the ones who should demand the funds paid in by Argentina of the judge", said Capitanich referring to New York judge Thomas Griesa.
The MinutoUno news website also warned about vulture funds flying over the Patagonian region, main site of oil and gas fields in Argentina.