London Tube Workers Plan 5 Days Strike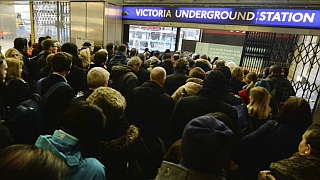 London, 17 Abr (Prensa Latina) London Tube workers are due to stage a 5 days strike, because almost one thousand workers will loose their jobs. Commuters in London face a further period of heightened transport misery after tube workers announced five days of strikes.
Members of the RMT union will strike for 48 hours from the evening of Monday 28 April and again for 72 hours from the following Monday, 5 May.
The strike announcement comes after eight weeks of talks between unions and London Underground management over plans to close station ticket offices and cut about 900 jobs.
The talks were prolonged by the death in March of the RMT leader, Bob Crow, who had led the opposition to mayor Boris Johnson's proposals for "modernisation" of the tube, but called off a second set of strikes in favour of talks at Acas.
However, the TSSA union, which took action alongside the RMT in February, has chosen to continue holding talks with tube bosses next week, along with Aslef and Unite.
The RMT blamed "management intransigence" and the introduction of additional measures during the consultation process for the decision to strike. The union also believes further cuts to jobs and pay are planned.