Dialogue Option In Front of Violence in Venezuela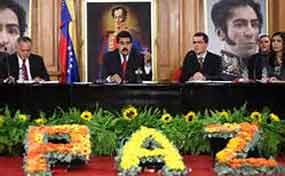 Caracas, Mar 1 (Prensa Latina) The option of dialogue appear today among the priorities of the Venezuelan government, in response to the violence generated by destabilization groups to promote the disregard of the institution.
The weekly agenda has among its most outstanding events the installation of the Peace National Conference, which reflected the intention of Venezuelans to find a way to achieve a nation of peace and tolerance.
Held at Ayacucho Room, of Miraflores Palace, the meeting demonstrated a central stance, on the fringes of political affiliation, creeds and religions, of the sectors convened here to reach consensus in the fight against violence.
The participants agreed on the fact that the crisis provoked by the right-wing groups must be criticized with accurate and sound statements and that the moment needed a rapid response.
The chairman of the National Assembly, Diosdado Cabello stated the government willingness to hold talks and reach agreements in favour of the Venezuelan society, like the implementation of mechanisms to reduce the crime rate.
Businessmen Jorge Roig, president of the Federation of Chambers and Venezuela Trade and Production Associations (Fedecamaras) and Miguel Angel Perez, chairman of the Federation of small, middle industrials and handicraft workers of Venezuela (Fedeindustria) greeted the call for the Conference of President Maduro.
Both stressed inflation, shortage of supplies, and citizens' insecurity, as the issues that must be paid special attention.
In the same sense was pronounced Lorenzo Mendoza, President of the Polar companies and argued that the nation needs a deep reflection in the field of economy, where we have great contradictions.
In addition, the Venezuelan minister of Communication and Information, Delcy Rodriguez, denounced today the media manipulation of the national reality, with the purpose to generate a negative matrix of opinion on the situation in the country.
In interview with the international channel that Venezolana TV broadcast this Saturday he warned that the campaign involves international media, which used montages with images of other nations.