Banking on the LGBT – with Asian Values
This post is also available in: Italian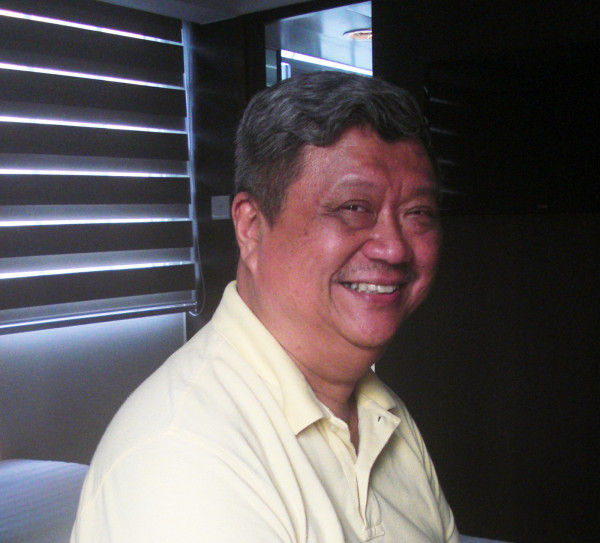 Interview with: Dr Dédé Oetomo, a leading activist for LGBT rights in Indonesia. *
Oetomo: I came to Hong Kong to speak at this conference on lesbian, gay, bisexual, and transgender (LGBT) persons in the workplace [First LGBT summit in Asia]. It is a workplace conference organised by some corporations Barclays, HSBC, Citibank. It is the first in Asia, it is a Pan-Asia event. It started in New York with people from Wall Street, three years ago, then in Europe, and the idea is how does the corporate world push for equality in the workplace and in ordinary life. My own topic is Asian values – promoted by the likes of Lee Kwan Yew and other conservatives – which I will deconstruct: in my times people are more restive. At the conference they discuss and share for example what it is like at Goldman Sachs.
Pressenza: What qualifies you to speak on your chosen topic?
Oetomo: I suppose I am qualified to speak given my activism, which has continued from the Eighties, as I am a long time activist, in Indonesia. Also, as my chairmanship from this January of a network of gay men and transgender people from… all over Asia and the Pacific connected to HIV, for its prevention, treatment. We do not do the services but we act on the support side at community level in the sub regions though that came out later, mainly it was my old activism which was brought to the attention of the conference organizers.
Pressenza: It seems quite radical for banks and the like to pick up this topic.
Oetomo: They had internal discussions one presumes, in Hong Kong and Singapore, and probably more discreetly in places like Indonesia, but these are corporation people and are within the LGBT group, fewer of the transgender. They do not feel it is right to have discrimination in the workplace and they also see the same in society and they want to do something for society as well. I agree.
Pressenza: What's looking positive about the changes of how the world looks at LGBT group, especially in Asia?
Oetomo: Wherever you look among the institutions they are doing something relating to this topic, even the UN is doing something . We are at a very good time and an example is the secretary general of the UN defending us – not that they understand everything but it's a start.
Some governments like Nepal are proving interesting; India is only 'getting there'; Thailand may have civil union by next year, ironically via the conservative party; Vietnam may have some form of civil union soon. So, it is like Capitalist, Communist, it does not matter. Who knows what next. Thailand and Vietnam, by 2015, they will be ASEAN community. So someone can get married in Thailand and they can come to Singapore or Indonesia and not be rejected when they register their marriage and they will get all the benefits of a married couple. This is all very new.
Pressenza: Tonight you have a pre-conference meeting outside the main agenda.
Oetomo: Yes, tonight I am speaking at an event organised by the Hong Kong branch of Unitarian Universalists which group has always had a progressive approach as far as I know, at least in North America. This together with a group I have just come across called the Blessed Minority Christian Fellowship.
Pressenza: Are you a Christian yourself?
Oetomo: I went to a Catholic school. I do not practise any religion, not because I am gay, it just does not give the boomf or whatever. In Indonesia we have had to work with Muslims and Christians. So far it has been the progressive Muslims. We have also worked with the Protestants. The Catholics are slow. The bishop it seems can't be seen to be with us but the human rights workers, they are there. What is interesting is that the progressive Muslims are more passionate in the advocacy than we are ourselves. Because they believe that Islam should bring blessings to every human, whoever they are. We work with faith-based organisations, certainly human rights organizations, and feminist organizations.
Pressenza: What is the main task you have set yourselves?
Oetomo: The major part of the work is just to bring the issues up, raising awareness among the people, some advocacy. The latest that came to our attention was a student at an Islamic teachers college who was bullied by his lecturer because he was feminine and he was actually outed in front of the classroom by the lecturer so our network in that little city of Jombang, which is in East Java, got together with pastors, clerics (who have also advocated for Ahmadi's, for Christian's whose churches had been attacked, especially in Moslem dominated areas so this network of people, who call themselves pluralists. This group also take the name of our past president with a play on words, Durian – the fruit – the GusDurian network! So, that is the kind of work we do, some advocacy, some litigation, and in some places going to court. But we have been ignored by the government except for the Human Rights Commission, the Women's Commission, and the AIDS Commission, these were the three semi-governmental commissions that have given us space. They are pretty committed.
Pressenza: As an academic you have studies and research on homosexual practices in the Asia-Pacific region that allows you to bring to light a set of differences that come into play locally and which demand that the West takes a different stand on the issues that arise from the Old World-New World cultural clash, tell us about that.
Oetomo: It was buried by modernity, many Asian and Pacific cultures – and according to my colleagues they said it was the same in Africa – gave space and even roles to homosexuals, men or women and transgenders. Some of these traditional practices and the practitioners continue today. These practitioners would bless weddings, would attend the first ploughing of the rice fields, bless those going on Haj to Mecca (this latter done in something of a hush hush manner as the feeling among some is if you do not appease the old gods they may not be happy and may even follow you to Mecca), and there are medium type priests and priestesses. My favourite example comes from the Bugis culture. There, four genders are recognised. The Shaman has to incorporate the four genders when he or she communicates with the gods or goddesses. I go into this in detail in my writing, "Reclaiming our past, constructing our future: the struggle for LGBTIQ rights in Asia and the Pacific", part of a book being published by the Christian Conference in Asia. The book will be launched in Busan next week as part of the World Council of Churches gathering taking place there right now as we speak.
Pressenza: an extract from this writing speaks about how the idea of Asian values has been corrupted.
Oetomo: "It is thus ironic, but perhaps understandable, that our nationalist leaders, being among the first to be educated in the modern schools provided by the colonial administrations of the early twentieth century, adopted the gender identity and sexual orientation constructions and morality prevalent among the European colonial rulers, based largely on Victorian-era moral values even when struggling to free our nations from the same colonial powers. They turned their back on the more inclusive and accepting values of the past. The case of the retention of sodomy laws in most of the former British colonies is but one poignant instance.
It is this combination of modernist interpretations of cultural, religious and ideological values that have been bandied around as "Asian values," "Eastern customs," or "nationalist values" by our autocrats. They have been used as an excuse for not accepting gender identities or sexual orientations other than masculine and feminine or heterosexuality."
Pressenza: What are the expectations of your activism and that of those co-operating with you?
Oetomo: Things are moving and yes the resistance is still there in the likes of the observing religionists and the governments, But, you get surprises like in Thailand and Vietnam, and in India where section 377 of the Penal Code is under scrutiny [Chapter XVI, Section 377 of the Indian Penal Code is a piece of legislation in India introduced during British rule of India that criminalises sexual activity as "against the order of nature." The section was read down to decriminalise same-sex behaviour among consenting adults in a historic judgement by the High Court of Delhi on 2 July 2009. Section 377 continues to apply in the case of sex involving minors and coercive sex.].
Also, as in Nepal, which has a same sex marriage bill pending in parliament and is delayed because of the chaotic state of Nepal's parliament.
We need to look at the ordinary lives of lesbian, gay, bisexual, and transgender persons and when we do, we encounter one of the issues that is going to come up in this conference and that is poverty. It is generally thought that LGBT lot are happy and fun loving and yes, true, but there is the economic side – some need assistance – and they are prone to everything that others are prone too. It is happy that in general human rights defenders, humanists, and activists are starting to understand that human rights are universal and we have include, we have work locally (in Indonesia) with the Shi ites for instance and they really have to wake up because in Iran you cannot have gays, so these groups taking a hard line have to change their view about women etc. I expect the conference to come up with something concrete in this regard – no matter the country or the system…
The resistance to this type of change is actually stronger now than it was in the Eighties when I started my own activism but I see the possibilities today, it really is possible to change attitudes. Our enemies find us an easy target and this is useful for them. But at the same time they themselves are facing human rights activists and the like and are not popular and are having their own problems, and this is so in Indonesia, which is democratising.
Pressenza: Thank you Dédé Oetomo
* After completing his PhD in linguistics at Cornell University in the US, he returned to establish Indonesia's first gay rights organisation, Lambda Indonesia, in 1982; and later the GAYa NUSANTARA Foundation, in 1987. Dédé is an Adjunct Professor at the University of Surabaya, University of Airlangga, and Widya Mandala Catholic University in Surabaya. He ran for the national parliament in 1999 and 2004. He is an internationally recognized scholar, educator and activist in areas of HIV and AIDS research, training and advocacy. Currently he is Chair of the Asia Pacific Coalition on Male Sexual Health (APCOM).
 PS:
a copy of Dede's writing titled 
RECLAIMING OUR PAST, CONSTRUCTING
OUR FUTURE:
The Struggle for LGBTIQ Rights in Asia and the Pacific
can be found in Pressenza "Reports" 
http://www.pressenza.com/2013/11/reclaiming-pastconstructing-future-lgbtiq-rights-asia-pacific/