Occupy vs the London Arms Fair aka DSEi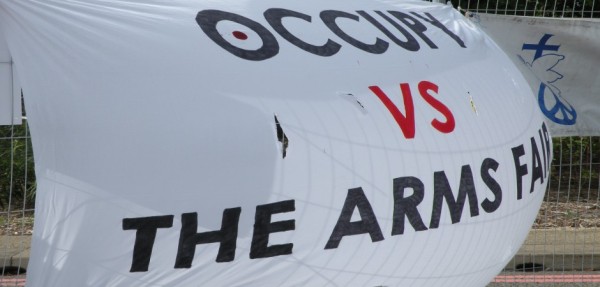 From Occupy London

"Marking almost two years since Occupy took on London Stock Exchange, this mass mobilisation will challenge another pillar of global injustice: the arms industry which dominates public spending priorities, and profits from conflict and repression. The action invites people to take creative action to intervene in the arms fair, in solidarity with those who face its weapons around the world.
"DSEi hosts 1400 international weapons companies, and nearly 30,000 buyers and sellers attend the event, which is co-organised by the UK government. The companies arming Turkey, Egypt, Brazil and Syria will attend along with many of the world's militaries: the arms fair plays a crucial role in providing the weapons which have killed people and increased repression in response to recent democratic uprisings. Drones will also be a key theme this year, with an additional one day conference at the start of the event and a dedicated 21,000 sq ft 'unmanned systems showcase'.
"Activists will challenge the UK's military budget, which is the fourth highest in the world, and has been protected from public sector cuts. They will highlight that the UK's military spending of £39 billion a year is enough to stop the cuts to the NHS twice, and call for an end to the public subsidy for this key event in the arms industry calendar."
From CAAT (Campaign Against the Arms Trade)

"DSEi (Defence & Security Equipment International), is one of the world's largest arms fairs. It exists so that arms buyers and sellers can come together, network and make deals, and it takes place every two years in London's Docklands.
"DSEi 2013 features over 1,300 arms companies from around the world, displaying arms ranging from rifles to tanks to fighter jets to battleships. They will be joined by arms dealers, "trade visitors" and military delegations, including countries involved in conflict and from human rights abusing regimes, as well as those with desperately underfunded development needs.
"Around one in three of the world's militaries are likely to be at the arms fair. Adversaries will browse alongside each other for weapons to use against each other.
"It all takes place in secret, behind heavily protected security fences and police lines – designed to allow arms dealers to trade their wares unhindered by transparency or public protest – and subsidised by the UK taxpayer.
Where is the love?
"Students from the Royal Docks Community School made a film about the arms fair that takes place on their doorstep."
http://www.youtube.com/watch?v=KsB0YZk-VrY
"Defence secretary: selling weapons abroad is top priority for Britain" The Guardian

"Philip Hammond praises 'fabulous' arms trade fair in London