Colombia: Agricultural strike persists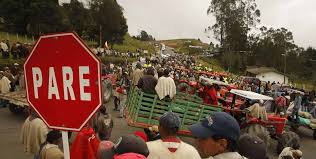 Farmers and truckers protest against government agricultural and trade policies.
An Aug. 19 strike has since erupted into hundreds of thousands of largely farmers and truckers protesting the government for its trade and agricultural policies, demanding changes such as cheaper gas and fertilizer, and crop subsidies.
Protesters initially blockaded highways preventing produce from reaching markets near the central Boyacá province and southwestern Cauca, and in the following days similar roadblocks and rallies arose throughout the nation.
The National Agricultural and Popular Table for Dialogue and Agreement (MIA) initiated the strike, a group of agricultural organizations that object the free trade agreements signed with the United States, China and the European Union. They claim they can't compete with the low prices of the foreign imports and goods smuggled across the border from Ecuador and Venezuela, and demand the right to land and improvement of basic services in rural areas.
Miners, doctors and students have since followed suit in protest, saying that government privatization policy risks their livelihood to a vulnerable market.
Previously refusing to negotiate until roadblocks ceased, on Aug. 26 President Juan Manuel Santos reached a "nonaggression pact" with the protest leaders in Boyacá, mandating that police would not intervene as long as protestors remained nonviolent.  While the situation calmed in Colombia's center province, authorities reported demonstrations elsewhere, including the capital city Bogotá.
Santos also agreed to negotiations with agricultural strikers, saying he wanted to ensure that farmers have "a decent income, could continue working the land and look forward to a future with more hope and optimism."
On Aug. 27 agricultural producer representatives and government officials met in the city of Tunja to discuss easier loan access, lower fertilizer prices and higher produce prices, among other demands.
Agricultural producers announced in a statement on Aug. 28 that although they have "every intention" to reach a satisfactory agreement with government representatives, the strike will continue given that the government "has not made a clear and consistent proposal to meet the needs of the Colombian countryside."
"The dialogue continues," the statement said, while inviting farmers to "maintain social and peaceful protest and remain in the places they have been for the 10 day strike." —Latinamerica Press.