What's the world coming to? Brazilians demand cancellation of the Word Cup
This post is also available in: French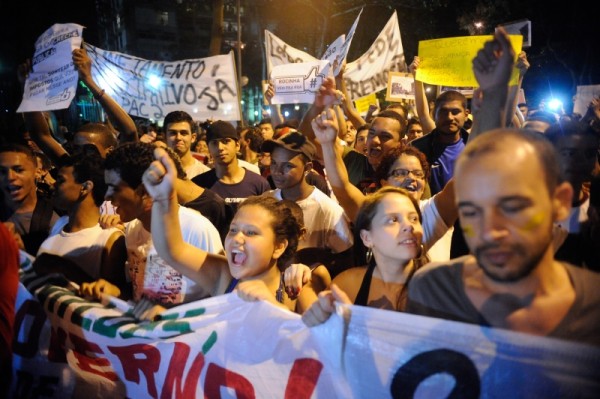 In England a well known saying states that 'football is not a life and death issue, it's much more important than that'. But it is Brazil where football has taken a status akin to a religion. So, for Brazilians to be questioning if it is right to spend LOTS of money on next year's World Cup, instead of solving the existing problems of health and education it is an indication that something interesting is happening.
It all started with an attempt to increase public transport prices. More than a quarter of a million people, many of them very young, marched in around 100 cities to demand the raise to be cancelled, and this was achieved. However more and more people kept going to the streets to widen the demands, transforming it into an opposition jamboree that turned violent in many places.
However the Brazilian government is not the Turkish government. The President, Dilma Rousseff, called the protesters to listen to them, promised to tackle corruption and responded to other demands. Whether that will be enough to end the unrest will depend on how much of the massive public presence in the streets was a genuine popular demonstration or rather an opportunity taken by the opposition to weaken yet another progressive Latin American government.
Young protests were largely coordinated via social media replicating a phenomenon already seen in the 'Springs', Indignados, Occupy and Turkey's popular expressions of social unrest. In contrast, many local people have commented on the initial paucity of information by the mainstream Brazilian media, apparently taken by surprise by the events and lacking a clear position about them.