Santiago: Marcel Claude leads the pack
This post is also available in: French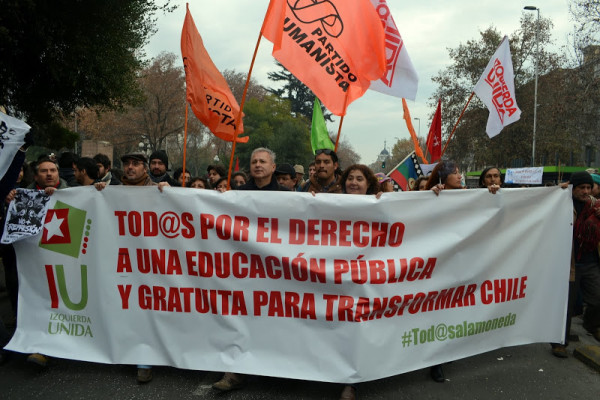 "On the streets of Santiago, Chile, there was a massive day of protest 28 June 2013 centred around education but with other demand also highlighted," says humanist member Sergio Bastías. "The Humanist Party presidential candidate Marcel Claude led the pack, together with the Humanist Party and other organizations in support. In the central act member Mario Aguilar spoke as a representative of the teachers, and that despite police repression."
A group of about 300 people who took part in the march also made a side trip to the Plaza Brasil for further demonstrations and among the group were placard carriers in support of the Turkey and Brasil grassroots protests. Marcel Claude also gave a speech at Plaza Brasil.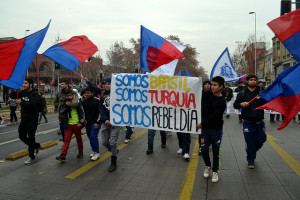 In the lead up to the 2013 elections in Chile, Marcel Claude is the candidate of the Humanist Party, also of the United Left and other social movement groups, as a consequence of the convergence of sectors Humanists, Marxists, Environmentalists, Students and Independents.
Among the portends of his political platform is a demand for a new constitution and new laws going toward a true democracy: viz., Approve political liability law as presented to Congress by Rep. Laura Rodriguez, humanist, in 1990; requiring all representatives to account for their management, returning the power to the voters to remove from elected office those who do not fulfill their election promises (revocation of office for elected office).
Another important and related item of the humanist's manifesto goes toward the devolution and decentralization of the State. This would mean the decentralizing of the State, through a federal organization, so that the real political power is in the hands of the regions, provinces, districts, neighborhoods and communities.