Obama calls for reduction of Russian nukes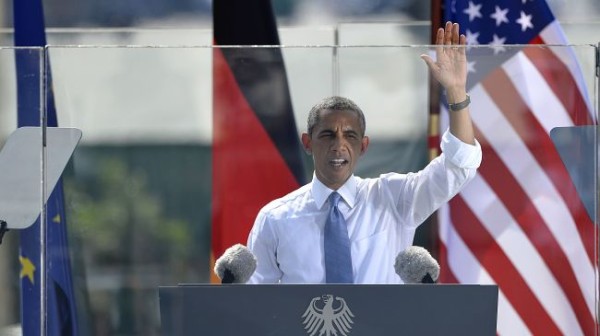 US President Barack Obama has called on Russia to slash its deployed nuclear weapons by up to a third.
"After a comprehensive review, I've determined that we can ensure the security of America and our allies — and maintain a strong and credible strategic deterrent — while reducing our deployed strategic nuclear weapons by up to one-third," he said in a Wednesday speech in Berlin.
"And I intend to seek negotiated cuts with Russia to move beyond Cold War nuclear postures," Obama added.
Moscow was quick to react to Obama's remarks with Russian Deputy Prime Minister Dmitry Rogozin saying Obama's proposal to reduce nuclear arms cannot be taken seriously.
"How can we take seriously this idea about cuts in strategic nuclear potential while the United States is developing its potential to intercept this strategic potential?" he said, according Russia's Itar-TASS news agency.
Earlier, a Kremlin spokesman said Moscow had told Washington that it wanted other nuclear armed countries to commit to arms cuts.
The US president's proposal comes two years after an agreement between the US and Russia, known as New START, went into effect.
START, which stands for Strategic Arms Reduction Treaty, calls for each nation to restrict its nuclear warhead arsenal to 1,550 by the year 2018.
The US was the first country to create atomic weapons, while being the only nation to drop nuclear bombs on civilians during separate attacks on Japan's Hiroshima and Nagasaki cities in World War II.