Correa re-elected as Ecuador's president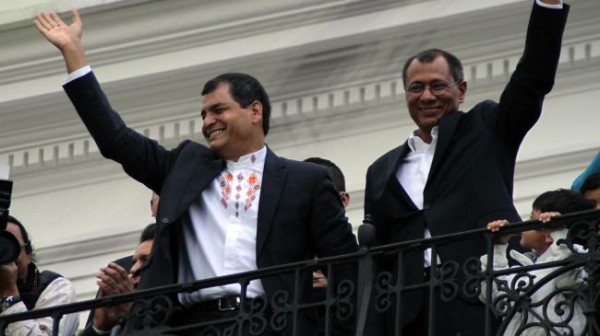 Ecuadorean President Rafael Correa has won the country's presidential election for the third term, with thousands of supporters gathering at the presidential palace in the capital, Quito, to celebrate the victory.
The 49-year-old president gained 56.9 percent of the ballots against 23.8 percent for his closest challenger, former banker Guillermo Lasso.
Lasso congratulated Correa just minutes after the results were released on Sunday evening.
Addressing his jubilant supporters from the balcony of the Carondelet Palace, Correa described his re-election as a victory for the "citizens' revolution" and vowed to further fight poverty in the country.
"We are only here to serve you. Nothing for us. Everything for you," Correa said.
"Thank you very much for this tremendous trust," he told throngs of cheering supporters.
Correa's government has spent heavily on infrastructure including roads, schools and hospitals over the past six years.
The leftist leader has brought stability to the Latin American state, which saw seven presidents over the course of ten years before Correa came to power.
Ecuadorian voters elected Jorge Glass as the vice president. They also cast ballots for 137 legislators in the National Assembly, and picked five members of the Andean Parliament.