Israeli forces beat activists returning to Palestinian Village, Bab Al-Shams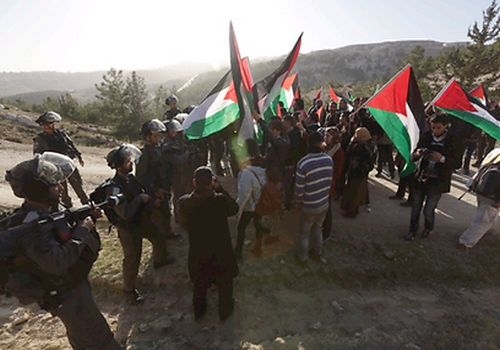 On Tuesday 15th January, dozens of Palestinian activists attempted to return to the Palestinian village of Bab al-Shams (Gate of the Sun) they recently erected in the E1 area between Jerusalem and Ma'ale Adumim, which was violently evicted on Sunday by the Israeli forces.
According to the Palestinian Solidarity Movement (ISM) the activists arrived around 15:00 to the surprise of Israeli Police stationed in the area; two groups approached Bab al-Shams from different directions. As Palestinian protestors moved up the hill, Israeli Occupation Forces (IOF) began to attack the protesters initially with stun grenades.
Activists remained steadfast and refused to leave the land which is privately owned by Palestinians, but the Israeli police began detaining Palestinians violently. Slowly Israeli forces managed to push activists down the hill.
Activists gathered at the bottom of the hill, sat down and began to sing. The violence of the Israeli authorities then again erupted; one women was beaten and suffered a head wound that required medical treatment and at least two others were injured: one male was bleeding heavily from the wrist, while others were being treated for shock.
the Israeli Forces arrested at least 10 people, most of which have now been released. Some remain in detention including an ISM founder Neta Golan.
The area remains a closed military zone untill the Israel High Court of Justice rules on the legality of the outpost. Israel's latest decision to expand construction in E1 by building some 4,000 residential units in this area, drew harsh international criticism; especially the US and Europe.
it's worth mentioning that such construction would effectively split the West Bank in two and prevent the formation of a Palestinian state.