The London New Putney Debates launch a new stage in the Occupy process
This post is also available in: French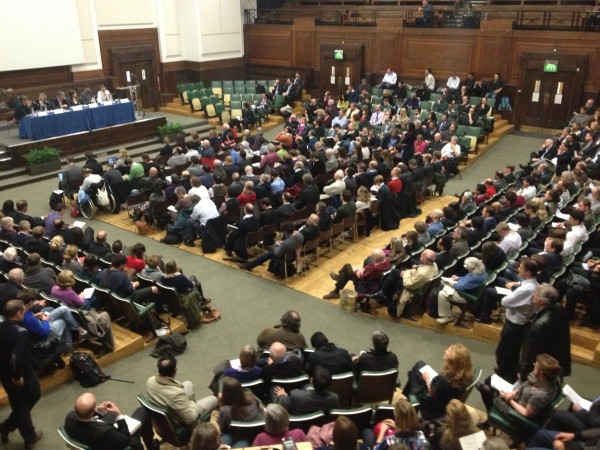 With presentations about the most pressing problems in the areas of Economy and (lack of) Real Democracy the New Putney Debates pick up the thread of revolutionary thinking that commenced in 1647, 365 years ago.
The two weeks of sessions will culminate in a new "Agreement of the People" or Charter of concrete proposals for the necessary changes to build a just, truly democratic and inclusive society. At all times the discussions have stressed that although such proposals are being thought about for the UK, given that we are living in a globalised world there is no doubt that we are talking about equally global changes, as well as a global community.
The inequalities created by the prevailing system and its loopholes to maintain the drive towards concentration were clearly described on the first day of the debates in the Economics session whilst the question "What would Real Democracy look like?" was put to a number of working groups in true participative style on the second.

Occupy's analysis praised by Bank of England's Andy Haldane – but this must only be the beginning (Press Release from Occupy London)
Haldane echoes Occupy's analysis by linking inequality to economic instability
In questioning from audience, notes that there is 'no great ideological chasm' to jump on a Financial Transaction Tax and the risk of banks moving abroad is "somewhat overblown"
Many of Occupy's concerns remain to be tackled; panellist Mick McAteer, consumer advocate and Director of the Financial Inclusion Centre, notes that "winning the propaganda war" isn't enough.
As part of Occupy London's 'New Putney Debates', Monday night's packed 'Socially Useful Banking?' event at Friends House saw the Bank of England's Director of Financial Stability, Andy Haldane, assert that Occupy had been "right, not just morally but analytically" in identifying the problem of "deep and rising inequality" as lying at the heart of the crisis. [1] [2]
In his identification of inequality as a cause of fundamental instability, Haldane echoed the attack on "systemic economic inequality" of Occupy London's Economics Statement, which was agreed by consensus almost exactly a year ago. [3] Further Occupy themes – including calls for the abolition of tax havens, complex derivatives and the relationship of economy and environment – came out strongly in the two hours' lively questioning from the floor that followed Haldane's statement.
"As Haldane has previously argued, banks are too big," said Rich Paton, Occupy supporter and one of the panellists at the event. "Yet a 'ring-fence' might become a string vest."
"What was particularly significant this time, was Haldane's linking inequality to the debt crisis – not only as effect but as cause. That context is something he can affect less directly than banks, in his role as regulator. But it was a significant endorsement of some key Occupy themes and arguments."
Part of Occupy London's current series of public debates, dubbed 'The New Putney Debates', celebrating the 365th year anniversary of the original debates in 1647, the 'Socially Useful Banking?' event was chaired by Lisa Pollack of the Financial Times' Alphaville blog, with panellists alongside Andy Haldane and Rich Paton including Duncan Weldon (TUC), Andy Green (Bully Banks) and Mick McAteer (consumer advocate and FSA non-executive board member).
With the free Putney Debates events running until 11 November focusing on what is needed for a more just and equal society, contributors include Natalie Bennett (new Leader of the Green Party), Michael Mansfield QC, George Monbiot, Polly Higgins, Jeremy Leggett, John McDonnell MP, Halina Ward and Professor Conor Gearty, Annette Zera, Joseph Choonara, Hilary Koob-Sassen and many other writers, theorists, artists, and activists. [2]
Towards a Socially Useful banking system
For his part, Haldane broke some interesting ground during the evening's extended question-and-answer session. At one point, he signalled that "there was no great ideological chasm" preventing the adoption of a Financial Transaction Tax [or Tobin Tax] that would be "felt disproportionately" by high frequency traders and that the risk of large banks moving their headquarters out of the country was "somewhat overblown … Lots of countries now have seen the perils of having big banks on their doorstep, especially when they blow up." [1]
In recognising that a "new leaf" is being turned, Andy Haldane's speech specifically mentions how Occupy has played "a key role in this fledgling financial reformation."
Nick McAteer, a consumer advocate and Director of the Financial Inclusion Centre, also on the panel, warned that sustained, targeted pressure would be necessary: "civil society groups are good at winning the propaganda war but we have a habit of losing the peace … We need to back up moral arguments with hard headed policy arguments."
A full transcript of the debate will be published shortly on the Occupy London and Socially Useful Banking websites. [4]
Notes
[1] Bank of England: A leaf being turned – speech by Andrew Haldane
Telegraph – Occupy protesters were right, says Bank of England official
Guardian – Bank of England official: Occupy Movement right about global recession
Top Bank of England director admits Occupy movement had a point
[2] Full programme for The Putney Debates; All events are free but donations are welcome to help fund them
[3] Statements of Occupy London General Assembly and Working Groups –
[4] Occupy London website; Socially Useful Banking? website
Author's Comment
"Insanity: doing the same thing over and over again and expecting different results." (Albert Einstein)
Whilst hearing a policymaker from the Bank of England engage in open discussion with (and praising) the Occupy role in bringing about change is hopeful, it was difficult not to see the presentation as somehow overoptimistic, that the system has heard the people and that change is under way. It is true that the separation of retail and investment banking is a step (strongly resisted, we might add)  in the right direction, but the assumption that on account of such separation the speculative casino will continue on its own merry way without causing the same disasters it has brought about is naïve. As long as there is a produce-nothing, create-nothing get-rich-quick wheel the brain drain, or brain waste of intelligent and highly educated people (also mentioned by Haldane) who could have been addressing the real problems of the world – incurable diseases, climate change, energy – will not stop. Nor will the diversion of funds from the real economy to the speculative one, even if banks cannot do it, "investors" can, and will, encouraged by the ever-present oracles of the Credit Rating Agencies pretending not to be biased towards client companies. Not to mention that "the new Bank of England leaf" does not include a plan to close Tax Havens, hoarding at present over £21 trillion, some calculate much more.
Another sticky point in this presentation was that one of the five strategic points mentioned by Haldane as the way to "correct" the system was to increase competition. Not only this is one of the central dogmas of neo-liberalism, but repeating that "competition works" does not make it any truer. We know that the private sector tends to form Cartels that favour their supposedly competing members who agree to protect their profits rather than their customers or clients. So where he would hope to see more banks with more or less the same structure, turning a better new leaf would mean replacing "competition" with "alternative", that is, to offer a completely different choice. For example, instead of privatising and cannibalising the Post Office, it could easily be transformed into a 0% interest state Bank, with no speculative arm and serving only the needs of the community.
Another question from the floor that was not really answered was the issue of Money as Debt, the way the banking system creates money in the form of credit, but it does not create the money to repay the interests. In this way the system is designed to create concentration, poverty and the need to "expand" the economy all the time to find the resources (human and environmental) to fill the gap. This ever increasing need of resources also fuel wars for their control, justified on ideological lines, or the need to protect other people's "human rights". And the environmental disaster looming in the horizon gets dismissed as a secondary concern.
We must be grateful, though, for the opportunity of such direct line to the thinking process at the heart of the system, for it has given us the chance to think more in depth about where are the resistances to building a truly humanised world.