2012 Right Livelihood Awards go to UK, US, Afghanistan and Turkey
This post is also available in: Portuguese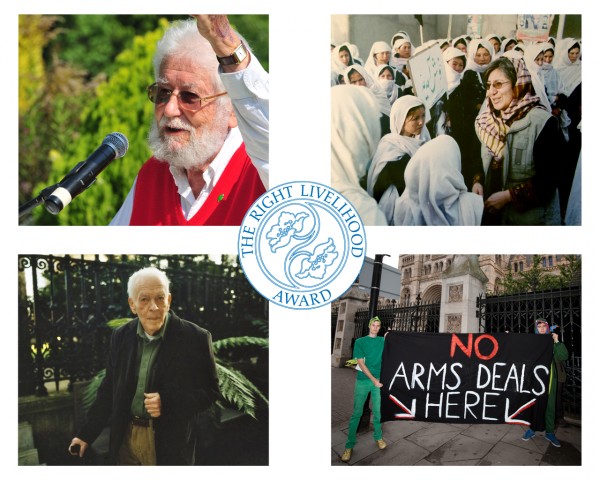 The 2012 edition of the Right Livelihood Awards, the alternative Nobel Prizes, have been announced in Sweden today. According to the Jury, the "2012 Laureates define essential conditions for global peace and security."
The awards are made by the Right Livelihood Award Foundation, based in Stockholm, and honours organisations and individuals "offering practical and exemplary answers to the most urgent challenges to us today."
The 2012 Right Livelihood Awards go to four recipients. One award is an honorary award, the three other laureates will share the € 150,000 cash award.
HAYRETTIN KARACA (Turkey) receives the 2012 Honorary Award "for a lifetime of tireless advocacy and support for the protection and stewardship of our natural world, combining successful entrepreneurship with effective environmental activism".
The Jury awards SIMA SAMAR (Afghanistan) "for her longstanding and courageous dedication to human rights, especially the rights of women, in one of the most complex and dangerous regions in the world".
It is the first time that a Right Livelihood Award goes to Afghanistan.
The Jury recognises GENE SHARP (USA) "for developing and articulating the core principles and strategies of nonviolent resistance and supporting their practical implementation in conflict areas around the world".
The Jury awards the CAMPAIGN AGAINST ARMS TRADE (UK) "for their innovative and effective campaigning against the global trade in arms".
The 2012 Right Livelihood Awards were announced today at a press conference in Stockholm by Ole von Uexkull, Executive Director, and Monika Griefahn, Co-Chair and Jury member of the Right Livelihood Award Foundation.
Ole von Uexkull, Executive Director of the Right Livelihood Award Foundation said, "This year's group of four Laureates highlights the essential conditions for global peace and security: effective nonviolent resistance, a recognition that the arms industry is part of the problem, human and women's rights, and the preservation of our precious ecological resources."
The Campaign Against the Arms Trade (UK) said, "We see this award as recognition of the hard work of the thousands of people who have supported CAAT's campaigns over the years."