Rally along Veterans For Peace, Long Island Chapter, on Sunday, November 19th, from 1:00pm-2:30pm, to stand in front of the Museum of American Armor in Old Bethpage to show our outrage over supporting and sponsoring an event there that glorifies war. Many of us have attended the Jones Beach Air Show and have seen firsthand the toys, merchandise, flyovers and pretend war games at this event encouraging young children to have simulated war experiences. Here at the Museum of American Armor the same war games will be played out on November 19.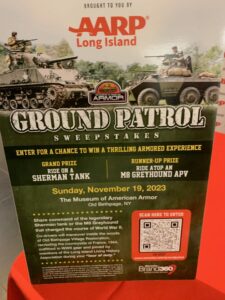 The museum is located at 1303 Round Swamp Road, Old Bethpage, Exit 48 South off the LIE. Our signs will read, War is Not a Game, Why is AARP Pushing War as examples.
There is ample parking at the museum, walking a very short distance to the main gate area where we will stand vigil with our signs. We hope that you will be able to join us and make a statement about the inappropriate message these 'war games' send. Inclement weather will cancel (to be sure day of event, call number below).
---
Email sent to AARP
As a long-time member of AARP and a frequent visitor to the Old Bethpage Restoration Village, I am saddened and appalled that both organizations are participating in this celebration of the instruments of war. This event neither provides historical information, nor honors veterans. What it does is make war appear interesting and exciting. Tragically, and most horrifically, it exploits the sacrifices of veterans and contributes to the militarization of our youth. In this time of disastrous war and out-of-control military spending, I would have hoped that organizations sensitive to the plight of war's victims, would discourage, even condemn war, and urge peace.
Camillo Mac Bica. Ph.D.
Coordinator, Veterans For Peace
Long Island Chapter
---