by Arlene Agbasil Mintas and Genevieve Balance Kupang
Baguio Central University (BCU), under the auspices of the College of Teacher Education and Liberal Arts (CTELA), marked the festive culmination of Buwan ng Wika (BnW: Language Month) at the BCU Function Hall with the presence of talented students, personnel, faculty, and administrators. This annual celebration pays tribute to the Filipino's vibrant cultural heritage and multifaceted linguistic tapestry of indigenous languages. This year's theme, "Filipino at Mga Katutubong Wika: Wika ng Kapayapaan, Seguridad, at Ingklusibong Pagpapatupad ng Katarungang Panlipunan," underscores the pivotal role of language in nurturing harmony, ensuring security, and promoting inclusive social justice.
Honoring Our Roots/Opening Remarks
Rey-Ann Cruz commenced with a solemn invocation, followed by Odescia Cosep who led the singing of the Philippine National Anthem. Stirring a sense of pride and unity among the attendees, Inst. Gladys O. Soliweg beautifully led the BCU Hymn. It was interesting to note that the BCU hymn speaks of justice, truth and equity which is aligned with this year's Buwan ng Wika theme.
Dr. Elma D. Donaal brought into sharp focus the pivotal role the educational institutions, exemplified by our esteemed institution, BCU, play in nurturing and safeguarding the mosaic of linguistic diversity that defines us. Dr. Donaal also invoked the memory of President Manuel L. Quezon, a luminary whose enduring legacy continues to illuminate our collective consciousness. Pres. Quezon's tireless efforts in advancing the cause of the Filipino language and culture laid the bedrock for the annual commemoration of Buwan ng Wika in the Philippines. President Quezon's unwavering advocacy for our national language and culture resonates even today, ensuring that his indomitable spirit lives on and is celebrated throughout the month of August.
Additonally, Dr. Donaal's attire, garbed in the intricate weaves and patterns of Cordillera culture, becomes a visual testament to the significance of linguistic diversity within our country. Through her attire, she magnificently communicates that every native tongue, like the threads in her woven ensemble, is an essential strand in the intricate fabric of our nation's heritage.
Introduction of the Guest of Honor and Keynote Address
Dr. Genevieve Balance Kupang's sharing was both interactive and thought-provoking. With unwavering passion, she highlighted the pivotal role of language as a powerful tool for constructing bridges of understanding across diverse communities. Dr. Kupang left an indelible mark by eloquently advocating for linguistic inclusivity, not only within the realms of education but also within the broader fabric of our social systems that includes the appreciation of our nation's natural resources, the traditions passed on to us by our forebears curated beautifully in our museums and schools of living traditions. She imparted to the participants the Palaw-ani greeting known as "Pagdadaupang Palad," introduced the captivating concept of the "49 Salita ng Liwanag or 49 Words of Light," and expounded upon the rich cultural tapestry of the Filipino people. Dr. Kupang drew compelling parallels, demonstrating how the Filipinos' deep reliance on the Divine is reflected in their various languages and traditions. She further illustrated her point with a poignant video presentation of "Igpaw Mindanao," a powerful testament to the urgent need for the promotion of inclusive social justice in our society. Her keynote left an indomitable impression, challenging participants to embrace linguistic inclusivity as a cornerstone of a more just and equitable world.
Cultural Showcase and Competitions
The BCU students showcased their talents during the intermission numbers. They demonstrated their deep love of the Filipino culture, patriotism and the importance of promoting our national language and indigenous languages through their heart listening, and active participation in the cultural dances and songs (paligsahan sa katutubong awit). Ang Paligsahan sa Katutubong Awit, reminds us of the rich cultural tapestry woven through the harmonious melodies of traditional Filipino songs.
Awarding of Certificates of Recognition and Closing Remarks
Dr. Perfecto M. Lopez, Vice President for Administration, Dr. Elma D. Donaal, Vice President for Academic Affairs, and Inst. Arlene Mintas took a moment to extend their gratitude to Dr. Kupang. In recognition of her invaluable contribution, they presented her with a certificate of appreciation and a token.
We thank the masters of ceremonies Bb. Azalea F. Tamio and G. Eduard Almario for ensuring that the festivity flowed smoothly and enjoyed by all. The event served as a reminder of the profound role language plays in shaping our society and fostering understanding among its members.
The celebration was a resounding success, leaving everyone inspired to continue cherishing and promoting the Philippines' diverse languages and cultures.
_______________________________________________________________________
About the Authors: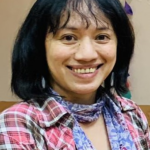 Arlene A. Mintas, MAF, serves as the Coordinator of Community Extension Services at Baguio Central University in Baguio City. She is a dedicated faculty member within both the Graduate School and the College of Teacher Education and Liberal Arts. Arlene's educational background includes a Bachelor's degree in Education with a specialization in Filipino, as well as a Master's degree in Filipino, both earned at the Benguet State University.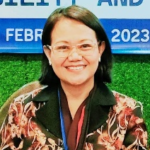 Genevieve Balance Kupang (Genie) is an anthropologist, consultant, researcher, and advisor to individuals and organizations engaged in working for good governance, genuine leadership, justice, integrity of creation, peace, the indigenous peoples, preservation of cultures, and societal transformation processes. She is a peace educator, author, an inter-religious dialogue practitioner, and resource person with a career in the academe and NGO.