by Genevieve Balance Kupang
"The heart of a father is the masterpiece of nature."
-Antoine Francois Prevost
The Malabon Artists' 2023 Timeless Art Exhibit, Series Two
This second series of The Malabon Artists' Timeless Art Exhibit features the remarkably gifted and oldest member of Sining Tambobong, Elunio M. "Onio" Faraon, 66 years old, a sculptor, painter, and landscape artist from Hulong Duhat, Gabriel Subdivision One, Malabon City. Together with him is his youngest son, painter Jericho S. Faraon, 21 years old, a Sining Batambobong member, and an incoming 4th-year BSBA-Financial Management student at the City of Malabon University.
Last June 6, we featured a snippet of the Opening of the Arts Exhibit of the Malabon artists' (Sining Tambobong and Sining Batambobong) contribution to the celebration of the Philippines' Independence Day through Artvocacy and Enchanting Ingenuity. If you missed the first series, here is the link: https://www.pressenza.com/2023/06/celebrating-philippines-independence-day-through-artvocacy-and-enchanting-ingenuity/.
The Talented Artist Elunio M. "Onio" Faraon
Having lost his mother Josefa Perez Manuel at a young age, life then was difficult for "Onio" and his siblings when they were young, as his father had no stable job. He expressed that it was his discovery and love for the arts, including creating figures from clay,  that has served as a miracle for him. Art was his saving grace. It was also his artwork earnings that afforded him to buy a ticket to work in Saudi Arabia for three years as a landscape artist and sculptor.
Here is a clip of my interview with him.
How did you start your craft as a sculptor, painter, maker of figurines, landscape artist, and a builder of inspiring grottos?
He answered:
"One does not have to be rich to be an artist… At about eight or nine years old, gumawa ako ng dalawang dangkal na palaka (I made a 16 inches Frog Garden statue) from clay and painted it. "Kung kani-kanino ako nanghihingi ng pintura noon para mabuo ko ang ginagawa ko na palaka." (I begged several colors of paints from generous neighbors so that I could finish the garden frog statue). I did not realize that a rich neighbor would take notice of it and requested me if she could have it for her garden. Her name was Ma'am Angelina Mendoza. I readily said yes, you can have it. Para sa akin, iyon ang Milagro para sa akin at sa mga kapatid ko (For me, that was a miracle in our life as a family). Fascinated by my skill in creating a decorative figure at a young age,  Ma'am Mendoza gave my family half sack of rice and one casserole of cooked shrimp. I was very happy and grateful! That was the start of my flourishing creativity. Tuloy tuloy na po iyon kapag may naiisipan akong gawin. Now, that I am getting old, I want to leave behind a name and a legacy, having contributed to the artistry of Filipinos."
Artist Onio's Mesmerizing Obra
Humble as he is, he attributes his giftedness and artistry to God. His enchanting creativity was not learned from a recognized art school. Sir "Onio" expressed that he had no formal education in sculpture or painting. It is an innate talent, as he learned to render sculptures, paintings, and landscaping through experience. He recalled though that his father David and mother Josefa Manuel Faraon knew how to draw (May alam din sa pag dra-drawing).
Before his mother met a car accident, which was the cause of her death, she used to bring "Onio" along with her to Calamba, Laguna to sell Patis (fish sauce) from Malabon. And it is in one of those trips to Calamba, that young "Onio" saw the sculpture of the National Hero Jose Rizal, "iyong babae na naka-handusay sa bungo" (a lady lying prostrate on a skull). This has greatly inspired him to also create sculptures. Since then, he has been involved in constructing waterfalls for gardens, making cornices, and creating precast garden decorations made from cement or concrete statues, fiberglass, papier-mache, bronze, decorative stone moldings, tin cans, and mixed media art.
He has helped budding artists when they were still studying fine arts in universities and are now successful artists. "I did many artworks for those artists or those who commissioned me. I am happy that they have made a name now for themselves. It is about time, that I make a name for myself as well, and put my signature on the work that I do. Because I am no longer getting any younger, I need to leave behind a legacy for my family and my community."
Like Father Like Son: Artist Jericho S. Faraon
Jericho is the second and youngest son of Artist "Onio." When he was six years old, he began drawing just like his dad who started making art at a young age. In both his elementary and high school days, he was joining arts competitions which gave him the opportunity to hone his craft. Asked what how he described his first artwork, this was his response:
"Serenity" (Fish) is a state of mental and emotional calmness, tranquility, and inner peace. In the professional world, serenity is often associated with a focused and composed mindset that can enhance productivity, decision-making, and leadership qualities. Like the fish that I painted, I rendered it with peace, calmness, joy, and passion. I am a pet lover and breeding fish is one of my hobbies. It's amazing how calmly they swim and the tranquility that it gives to me when I watch them all day."
The second one is Beauty in the Wilderness. "Have you ever experienced the beauty of wilderness? There's nothing quite like it! The vast expanse of untouched land, the gentle rustling of leaves in the wind, and the breathtaking views that go on for miles is truly invigorating. Seeing a unique and elegant flower grazing in a field is simply mesmerizing. Beauty in the wilderness is not just easy on the eyes, but it also offers peace, tranquility, and reflection – all things that are hard to find in our fast-paced modern world.
It was a pleasure engaging with Sir Onio's gracious and amiable family. My hats off and sincere salute to this resolute and resilient artist "Tatay Onio," who is also a loving father to his sons Dhenel and Jericho, and a devoted husband to his wife Marleen. I would like to greet him with an "Advance Happy Father's Day!"
I would like to repeat the invitation I shared last June 6. Pay a visit to the Timeless Art Exhibit at Fisher Mall, 3rd Floor Event Center from today until June 15, 2023. You will be amazed and enchanted by Sining Tambobong and Batambobong's masterworks. The artists are there to share with you the inspirations behind their art that celebrates Freedom, Future, and History.
---
About the writer: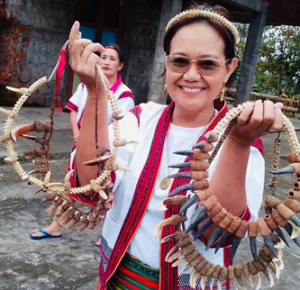 Genevieve Balance Kupang (Genie) is an anthropologist, consultant, researcher, and advisor to individuals and organizations engaged in working for good governance, genuine leadership, justice, the integrity of creation, peace, the indigenous peoples, preservation of cultures, and societal transformation processes. She is a peace educator, author, an interreligious dialogue practitioner, and resource person with a career in the academe and NGO.