The internationally renowned 'New Carnival Company' based in the heart of Ryde, Isle of Wight will be providing carnival puppets, costumes, and props for the Night Carnival, organised by Don't Extradite Assange, the official UK campaign group to free Julian Assange, to be held on Saturday, 11th of February at Lincoln's Fields, London at 4 pm.
The Night Carnival to Free Assange builds on the hugely successful Human Chain to Surround Parliament in October 2022 when thousands of people joined hands to encircle Parliament, including crossing over the Westminster and Lambeth bridges and along the Southbank. Recently released Iranian political prisoner Nazanin Zaghari-Ratcliffe with her family also joined the event to show solidarity with Julian and his family along with MPs and well-known public figures demanding Julian Assange's freedom.
One of the puppets joining the carnival is the imposing and regal 13ft high Lady Justice  with features from the Statue of Liberty.
On Friday evening Lady Justice was out in Ryde for a trial run to promote the carnival, decorated with the iconic yellow ribbons for Assange and decked in all her lights much to the amazement of passers-by many of whom stopped to take photos. She made her way up the town via Union Road, Ryde Theatre, The Crown, and Ryde Town square accompanied by three effervescent winged attendants from the group Isle of Wight Artists for Assange who have held art exhibitions locally dedicated to Julian as well as showing the documentary' XY Chelsea' at Ryde Commodore and more recently 'Ithaka', a film about Assange's family's fight for his freedom, to a full house at Ventnor Art Club.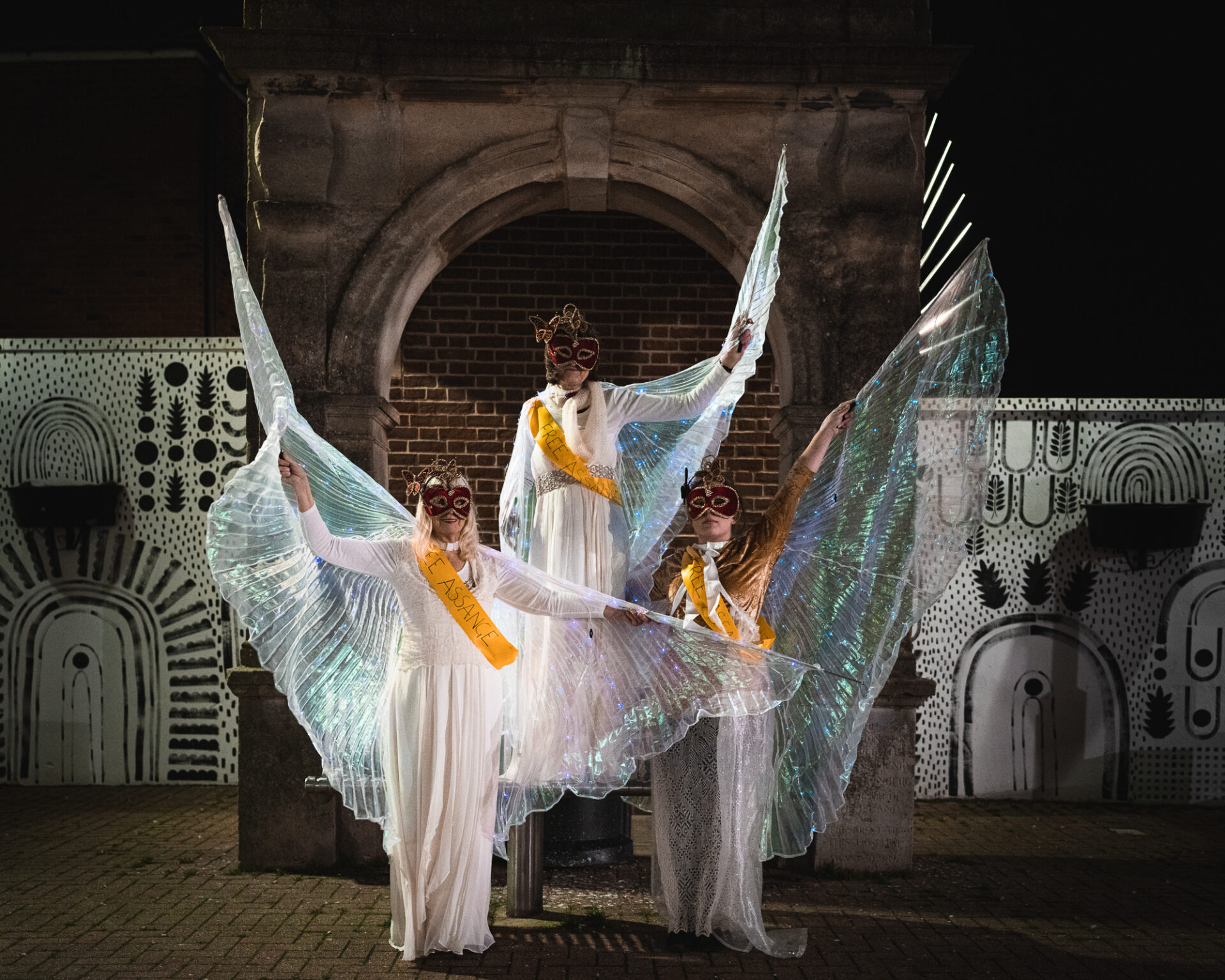 Lady Justice is a powerful symbol of liberty, free speech, and the traditional value placed by the USA on the first amendment. With her large scales, she represents the fight for justice for Assange who has been held as an unconvicted political prisoner on remand for almost 4 years now in HMP Belmarsh the UK's harshest prison, much of it in isolation while fighting his extradition to the US where he faces 175 years imprisonment for his journalism which exposed USA state crimes including war crimes and torture.
The powerful words portraying the spirit of the carnival are #DarknessIntoLight as people gather in London and around the globe to create a carnival, in its traditional sense, to mock the tyranny and excesses of the powerful and demand that Julian Assange be freed.
More details about joining #NightCarnival2FreeAssange:
https://dontextraditeassange.com/events/night-carnival-for-assange/
and the DEA petition here: https://dontextraditeassange.com/petition/
Isle of Wight Artists for Assange is on Facebook and Twitter: @zannafauzy
All photo credits Ben Francis.