14 December 2022, Quezon City.  Holding mock oversized firecrackers plastered with "danger" tape, enthusiastic students of Bagong Silang Elementary School (BSES) in Caloocan City vowed to safely celebrate the upcoming New Year to prevent injuries, as well as pollution.
In a festive event held at BSES located in Bagong Silang, the country's most populous barangay, the EcoWaste Coalition unveiled a banner mirroring the group's timely advocacy during the festive season: "Iwas Paputoxic: Usher in the New Year free of injuries, garbage and pollutants."  The group coined the term "Paputoxic," a portmanteau of the words "paputok" (firecrackers) and "toxic."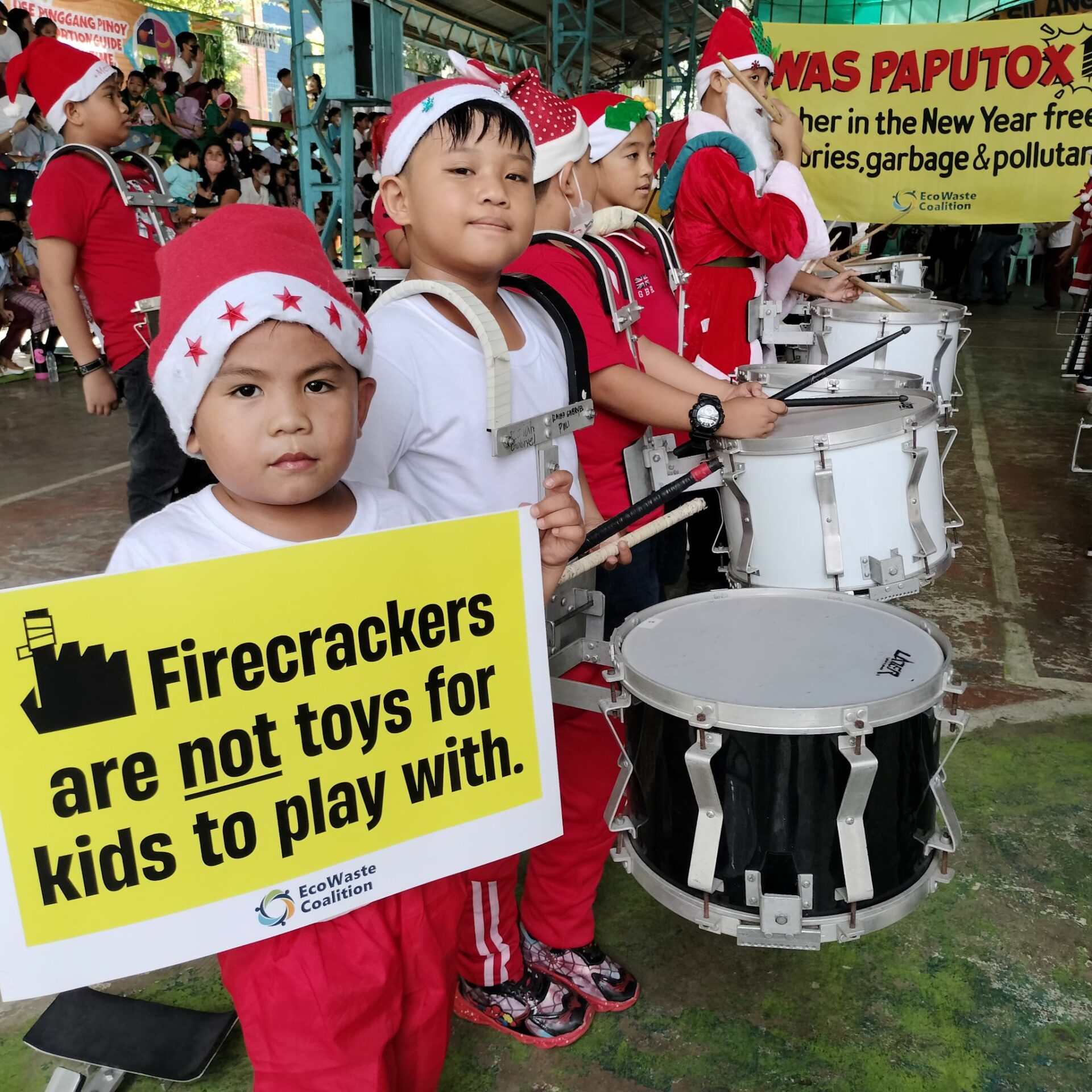 "After a two-year hiatus due to the COVID-19 pandemic, we are delighted to revive our school-based 'Iwas Paputoxic' drive to foster awareness among students about the dangers posed by firecrackers and fireworks to their health and the environment, and to inspire them and their families to opt for a garbage-free and toxics-free way of heralding the New Year," said Aileen Lucero, National Coordinator, EcoWaste Coalition.  "Funds meant for firecrackers and fireworks can be used to buy food and other necessities or set aside for a rainy day."
"Our school community is one with the EcoWaste Coalition and the Department of Health in promoting a safer welcome to the New Year that will not result in injuries among kids and adults, and pollute our environment, especially the air that we breathe, with hazardous contaminants," declared Dr. Ofelia Naguit, Principal, BSES.
Speaking at the event, environmental health specialist Dr. Geminn Louis Apostol from the Ateneo School of Medicine and Public Health pointed out that "aside from the noise pollution and the risk of physical injuries, and residual garbage, lighting firecrackers and fireworks emit a variety of hazardous pollutants such as toxic particulates, metals and gases that can make affect the air quality and trigger health problems, especially for the most vulnerable populations like children, pregnant women, elderly and those with underlying medical conditions."
Also joining the event were the representatives of Barangay 176-Caloocan City, the Department of Health and the Philippine National Police-Caloocan City.
To hammer home the message that firecrackers are dangerous, some students brandished placards that read "firecrackers are not toys for kids to play with" and "firecrackers are hazardous to health" alongside fake bloodied and wounded hands.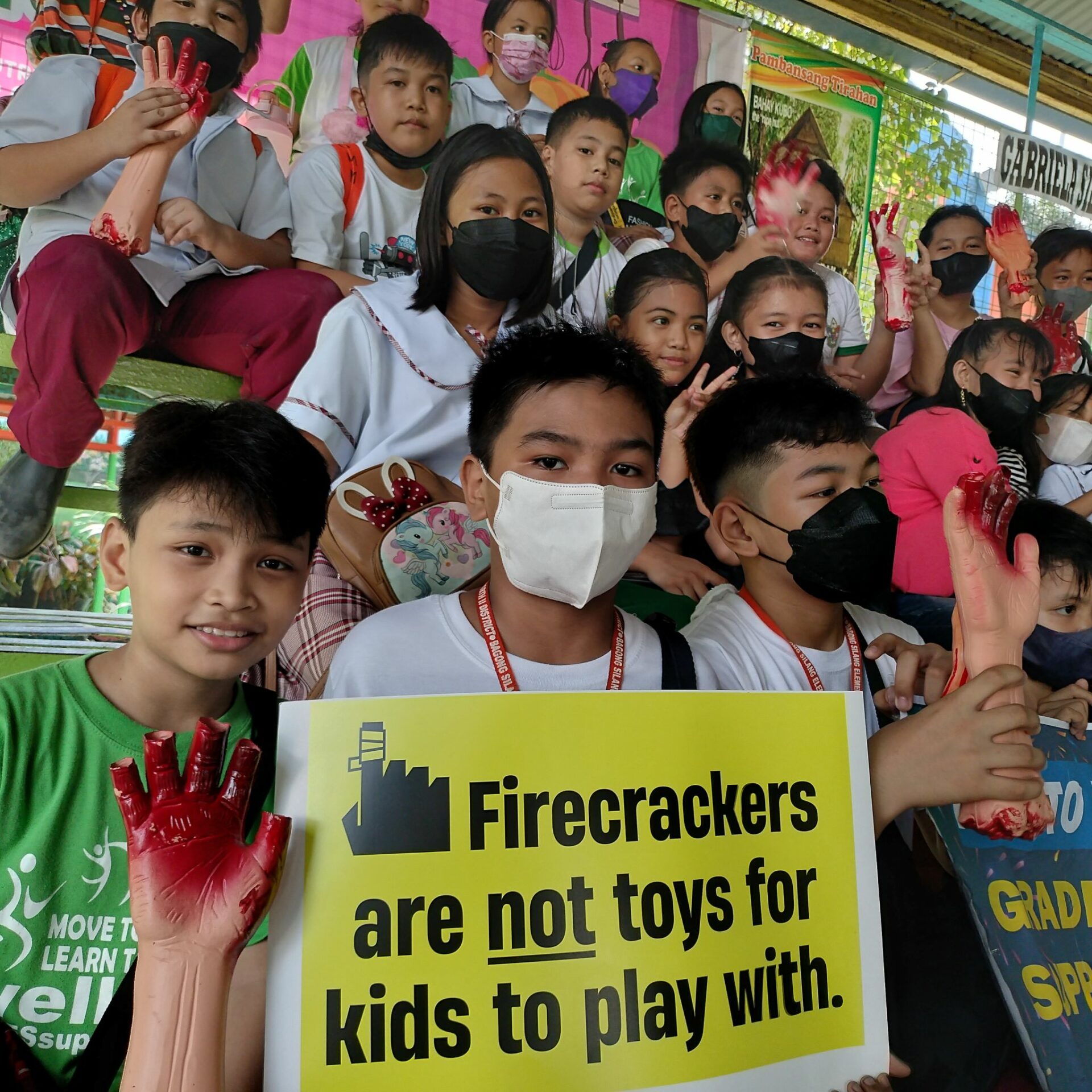 The students likewise joined the countdown to the New Year creating sounds from alternative noisemakers fashioned out of kitchen utensils like pots and pans, as well as  DIY maracas and shakers from recyclable materials like tin cans.
Held every December starting in 2006, except in 2020 and 2021 due to COVID-19 health restrictions, the EcoWaste Coalition's "Iwas Paputoxic" advocacy complements the Department of Health-led "Iwas Paputok" campaign.
Metro Manila schools that participated in past "Iwas-Paputoxic" events include the Krus na Ligas Elementary School (2006), Esteban Abada Elementary School (2007), Claret School (2008), Marcelo H. del Pilar Elementary School (2009), Kamuning Elementary School (2010), Pinyahan Elementary School (2011), Cubao Elementary School (2012), Commonwealth Elementary School (2013),  Fernando Ma. Guerrero School (2014), Quirino Elementary School (2015), Jacinto Zamora Elementary School (2016), Marcelo H. del Pilar Elementary School (2017), Jose Rizal Elementary School (2018), and the San Antonio Elementary School (2019).
After Christmas Day, the EcoWaste Coalition will bring its "Iwas Paputoxic" to grassroot communities to campaign for a safe welcome to the New Year that will respect the right of every Filipino to a clean, healthy and sustainable environment.
The group had earlier disseminated information about the toxic chemical threats to health from igniting firecrackers and fireworks, as well as the harms inflicted on cats and dogs by the exploding noise and hazardous smoke from firecrackers and other pyrotechnic devices.