It is rare to find three generations of doctors with the same name, Dr. Angel, serving and leading a foundation hospital for six decades and still counting. -The joy of cultural mapping
by Dr. Genevieve Balance Kupang
On August 23 up to the present (October 11, 2022), the Grupo Kalinangan, Inc. (GKI) team, [an NCCA accredited civil society organization], commissioned by the Milagros LGU have been conducting the cultural mapping (CM) activities in all the barangays of Milagros. The GKI team is composed of team lead Dan Ignico Proton, and cultural mapping facilitators Katrina Bayaban, Mikhaela Cao, and Dr. Genevieve Balance Kupang.
Part of the CM pursuits was identifying and documenting Significant Personalities and Cultural Institutions which have had significant contributions to a community. As attested by key Milagreños informants, this is what the GKI team discovered about a significant healthcare institution, the De Castro Foundation Hospital, Inc (DCFHI) located at 9 Fontelar Street, Milagros, Masbate. Its founder Dr. Angel De Castro, Senior, passed on the baton to his son, Dr. Angel De Castro, Junior, who did not only head the DCFHI but also became a post-martial law Mayor of Milagros. At present, his grandson Dr. Angel De Castro, III is continuing the legacy of his father and grandfather-founder. One of the facets of the DCFHI cultural wealth is its originality and historicity, there is a connection to past significant moments, besides having helped many who needed health care services.
In the 1950s, a cholera outbreak struck Masbate Province. Dr. Angel De Castro, Senior, a Manila-born, University of the Philippines Manila-trained doctor took the challenge to restore to health the patients inflicted by the epidemic. Before the Doctors to the Barrios (DTTB) program was formalized and introduced by the former Health Secretary and illustrious Senator Juan M. Flavier, Dr. Angel, Sr. was a pioneering "Doctor to the barrios" for the province of Masbate. He served as a community-oriented, compassionate, competent physician. That spirit of committed service to people in a rural area like Milagros was emulated by his son and grandson doctors, Dr. Angel, Jr., and Dr. Angel, III. Dr. Angel, Sr. then became Masbate's Provincial Health Officer, and for that, the people of Masbate are grateful.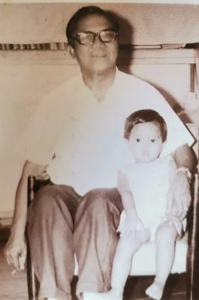 The late Dr. Angel De Castro, Sr. (with one of his grandchildren), the former Masbate's Provincial Health Officer, and founder of the De Castro Foundation Hospital, Inc.
The De Castro Foundation Hospital, Inc.
In the municipality of Milagros in the 50s, there was no community health and medical center yet, so Mayor Vicente Z. de Jesus then invited Dr. Angel De Castro, Sr. to put up a clinic to provide the much-needed public health needs of Milagreños. In 1961, the clinic began to be constructed. Two years after, the treatment center, a foundation hospital known as the De Castro Foundation Hospital, Inc. started serving the locals.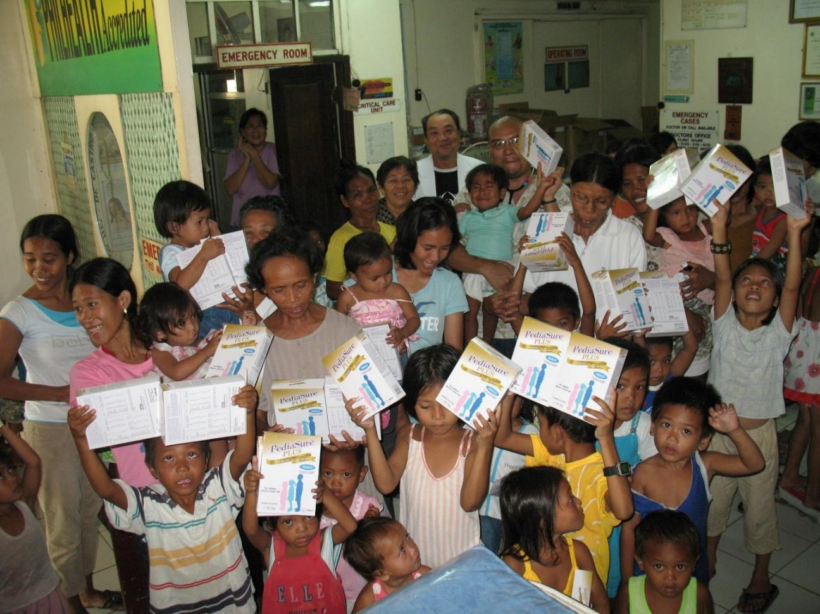 The beneficiaries of the De Castro Foundation Hospital, Inc. together with the late Dr. Angel de Castro, Jr., and Dr. Angel De Castro, III.
Among the ten children of Dr. De Castro Senior, his eldest son became a doctor and soon joined his father to provide medical services in Milagros. He was Dr. Angel de Castro, Jr. who took the reign of running the hospital along with Dr. Angel, Sr.  As God must have planned it, Dr. Angel, Jr. also named his eldest son Angel who also took up medicine in Manila. His other two daughters also became medical doctors. They are Dr. Jennifer de Castro, Consultant, Surgical Oncology, at St. Luke's Hospital, and Dr. Jaynet de Castro Consultant, Gynecologic oncology, at Jecson hospital and Medical City Tarlac.
Before Dr. Angel III started his residency training, Dr. Angel, Jr. invited him to serve the foundation hospital even for just two years. That two years had become 14 years to date and counting.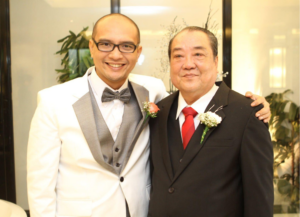 Like Father, like Son. Dr. Angel De Castro, III with his late father Dr. Angel De Castro, Jr. whom he missed so much. Dr. Angel, III, expressed, I have a thousand stories to tell about my dad.
During the interview, we asked Dr. Angel, III what is it like leading a foundation hospital. His answer was "How did my lolo (grandfather) and dad survive?" He was referring to the common problems encountered by Filipino doctors living in rural areas in the 50s-80s. The challenges like lack of facilities, low wages, medical supplies, and handling superstitious beliefs were also mentioned by Flavier (1970) in his book Doctors to the Barrios: Experiences with the Philippine Rural Reconstruction Movement. Despite the above challenges, Dr. Angel, III, and his medical team took on the challenges with more determination to continue the legacy of his grandfather and late dad whom he missed so much.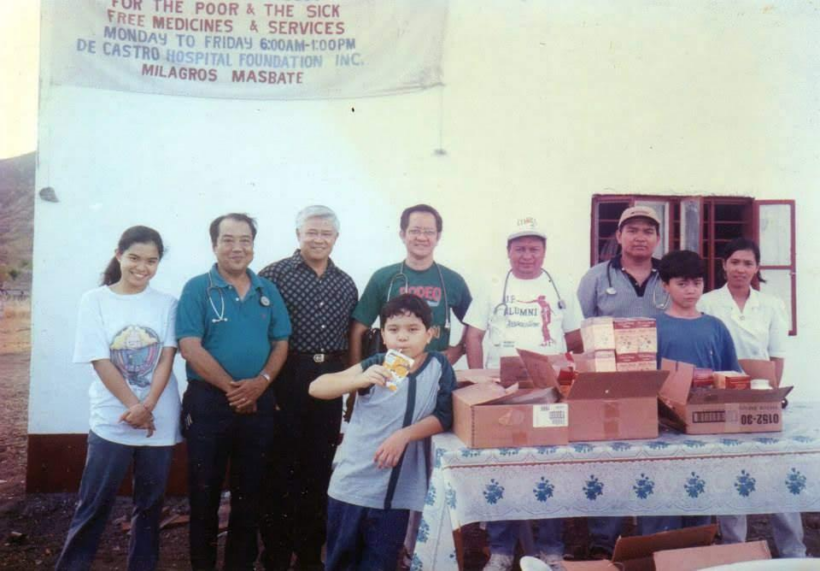 Dr. Angel, Jr. (2nd fr. L) and his team take a pose in one of the barangays of Milagros after their free medical services and free medicine distribution.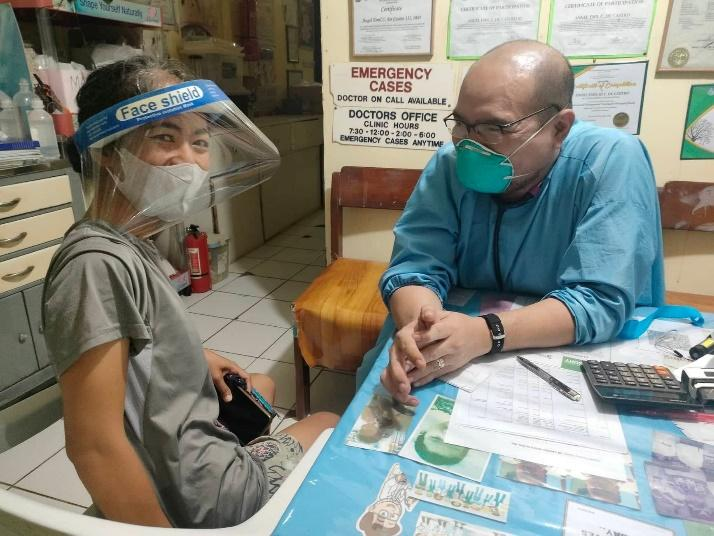 GKI CM facilitator Katrina Bayaban with all her smiles after she experienced the generous and quality health care of Dr. Angel De Castro, III due to gastrointestinal illness. Katrina has been healed, thanks to Dr. Angel.
Dr. Angel, III further expressed that there are a lot of people in the world who want to help without expecting anything in return. He relayed an incident when he was in High School "I remember an elderly European priest doctor who gave me his double-barreled stethoscope, which is rare) when he realized I am my dad's son. He whispered to me in his thick accent that my dad is otherworldly with his commitment and passion to help… My dad also brought me to distribution events not only in Milagros but even in Manila. We distributed medicines and hospital equipment given to the foundation from all over the world and other like-minded organizations, usually religious ones. I was his extra hand and labor…"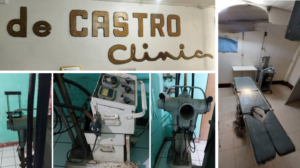 Some heritage equipment of the DCFHI: a,b,c) WWII field US picker X-ray machine still in use. and d) the first operating system in Milagros Masbate in the 60s.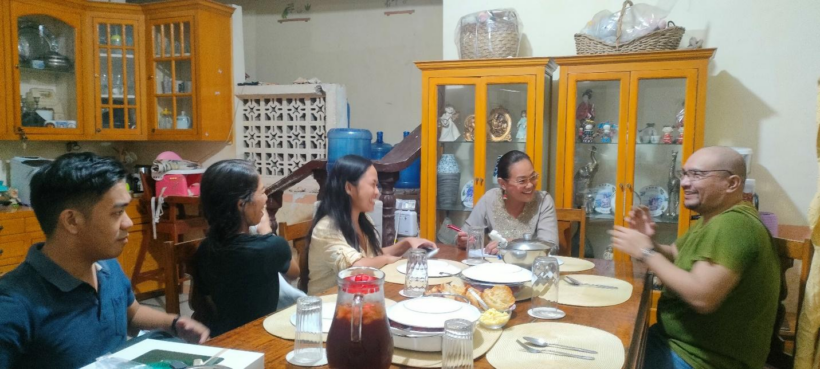 Lively Interview with Dr. Angel de Castro, III (in green shirt). The current lead administrator and doctor of the DCFHI answered wittingly the queries of the GKI cultural mapping facilitators Dr. Genevieve Balance Kupang, Mikhaela Cao, Katrina Bayaban, and Dan Ignico Pronton.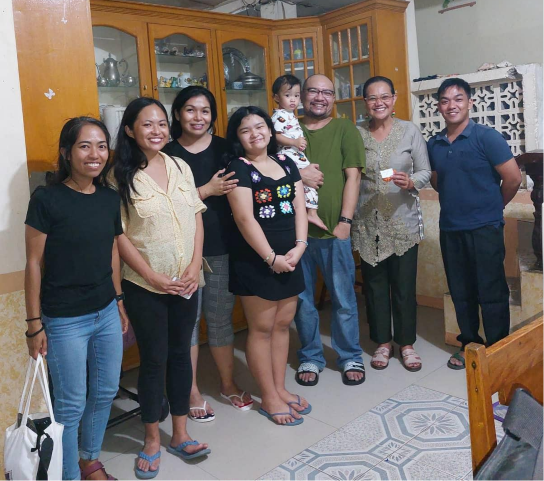 The GKI team with the family of Dr. Angel de Castro, III after the interview and sumptuous dinner prepared by the De Castro family.
The GKI team would like to thank the Municipal Mayor Hon. Natividad Revil-Magbalon, M.D., the LGU stakeholders and personnel especially the MPDO Ma'am Jessica F. Madrilejos, Tourism Designate Ma'am Carmen Cortes, and Mr. Darcy Rances , our driver for the duration of our CM activities.  Special thanks too, to Mr. Bobby Rosero & family, our foster family while in Milagros, and Dr. Clemente Hector Severino Bajar, the Masbate LGU Provincial Health Officer, for giving us tips on the significant personalities to interview in Milagros. Their list included the persons behind the DCFHI.
---
About the writer: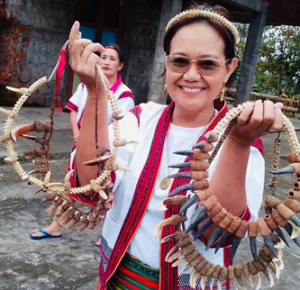 Genevieve Balance Kupang (Genie) is an anthropologist, consultant, researcher, and advisor to individuals and organizations engaged in working for good governance, genuine leadership, justice, integrity of creation, peace, the indigenous peoples, preservation of cultures, and societal transformation processes. She is a peace educator, author, interreligious dialogue practitioner, and resource person with a career in the academe and NGO.