We were at the Embassy of Palestine in Chile, meeting with the Deputy Minister of Foreign Affairs of the State of Palestine, Amal Jadou Shaka'a, who was visiting our country before leaving for Argentina. The meeting was also attended by some journalists from local media, as well as the journalist who cover book reviews and cultural events for Pressenza, Mariana Hales.
It is well known that the largest Palestinian emigration in the world is based in Chile and constitutes a colony with a strong identity, importance and close connections with those living in their homeland.
President Boric's gesture of postponing the accreditation of Israel's new ambassador to Chile, as a way of signalling his rejection of the murder of a 15-year-old Palestinian boy on the very day the ceremony was to take place in our country, has also been in the news recently. "These are convictions," she said when asked, "and few politicians have principles. It is remarkable that President Boric knows how to be guided by his principles and convictions".
Regarding her government's position on the Ukraine-Russia conflict, Amal Jadou pointed out that "we are a people who have long sought to build peace. We know what it is like to be living in the midst of conflict, we know about deaths, migrations, calamities. More than anyone else we want peace. In this conflict we also want peace.
"My own father," she continued, "migrated to settle in Palestine bringing with him only a small backpack with some clothes and his favourite books. Now one of my nephews, who lived in Ukraine, has returned to Palestine fleeing on foot, with a small backpack in which he put his i-pad and some clothes. History is repeating itself in the same way. We must put an end to these misfortunes, to these injustices for the people".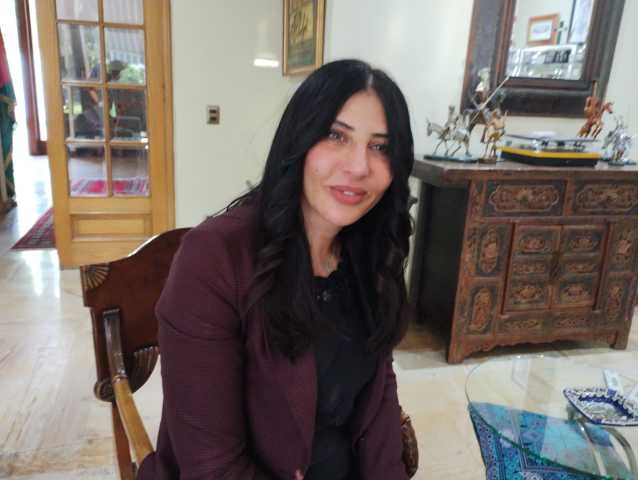 Amal Jadou Shaka'a
Speaking of the Palestinian cause and the persistent struggle of her people, the Deputy Minister referred to her name. "Amal means Hope," she said. "That is what drives me forward, the hope for justice. Hope that our cause will achieve something very simple: that the law will be enforced. We want compliance with international laws, international resolutions, simply what the law dictates. We are not asking for anything more complicated, just that we implement the justice that is already established in agreements and rulings, but which is not fulfilled in our territories. What drives us on a daily basis is the hope for justice".
The talks also led us to look for ways to strengthen our links and establish reciprocal relations in the near future – as an international news agency – with other Palestinian agencies, media and organisations, in order to be able to disseminate what is happening there directly and without other intermediaries. To communicate the point of view of those who live in Palestine. We openly expressed to the Deputy Minister Pressenza's interest in being able to establish these alliances, which can be reinforced from the Greece office and our offices in Athens.
For her part, journalist Mariana Hales also expressed her interest in interviewing new authors and writers from Palestine, in order to create a growing cultural current that could eventually lead to new publications and book launches in Chile.
"Not only should we work to achieve these reciprocity agreements, but it would be very good to be able to see each other's faces, to meet journalists, writers, to create links. What we are living through has to be heard in the streets, it has to be seen in the simple people, ask the women, be able to appreciate it in genuine hearts. Come to see, to listen, to feel the people and collect their opinions," she encouraged us.
The meeting, besides being very cordial, frank and direct, opened new possibilities to continue advancing in the empathy that we in Chile have with the Palestinian cause, with its people, its humanity.