By Perfecto Caparas
Besieged journalists persevere and persist with their critical reporting amid the government's clampdown in the guise of anti-communism and anti-terrorism.
Cyber libel and anti-terrorism laws hang like Damocles' sword over the head of independent and professional media practitioners, like Nobel laureate Maria Ressa. As members of the Fourth Estate, journalists perform their adversarial role as fiscalizers and people's watchdogs against the excesses, corruption, and abuse of power by officials from the executive, legislative and judicial branches of government.
But the government seems eager to pronounce them "guilty by association." It falsely brands journalists as "communists" and "terrorists" to muzzle the press. The government's National Task Force to End the Local Communist Armed Conflict (NTF-ELCAC) labels the National Union of Journalists of the Philippines allegedly as "a communist front." Recently, the National Telecommunications Commission ordered the blocking of the websites of media outlets Bulatlat and Pinoy Weekly. The Securities and Exchange Commission also canceled Rappler's license to operate.
NUJP refuses to cower and instead strongly decries those "new cases of press freedom violations." NUJP scores red-scare tactics to crush critical reporting that speaks truth to power and holds officials accountable. "These recent incidents aim to drown out the truth on one hand, and to drumbeat disinformation and misinformation on the other hand," NUJP says.
Red-baiting
On June 28, 2022, national security adviser Hermogenes Esperon justified the NTC order. He issued a statement that proclaims, "The Restriction of Communist Terrorist Group Affiliated Websites is a Win for the Nation." The NTF-ELCAC refutes NUJP's stance, saying, "the NTC has more than sufficient cause and reason to order the blocking of Bulatlat and Pinoy Weekly." Esperon concurrently serves as NTF-ELCAC vice-chairman.
But NUJP sees the moves as "part of the systematic campaign against independent media."
Martial law repression
After the May 9, 2022 elections, Ferdinand Marcos Jr. became president.
In early July 2022, the Court of Appeals upheld the conviction for cyber libel of Maria Ressa and former researcher Reynaldo Santos Jr.
All this stokes fears of media repression reminiscent of martial law five decades ago.
Marcos Jr.'s late father, dictator Ferdinand Marcos Sr., imposed martial law in 1972. Marcos Sr. set up a "constitutional authoritarianism." Through the ruse of the 1976 Amendments to the 1973 Constitution, Marcos Sr. sidelined congress to a rubberstamp role and arrogated unto himself not only lawmaking powers – including the authority to issue secret decrees – but also the ultimate power to permanently dissolve congress. Marcos Sr. also rendered judicial warrants inutile by vesting himself with the absolute power to issue arrest and indefinite detention orders by virtue of presidential commitment orders.
US courts held that Marcos Sr. committed gross human rights violations, including arbitrary arrest, imprisonment, incommunicado detention, torture, summary execution, and enforced disappearance of thousands of civilians. Marcos Sr. ordered the arrest and imprisonment of journalists and prominent opposition leaders, like the late Senators Benigno S. Aquino Jr. and Jose Diokno. Acting upon Marcos Sr.'s orders, the military raided and padlocked media outlets.
Corruption, crimes against humanity
Since the election in May 2016 of former president Rodrigo Duterte, journalists have been exposing the organized, widespread, and systematic murder of civilians by police and suspected state agents allegedly on Duterte's order to wage a so-called "war on drugs." Then International Criminal Court chief prosecutor Fatou Bensouda estimates that Duterte's seeming state policy claimed the lives of 12,000 to 30,000 civilians. Journalists also publicized the Senate exposé on the allegedly multi-billion peso corruption involving the procurement by alleged Duterte officials and cronies of protective personnel equipment (PPE) during the covid-19 pandemic.
"The red-tagging of journalists is a deliberate attempt to discredit, isolate and render the Philippine media irrelevant," according to NUJP. "We are not taking all these sitting down."
"As we always say, an attack on one is an attack on all."
Bulatlat seeks to nullify the NTC memo before the Quezon City regional trial court. Rappler will appeal the SEC order.
Solidarity
NUJP calls for the scrapping of certain Anti-Terror Act (ATA) provisions, particularly the one on inciting terrorism. NUJP says the government used those provisions in trying to justify the blocking of Bulatlat's and Pinoy Weekly's websites.
Journalists take their press freedom struggle to cyberspace and make calls for solidarity.
"As a show of support, we request media outfits, chapters, and individuals to post the digital banner Journalism is not terrorism."
NUJP encourages journalists to use the hashtags:
#JournalismIsNotTerrorism
#UnblockTheTruth
#LetThePeopleKnow
#DefendPressFreedom
Editor's Notes: For a wider context on this issue of press freedom, do follow the links above. But as a backgrounder on the two sides of the issue:
Esperon's justification for the order:
In a statement issued, Esperon claims that Bulatlat and Pinoy Weekly, which claimed to be advocates of truth and objectivity, in reality, promote misinformation and even terrorism.
"Misinformation remains to be one of the nation's greatest enemies; and is in fact a powerful tool used by the Communist Terrorist Group to sow enmity and discord—dividing the Filipino people and separating us from objectivity and the truth," Esperon said.
Esperon said the decision to include the two news organizations in the list of websites affiliated with the Communist Party of the Philippines-New People's Army-National Democratic Front (CPP-NPA-NDF) stemmed from the stories and articles published by the news sites.
He quoted an excerpt of an analysis published by Pinoy Weekly on Nov. 3, 2020, entitled "Limang katwiran ng armadong paglaban" (Five justifications of armed resistance) (https://pinoyweekly.org/2020/11/limang-katwiran-ng-armadong-paglaban/).
Esperon said the published analysis promotes armed struggle to radically change the society, which falls under Section 9 (definitions of terrorism) of Republic Act 11479 or the Anti-Terrorism Act of 2020.
He quoted another excerpt of an article from Pinoy Weekly entitled "NPA at Masa, 'di Matitinag'" (NPA and masses, 'unshakable') (https://pinoyweekly.org/2022/03/npa-at-masa-di-matitinag/) published on March 30, 2022.
According to the article, "Sa huli, inatasan naman ng CPP ang NPA na palakasin ang pagrerekrut at pagsasanay ng libu-libo pang pulang mandirigma mula sa hanay ng mga kabataang magsasaka, mga manggagawa, intelektuwal, kababaihan at iba pang sector (At the end, the CPP instructed the NPA to strengthen the recruitment and training of thousands of more red fighters from the ranks of young peasants, workers, intellectuals, women and other sectors).
"Dapat lalong itaas ng hukbong bayan ang kakayahan sa gerilyang pakikidigma, ang pagsisikreto sa mga paraan nito ng paglalakad at pagkakampo, upang manatiling bulag at bingi ang kaaway at mapawalangsaysay ang mga bomba at makabagong kagamitan sa pagsasarbeylans at pambobomba,' atas ng CPP (The people's army must further increase its guerrilla warfare capabilities, the secrecy of its methods of walking and encampment, in order to keep the enemy blind and deaf and to dismantle bombs and modern surveillance and bombing equipment,' the CPP ordered)".
The quoted excerpt, Esperon said, falls under the ATA's Section 10, or the Recruitment to and Membership in a Terrorist Organization.
The order for NTC to block the websites of CPP-NPA-NDF affiliates, including Bulatlat and Pinoy Weekly, seen by many as a blatant attack on free speech is, in fact, Esperon said, an act of protecting the integrity of the nation's digital space. (source: https://www.pna.gov.ph/articles/1177342)
In reply, Pinoy Weekly explains:
Pinoy Weekly said that in the first story, they simply cited historical facts and knowledge: "Sa maraming pagkakataon sa kasaysayan ng mundo, pinili ng mga mamamayan na mag-aklas para baguhin ang kanilang lipunan. Walang matinong tao ang mag-iisip na pag-iindorso na ito sa New People's Army (NPA) o paghihikayat na ito sa mga Pilipino na mag-aklas at sumapi sa NPA. Paghahayag lang ito ng historikal na kaalaman.
(In many instances in the history of the world, citizens chose to take up arms to change their society. There are no persons in their right minds who will think that this is an endorsement of the NPA or recruiting Filipinos to take up arms and join the NPA. This is just stating historical knowledge.)
In the second story that Esperon had also cited as justification, Pinoy Weekly said their writer simply quoted the statement of the CPP. "Malinaw pa sa sikat ng araw na sinisipi lang ng manunulat ang opisyal na pahayag ng CPP. Hindi niya pahayag iyan. Ngayon, bawal na bang sumipi? Bawal nang ikober ang armadong paglaban ng NPA? Hindi na puwedeng interbyuhin ang mga rebelde, kasi anumang pahayag nila, magagamit laban sa mga mamamahayag na puwedeng kasuhan ng pagsuporta sa 'terorismo'? Ulitin natin: Grabeng kahibangan ito."
(It's clearer than the day that the writer is just quoting the official statement of the CPP. It's not his personal statement. Now, is quoting prohibited? Is it illegal to cover the NPA's armed struggle? We cannot interview the rebels because whatever they say can be used against journalists who can be accused of supporting "terrorism?" Let us reiterate: This is a different level of foolishness.)
The National Union of Journalists of the Philippines (NUJP) also explained that critical reporting should not be equated with affiliation with communist groups: "Bulatlat and Pinoy Weekly have existed for years and have built a track record of reporting on people's issues. Sometimes, that reporting has been critical of the government and its policies, but it is dangerous to equate this with affiliation or support that the government now claims." Source: https://www.rappler.com/nation/what-it-signals-esperon-goes-after-news-sites-before-vacating-post-2022/
To date: Rappler's and Bulatlat's websites are still accessible, but Pinoy Weekly is blocked.
---
About Perfecto Caparas: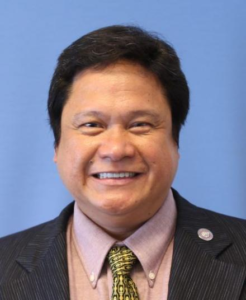 An award-winning investigative journalist and licensed attorney, Perfecto Caparas took his oath as a member of the newly-formed National Union of Journalists of the Philippines' North America Chapter.