Anahi Mariluan, Mapuche singer, has an extensive career in the dissemination of the culture and identity of her people. She has just participated in the album "Ülkantun: Mujeres Memoria" (Ülkantun: Women Memory), which brings together nine songs that recover the memory and present of the communities. She reflects on human rights policies and how indigenous peoples care for the lives of all.
By Sergio Sánchez/Agencia Tierra Viva
Anahi Mariluan says that the Mapuche people are a people of the future. They are a people of the future because they care for life, air, water, mountains, territory. And that future is the sum of a vital present and a past with solid roots. Anahi is a Mapuche singer – or "translator of the sounds that surround us" – researcher and composer of songs in Mapuzungun, the language of her people. She was born in Neuquén, but currently lives in San Carlos de Bariloche. From there, she says, she sings and campaigns for the sound restitution of her community. "I understand that not only the tangible territorial recoveries are valid, but also the intangible ones, which were ignored after the silencing to which my people were forced 150 years ago," she explains.
"I think I am contributing to this de-silencing in this way, with the tool of music, with the political tool of Mapuzungun and with the conviction that we are facing a world that wants to omit us", Anahí emphasises.
Music with identity and memory
"Listening to these grandmothers will allow us to continue creating songs," she says, referring to the album Ülkantun: Mujeres Memoria, which will be presented on Saturday 22 January at 5pm at the Salón de la Memoria in Ruka Choroy, Neuquén. It is a sound archive recorded by the teacher Silvia Giglio in 1980, which has now been turned into a record of nine songs. The selection was made by Anahi and contains the ül (songs) of ülkantufe (women singers) from the Ruka Choroy community. "Many grandmothers recorded their songs to teach children, which constitutes a valuable intercultural background," explain the creators of the project. "It is a work of sound restitution on the ülkantun and the objective is that the historical songs return to their communities of origin," says Anahi, who is also a music teacher and is completing her doctorate in anthropology.
At the end of 2021, the Record Club also released in physical format her fourth solo work, Futrakecheyem zomo: Ancestras, which focuses on songs dedicated to grandmothers and appeals to feminine strength. "This album is dedicated to the grandmothers who live behind the eyes we have, we are made of thousands of grandmothers," she reinforces. "In the culture of the people to which I belong, old age has a radical importance. And I thought of this album long before the confinement, where the elderly were the most affected", she says and affirms: "So, I also project myself on those women of whom we know nothing, who are the women who went through the genocide and therefore the discontinuity in our way of saying. I think it is one of the most delicate albums in which I also invited women singers to participate".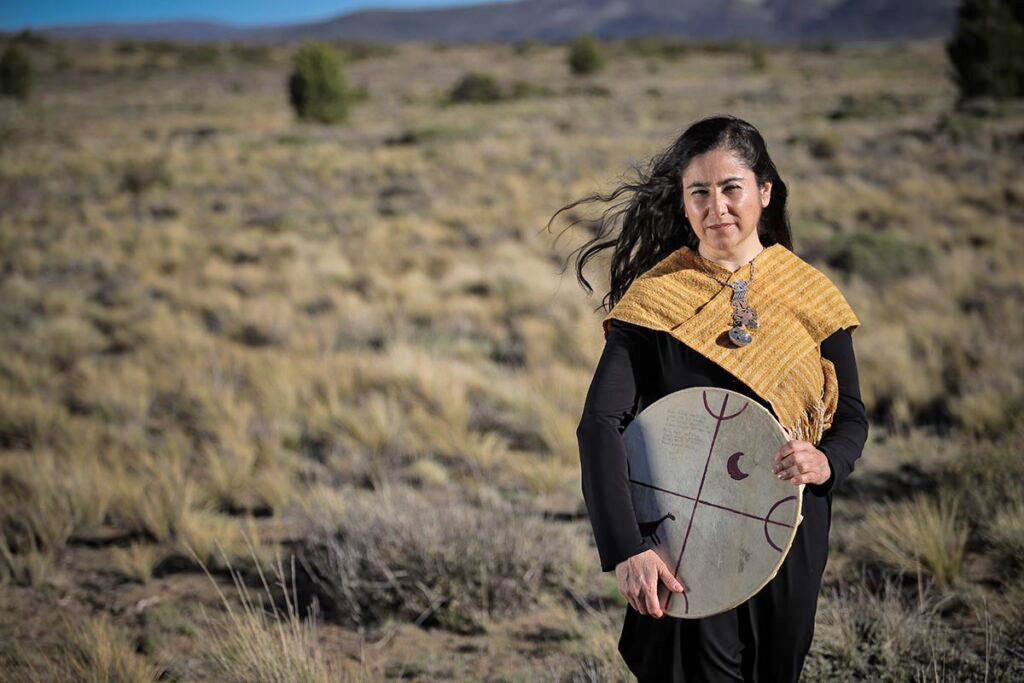 Anahi Mariluan. Photo: Veronica Manzanares/Agencia Tierra Viva
The album is delicate, yes, but it is also intimate, contemplative, reflective and powerful. One of the most moving, for example, is the song that closes the album, "Küla lushu (Tres bebés)", with the collaboration of the Neuquén singer Noe Pucci. It is a sad song that talks about the thousands of Mapuche children appropriated during the so-called Desert Campaign.
The other guest on the album is the singer and composer from Buenos Aires, Soema Montenegro, who adds her voice to the sweet and luminous "Uñum zomo (Mujeres pájarosas)". "Within Mapuche culture there is a balance between masculine and feminine energies because in the end it is not strictly alluding to gender. It doesn't matter what you are. But the feminine energy is the one that focuses on singing, so all the albums I make are crossed by a commitment from a feminine point of view," she says.
Militarist on sound restitution
-What does singing represent for the Mapuche people?
-Singing for the Mapuche people is another way of saying. It can be said by speaking, it can be said by creating and it can be said by singing. So, I dedicate myself to this form of expression, which is singing. And I also dedicate myself to campaigning for the restitution of sound. I am a complete activist for sound restitution, which is to empower the word of singing, to ask ourselves why singing only orbits in a ceremonial way for society as a whole, which circumscribes it to women situated in the past; but in reality, we are a lot of ülkantufe (women singers) who are carrying forward the revitalisation of the sung Mapuzungun. So, it is between these two aspects that I am recovering territory. Singing is that other territory that we have the right to restore, to recover.
-And why did you decide from the beginning to compose and sing in Mapuzungun?
-I express myself politically, that's why I sing in Mapuzungun. I think it's a political tool. So, I use it to inhabit a world that silences it. Not only in my personal case, most of us ülkantufe are only broadcast when the 12th of October approaches. And I always ask myself why is the language of colonialism more important, why are the lingua francas from where evil is thought more important? So, I decided not to sing in Spanish any more. Because it's good that it allows us to communicate, but it was also that language that won space for the language of my people. That's why I am behind Mapuzungun and kultrun singing.
-For the Mapuche people, singing is a way of memory and resistance?
-We always recognise the original ancestor in our family. And I have the desire to recognise the original past in the future. The future belongs to the native peoples because they are the ones who look after life for everyone. This is a curious country, which is built on amnesia. And it has to do with the constitution of most of the states, because it was given as a continuity of colonialist policy. However, we are not the same as we were faced with the horror that my grandparents went through. And I don't know what happened to my great-great-grandparents, because that first genocide took care of erasing everything. When human rights policies take on the task of reviewing crimes against humanity, I believe that we must also think about the original peoples. And that is going to happen. I feel that we are much closer to putting on the agenda what is not talked about. I feel that music operates as a bridge towards that which is going to be heard again in some way.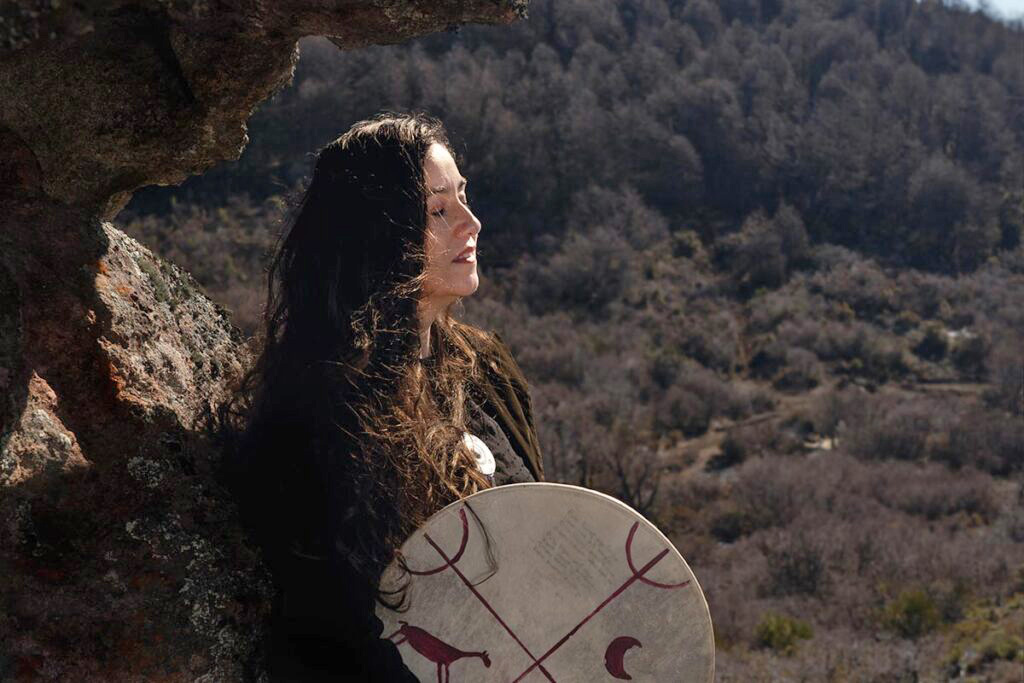 Anahí Mariluan-Photo Marion Prieto/El Tierra Viva Agency
The music of the original peoples
Summer in this part of the map is the season of the year chosen for the unfolding of folk festivals and big social music events. Folk music – or folklore for short – is one of the protagonists of the festivals. Tradition" celebrates these days. Chacareras, zambas, gatos, huaynos and chamamé are played. Some festivals are echoed on television. There is euphoria and celebration. Carnival flourishes. However, not all music is present in these spaces. Some sounds and cultural expressions are off the radar of organisers and producers. Mapuche singing, for example, is not represented on the traditional folk stages. At least it does not occupy a central place in the programming grids and in the official circuit. It is not a priority in the – artistic – decision-making of the hegemonic culture.
"Sometimes I think that in reality there is a lack of a scene for the music of native peoples, because it is not folklore," says Anahi, "Even though folklore embraces the native, it does so from a place of belonging, 'our native peoples, our women'. And we ultimately fight for an autonomy that allows us to say that we don't belong to anyone, but that we belong to ourselves. So, I think there is a lack of a scene and also a lack of decentralisation", he analyses.
-Why does he make a distinction between folk music and the music of native peoples?
-Because traditional folklore in Argentina has always been oriented towards solidifying an image and a stereotype of nationality. So, in this forced stereotyping of national identity, with dances that are no longer danced and representations that are no longer used, the recognition of the original nations is omitted and appropriated. For example, when people want to tell you that they love you, they say "our native peoples, our grandmothers". And this state of belonging reveals a patriotic ideology that we are resisting, because we don't want to belong to anyone. We want to recognise our language, our identity, our culture and our language in our territory. But folklore does not accept this from a place of emancipation. And the folklore festivals take the original traditions with a certain paternalism. And there is no scene because it doesn't move the resources that commercial music does. However, there will soon be an emergence, because there are already many people who are empowering themselves behind the struggle for life.
Anahi Mariluan and constant creation
In a few days a project derived from her latest album, Ancestras, will also be released. It is a children's story illustrated by the artist Alicia Pez, which is derived from the song "Ufiza (oveja)", which won first mention in the Illustrated Children's Literature Contest (Editora Municipal Bariloche). "In this story we want to tell that wisdom is made by many. In the case of Don Herminio and his sheep, we want to pay homage to all Mapuche brothers and sisters and to all forms of life that respectfully integrate a chain of wisdom," he says. "And as a musician I don't stop for a moment. Now I'm making a material based on the noises generated by extractive machines," he says.
"A material that takes as its starting point the sound generated by oil machines, the sound of fracking, the sound of the sewage water that is thrown into the clear waters," he says. And he remarks: "We Mapuches are associated with the care of nature, but in reality, we are more concerned with defence than anything else. The power of the beauty of the territory where we live is very great, so they tend to associate us with nature, but in reality, this happens because the translations of the lyrics are not understood by everyone, so they tend to omit the radical work in which I am involved, which is that of denunciation".