Why do we disconnect ourselves from nature? Why do we sustain consumption practices that distance us from reality? Why do we build huge buildings and destroy natural areas? Why don't we explore those spaces, why don't we know? Why don't we put our hands in the soil, plant trees, compost and produce healthy food free of poisons?
In the case of Argentina, several actors in territories with diverse environmental problems share some answers, based on educational processes of change of consciousness that they experience in their communities.
For Aldana Telias, a specialist in environmental education in the areas of management, research and teacher training, the key lies in "historicising" those reflections that invite us to look for the reasons behind this climate and environmental crisis.
"Thinking not only about the reconversion, but also about how we got to this point, and how these conflicts become a matter of teaching and learning", she analyses.

Talias stresses that "the school dialogues with what happens in the territory, we think about the process of environmental education in school and community environments. They are absolutely related, a teacher is not a subject alien to his or her territory, nor are the children".
Jorge Serrano has been teaching social sciences for 11 years at School No. 60 in Virrey del Pino, La Matanza, in the Argentine province of Buenos Aires. In all these years, Jorge has seen how the population has grown and the number of land takeovers has increased due to the housing shortage.
Hunger, poverty, pollution and lack of green spaces add to the list of deep-rooted problems. In this region, the existence of the Laferrere Nature Reserve becomes relevant: more than 80 hectares of high biological, social and cultural value that neighbours take care of. It is the last green lung of La Matanza.
Serrano and teachers from different disciplines approach the conflicts from various angles.
They organise festivals, excursions to urban reserves, tree planting days, distribute books and flyers with information about industrial pollution and the silent deaths that are not made visible by the mass media; they also run an agro-ecological vegetable garden.
These are concrete actions to ensure transformation and cultivate a sense of identity for the territory.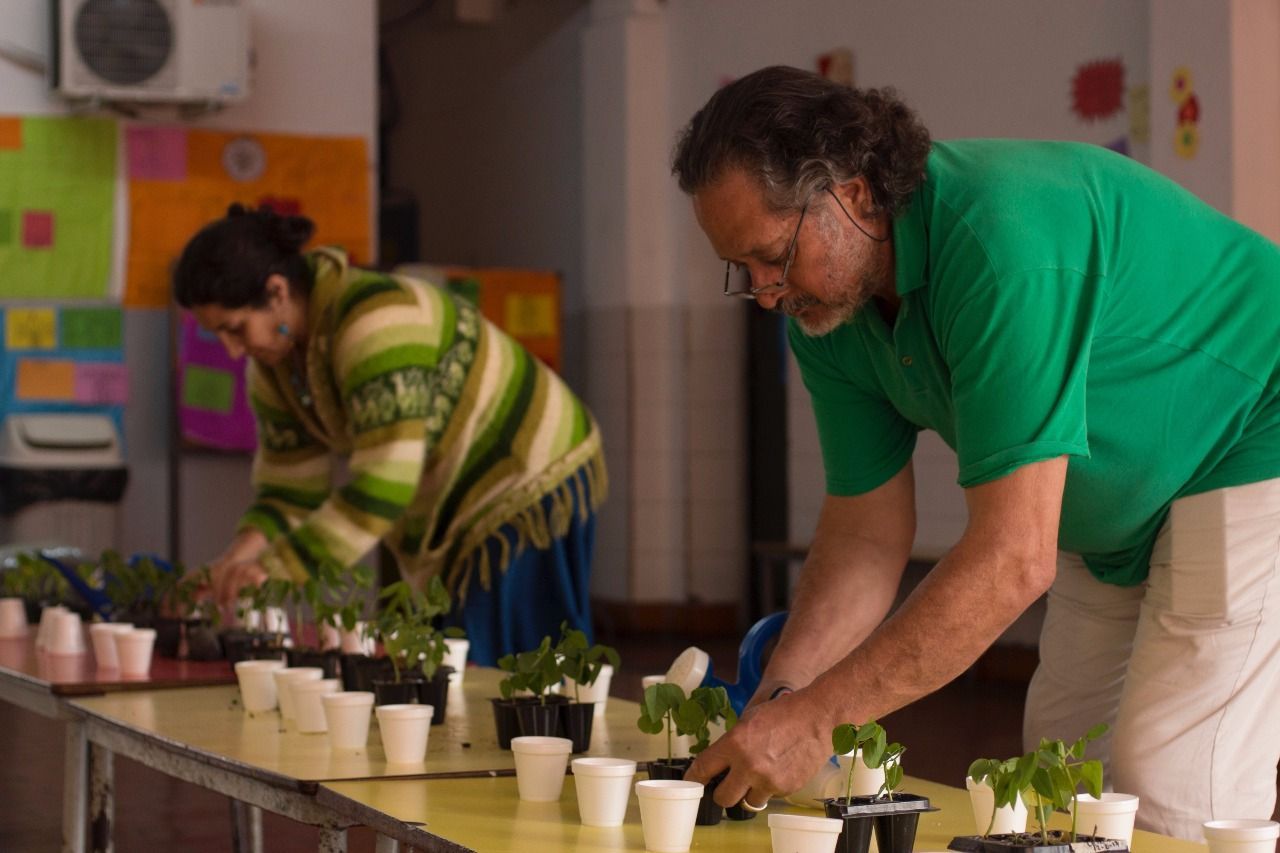 School foresters sow awareness in schools in the suburbs of Buenos Aires. Photo: Suyay Britez / PxP
"Next to the school we have a beautiful Pampean grassland, and one of the class activities is to go out and recognise what grasses there are, how important they are for the fauna. On a hot day, it's much more pleasant to teach a class in a square, under a tree, than in a classroom," says Serrano.
He explains that "we also have a great variety of seeds, a small pond, a vegetable garden as a source of biodiversity. It's a space for the whole family.
"It's good that a community organisation enters the school and challenges the teacher, that these tensions are generated to strengthen the process, these are part of the objectives of environmental education. It is an education of action, a political-pedagogical, interdisciplinary, multi-paradigmatic field of intervention that is oriented towards a fairer society," explains Telias.

She adds: "Environmental education comes to respond from the educational field to a situation of environmental tragedy, collapse and civilisational, structural and generalised crisis".
The specialist refers to "environmental literacy" as a concept "much more interesting than raising awareness, because it has to do with knowing about the processes".
In this respect, she points out: "Often, processes in defence of the territory generate educational processes. In Argentina, they take place in very different ways, because in the Buenos Aires Metropolitan Area (AMBA) there are not the same environmental problems as in a mining or soybean province.
According to Telias, "this is going to mark a different type of education. It is not something that is so easily taught, it is something that is experienced. You can't tell others how to live, but rather make them reflect on how they live.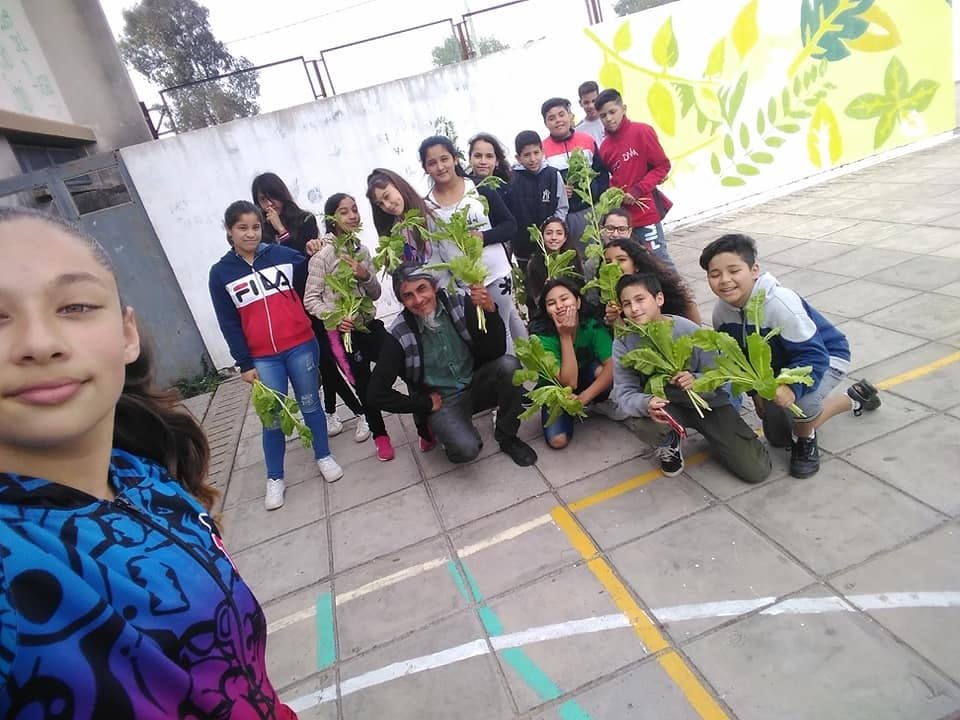 A group of students after a day of harvesting and environmental awareness. Photo: PxP
What's under the concrete?
Sometimes it's big parks, a small plot of land next to a train track or the side of a motorway. Sometimes it is the course of a stream. And sometimes it takes the form of a reserve.
The truth is that, in addition to being refuges for native flora and fauna and providing "environmental services" (they help regulate temperatures, absorb rainwater, prevent flooding and purify the air), wild areas and green infrastructure within cities can recreate scenarios conducive to educational experiences, educational work and environmental awareness-raising.
Adriel Magnetti, a student of Biological Sciences at the Faculty of Exact and Natural Sciences of the University of Buenos Aires (UBA), member of the Network of Urban Protected Areas (RAPU) and legislative advisor on environmental issues in the Chamber of Deputies of the Nation, fights for the conservation of the Ecological Reserve Costanera Norte, in Ciudad Universitaria of the City of Buenos Aires.
It is 20 hectares with a vast biodiversity, including the presence of a wetland that is fed directly by the water of the River Plate.
"It is a militant decision where one is in direct contact with the problems," he explains.
He explains that "a large part of the city of Buenos Aires is still a wetland, we just landed on top of it".
But he stresses that "even though we don't see them, the ecosystems are there, we have them covered by concrete and cement. Both the components such as flora and fauna, fungi, micro-organisms; but also, the processes such as the flow of matter and energy, water, soil, air".
Magnetti contextualises: "The problem is structural and global, and is related to the conception we have of the environment. It leads us to see as vacant and idle the areas that are not occupied by a project, a house, a building site or a factory.
"It is a mercantilist view of land, where if you can't put an economic value on it, it's worthless. And if there is something that biodiversity, cultural, archaeological, historical heritage has, it is an intangible, intrinsic value, which is defined above all by the perception of the community. In this way, we will never be compatible with the cosmovision of our native peoples and rural communities," he adds.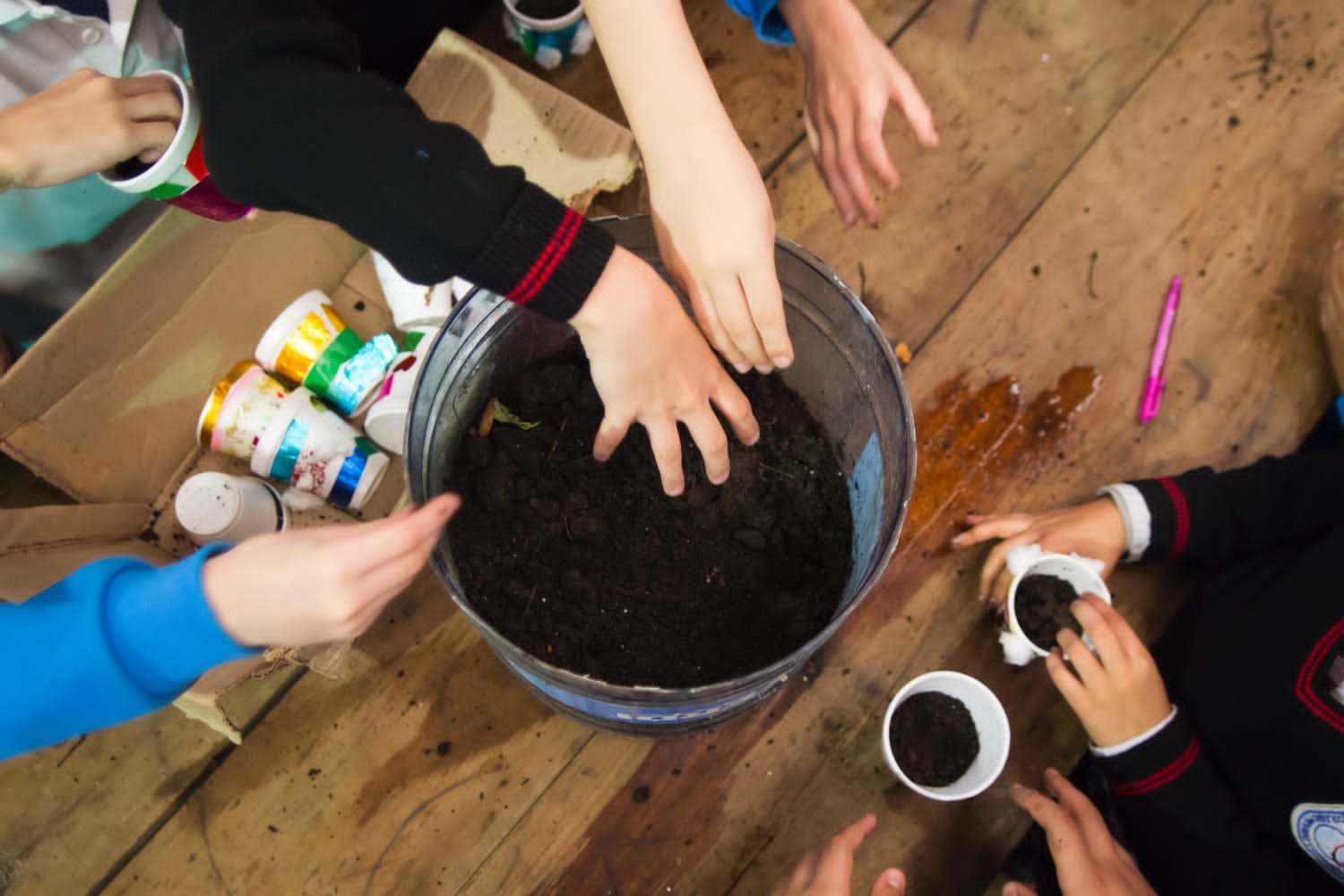 Children are losing sensitivity to the environment faster and faster, say foresters. Photo: Suyay Britez / PxP
The tree revolution
Graciela Britez is a volunteer at Forestadores Escolares, a project that teaches children and adults to plant trees -from seed and seedling-, to watch them grow, take care of them, fall in love with them and recover their sensitivity to a living being that transcends us. They are environmental promoters dedicated to giving workshops on ecology and reforestation, to enthuse and multiply.
"What happens when we turn off the mind and start recording?

"With a seed, you work on many things: there are values, respect and collateral benefits, thinking beyond myself with a vision for the future. We need a green world, a non-violent, sustainable city, we need to have trees. The teachers we have contacted have made their revolution. We have to take charge of our humanity," he explains.
Common sense
At Ciudad Universitaria, Magnetti receives contingents of boys and girls who speak English, students from other provinces and countries, special education and prestigious universities.
"When you visit an urban nature reserve, you receive a series of sensory, physical and personal stimuli to build a common sense of what is around you and what is important. Many people can attend them and go through a transformative experience," he says.
At the same time, Magnetti shares the experience of having been in contact with people in vulnerable situations, with fishermen who went to the reserve to stock up on food, who lived there for a long time and built a relationship with the territory.
"They have installed in our heads that nature goes one way and we go the other, and that any 'usufructuous' link such as getting food, providing us with medicine, any type of material or spiritual input that nature contributes to us, is wrong. The relationship will be toxic when natural processes are not respected and it is done with a view to accumulating profitability outside the territories," he concludes.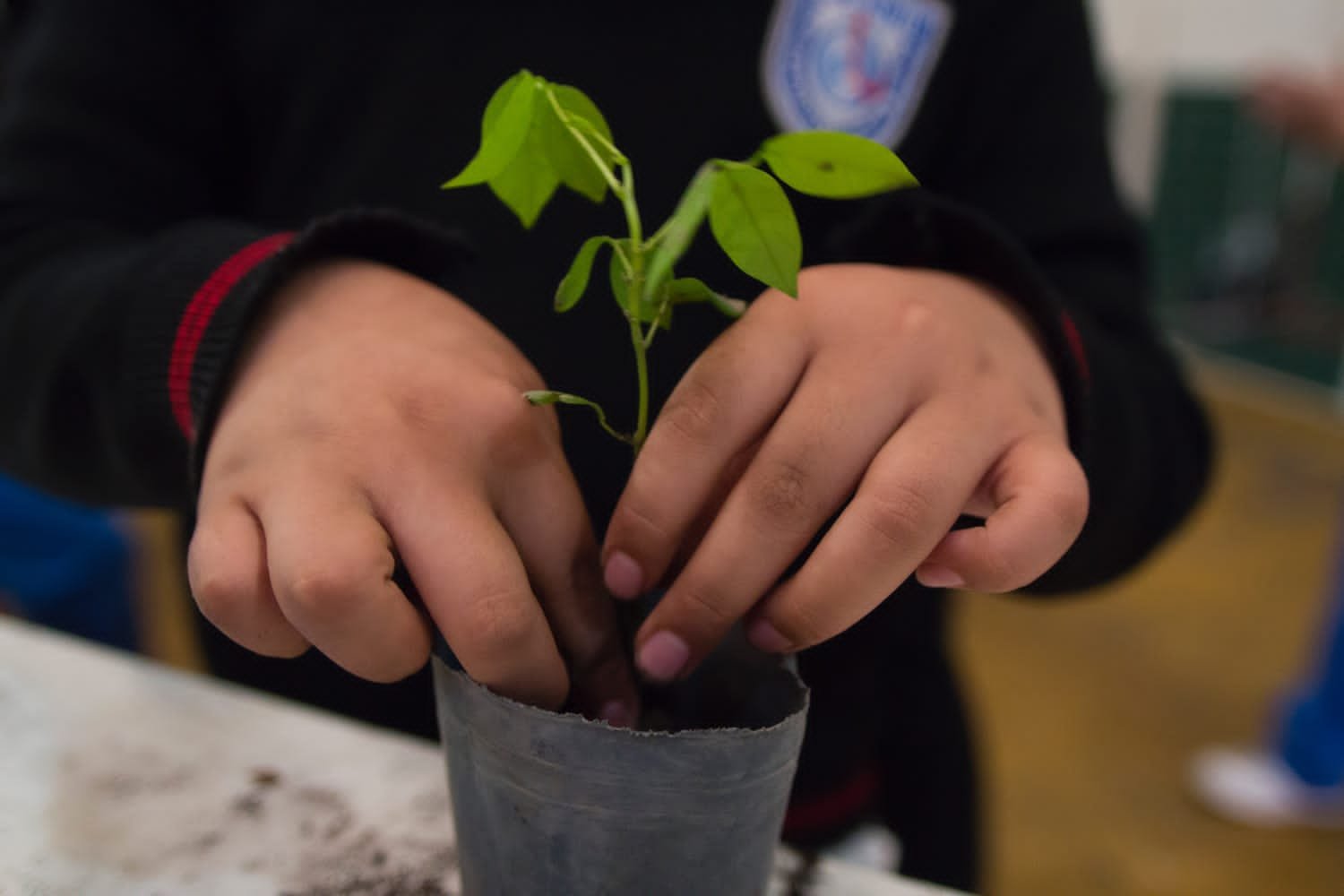 The tree as the axis of school environmental practices. Photo: Suyay Britez / IPS
The weight of the law
In June, the Argentine government announced the enactment of Law 27.621, which implements Integrated Environmental Education (IEE) in all of the country's educational establishments.
The regulatory framework is based on principles stipulated in the National Constitution and in the National Education Law (20.206) and the General Environmental Law (25.675), from which environmental education is considered a fundamental process for the full exercise of citizenship.
"In schools, we have to work hard on what kind of citizenship we want, so that we can question the public and political powers, knowing that the interests we have in front of us are opposed, concentrated and powerful," says Telias.
He adds that "this whole emerging youth movement on climate change is putting issues on public agendas, such as the Wetlands Act. That generates hope.
For his part, Magnetti says: "The main objective of the Environmental Education Law is to install sustainability as a social project, to dispute the logics of development, to think about the power structures and the balance of power that are put on the table when it comes to making decisions. Building a more prosperous tomorrow is a task that we all have to set ourselves with different degrees of responsibility. There are common and shared but differentiated responsibilities.
The Yolanda Law, which pursues the mission of guaranteeing comprehensive training in the environment, with a sustainable development perspective and with special emphasis on climate change for people working in the public sector, is another important instrument in this challenge of making better decisions.
"This proposes a paradigm shift," says Magnetti.
"If we have trained civil servants, an active implementation of the Escazú Agreement, and an Environmental Education Law in place, we are on our way to this sustainability project as a social mandate. It is another scenario that is generated for the next generations. However, this is not enough: we have to stop the destruction today", he concludes.
This article is part of the Planet Community, a journalistic project led by Journalists for the Planet (PxP) in Latin America, of which IPS is a member. This article was also produced with the support of Climate Tracker Latin America.