African Culture
Africa Insight hosted the 2021 African Cultural Diversity and Exchange Forum last December 01, 2021, in the city of Seoul with the participation of Africans and Korean citizens.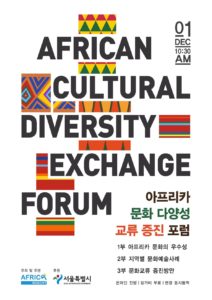 The forum was sponsored by the Seoul Metropolitan Government to enhance the public's understanding of African culture and to promote culture and exchange between Korea and African countries.
The Cultural Diversity forum that was held prior to the 5th Korea-Africa Forum was a ministerial-level meeting started in 2006 to strengthen the partnership between Korea and Africa, which was then scheduled to be held last week, but due to the new COVID19 variant, Omicron, the forum had been postponed to 2022.
The forum host Africa Insight is a Seoul-based NGO with the aim of facilitating education and awareness surrounding African development, both in Korea and worldwide. Conceived in 2013 by Steven Sungyong Heo in response to his own experiences in Tanzania and Senegal, Africa Insight has grown as an organization and now runs its own program, YES Africa. Based in Kenya, it fosters people-centered solutions, local-centered thinking, and sustainable projects through local entrepreneurial support. Africa Insight's work encompasses a wide range of topics, including media monitoring and reporting, government advisory services and general education work in Seoul. This year alone, it has published comprehensive books on Tanzania, Ghana and Rwanda in collaboration with Green Rain Publishing Company as well.
The forum's welcoming speech was delivered by Donghwan Choi, Chairman of Africa Insight, followed by congratulatory remarks by H.E. Carlos Victor Boungou, Ambassador of Gabon, and Cho Myeong-haeng Director at the African Art Museum of Yeongwol in South Korea, where a collection of personal memorabilia from his time as an ambassador in Africa is exhibited. The museum was opened in 2009 and showcases about 300 artworks donated by African ambassadors to Korea from 16 countries, traditional and modern art made by wood, bronze, earthenware, and ivory on display. The Senegal ambassador to Korea, H.E. Mamadou Gueye FAYE gave a keynote on Excellence in African Culture and then an interesting lecture on Anthropological Value of African Culture was given by Professor Yongkyu Chang, HUFS, who said that anthropology is the work of translating local and cultural phenomena into our language. It has been seeking to establish "social laws" for social progress and human development
In this regard Africa, "traditionally "part of a non-western society, emerges as a rich resource for study and research in anthropological ethnography, characterized by microscopic investigations and documentation of different socio-cultures, which is by itself not yet completed but is a process. Professor Yongkyu Chang added that anthropologists create bridges between African cultures and our readers. Ultimately, it is up to the 'reader' to understand African culture.
The first part of the forum in the afternoon was colorful with the broad topics of regional culture and art trends in Africa. The Democratic Congo National Museum establishment case presentation by Sungbin Han, Director of Jeju Museum of African Art, was a huge project case. The director explained the importance of building a new museum in DRC to preserve cultural heritage, expand educational efforts, and maintain sustainability. According to WAGU Inc., a local travel company, the information obtained from their website explains that the Jeju Museum of African Art first opened in 2004, the best place in Korea where you can experience African culture. The museum houses arts from the 18th to 20th centuries. It sounds rather unusual to imagine African Art in Jeju. However, it houses various kinds of exhibits such as animal statues, and Jung-man Kim's photographs on African wildlife. At the museum, you meet the beautiful nature and wild animals of Africa, and there are also lots of exhibits on Africa and animals which are placed to make you feel like you are on a safari. The museum has become one of the famous destinations among travelers. Here, visitors can see over 2,200 African artifacts. Before the COVID19 pandemic, there had been a jembe performance of an African folk troupe from Senegal. The museum represents in a miniature way the continent's different lifestyles, rituals, religions, festivals of different tribes and diverse traditional cultures.
The other case presentation was on Contemporary Pop Culture in East Africa by Hyesu Shin, producer of Studio Afrohada, which was focused on the Matatu subculture in Nairobi Kenya. Matatu is a name for public buses in Kenya. The Matatu presentation reminded me of the vivid memories some years back when I was visiting Kenya. Basically, the Matatu subculture is a stylistic method of renovating the minibus for a variety of styles and entertainment purposes by introducing some human elements. It is an open cultural space while giving transportation services to the general public at the same time. It has positive effects in creating jobs and employment by pop-culture-inspired caricatures, illustrations such as actors, cartoons, anime, games, movies, religious icons, etc. A Beninese dancer and choreographer, Daniel Ahifon, who lives in Korea, shared his personal experiences as an artist on the topic of West African dance and music.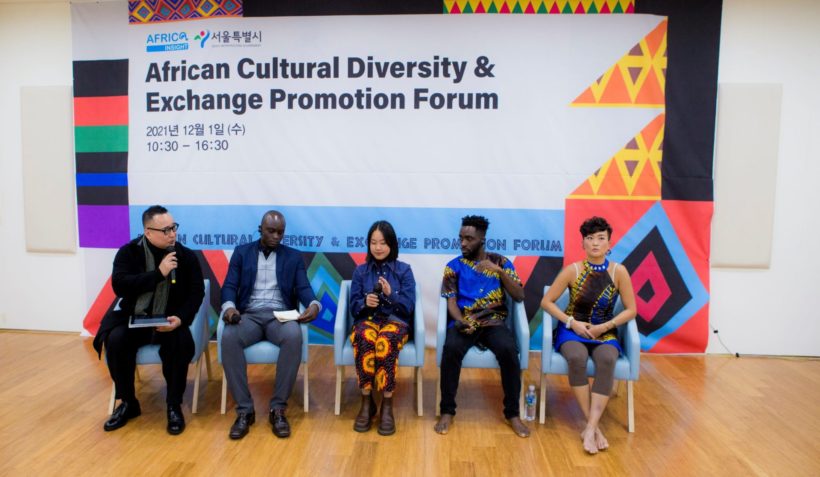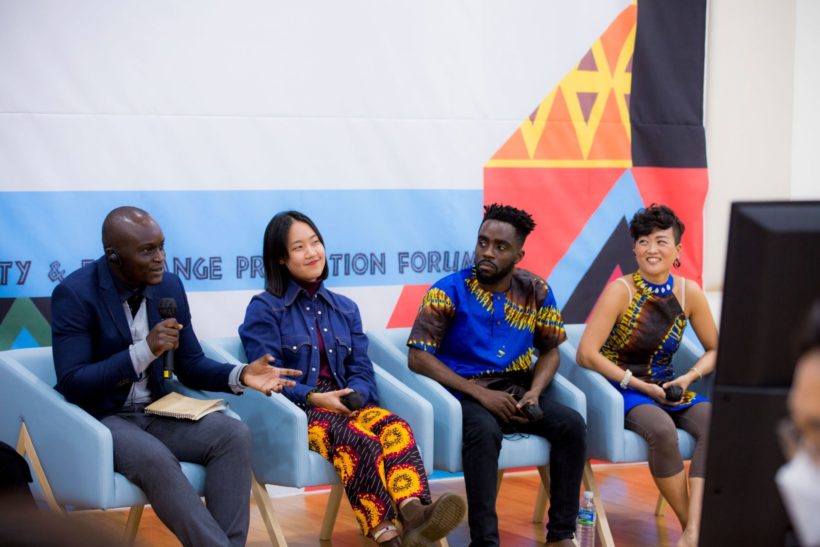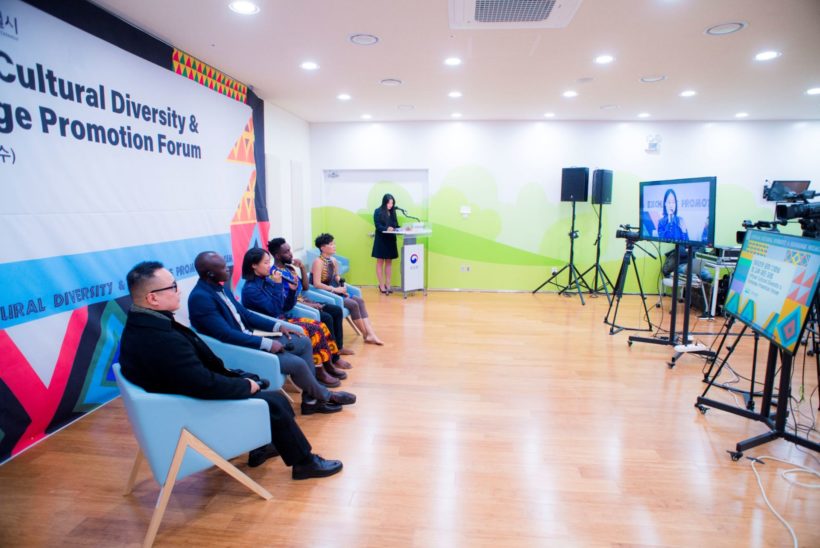 The last part of the forum was much focused on addressing the topic: how to promote cultural exchange. Discussions and experience sharing were vital on the well-established initiatives in Korea such as Africa Week & African Film Festival presented by Hyejeong Cho, Korea-Africa Foundation and then about the Seoul Africa Festival presentation by Seungyoon Han, Africa Insight, followed by questions and answers from the participants.
The closing remarks made by Steven Sungyong HEO, founder of the Africa Insight were focused on the topic, Africa Awareness Raising Strategy and Implications for the Korean Government's Foreign Policy in Africa, recommendations made to enhance a better eco-system of African culture and arts in Korea and as well as important ways to promote exchanges.
During the forum, participants enjoyed a variety of recorded multimedia and live performances.
If you are interested to know more about Africa Insight activities please visit the official website: http://africainsight.org/english/
Photo credits: Africa Insight
Additional information obtained from: