In the gardens of the Centro Cultural de Ñuñoa, Gabriel Boric's long-awaited government programme was presented this morning. In the presence of many collaborators and supporters, as well as numerous press media, the presidential candidate was presented by the Mayoress of Santiago Irací Hassler and the journalist and constituent delegate Beatriz Sánchez.
In the presentation, which included sign language translation, Boric gave a detailed and comprehensive preamble to Chile's current situation of drafting a new Constitution by the Constitutional Convention after the social awakening of October 2019, and the urgent substantive changes needed to make our country a fairer and more democratic place for all its inhabitants.
The 227-page document was drawn up after consultations with some 33,000 people from all over Chile and is structured around 4 axes: decentralisation, feminism, ecology and decent work (for more details, you can download the full programme here).
Some of the "53 concrete measures to change Chile" that, if elected, his government will promote are:
HEALTH: a universal system that does not discriminate according to ability to pay and equalises the quality of service from the bottom up.
PENSIONS: elimination of the AFPs and creation of a national public pension system.
EDUCATION: recover public education and recognise the historical debt to teachers.
TAX REFORM: tax the super rich, who make up 0.01% of the population; special attention to small and medium-sized enterprises (SMEs); a new mining royalty.
HOUSING: creation of a popular real estate agency to prevent excessive increases in sale and rental prices, and build 260,000 decent homes.
CULTURE: doubling the national budget for culture to 1% of the public budget.
SEXUAL DIVERSITIES: non-sexist and inclusive education, equal access to employment and transgender employment quotas.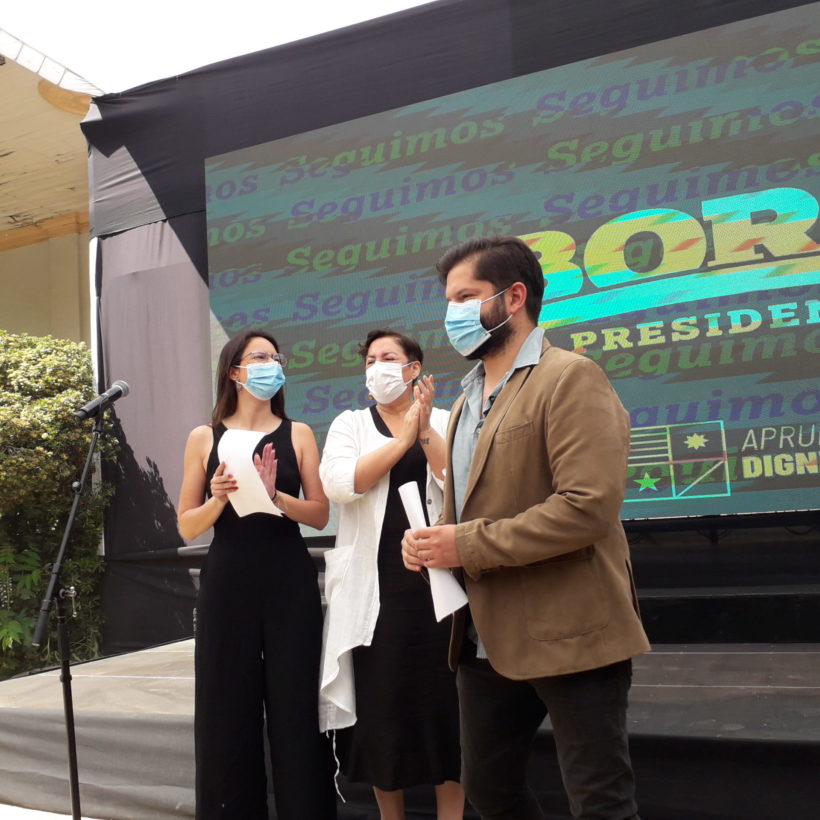 We also interviewed Humanist Action MP Tomás Hirsch, one of the attendees at the event:
Pressenza: How do you see the participation of your collectivity in Gabriel Boric's programme that has just been presented?
Tomás: I think that one of the graces of the programme is that it brings together the views of the different social and political organisations that participate in Apruebo Dignidad, but also, above all, of thousands of ordinary people, Chileans (and also immigrants) who live from Arica to Punta Arenas, people from the original peoples, people who come from different cultural, ethnic and religious backgrounds… this diversity interprets us as humanists completely. We also made our contributions in different areas and we believe that they were very well incorporated…
Pressenza: Like which ones, for example?
Tomás: International relations, relations with neighbouring countries, reduction of war budgets, seeking environmental agreements with other countries. In each of these areas our people have been contributing, as one more. I think it is a very ambitious programme, but it is also a very possible and necessary one. If you look at it in detail, it expresses practically all the demands of the 18 October's social awakening, for which we humanists have been fighting for so long. Certainly the environmental issues: ending coal-fired power plants, signing the Escazú agreement, and aligning ourselves with global policies to protect against climate change. In short, all these proposals motivate us as Acción Humanista and as Apruebo Dignidad to redouble our efforts so that Gabriel is elected and thus make these profound and structural changes a reality from the territories.