ON PEACE
by Genevieve Balance-Kupang
"I wish people would love everybody else,
the way they love me.
The world would be a better world."
-Muhammad Ali
Muhammad Ali's wish of a better world is imprinted in our DNA as peace lovers. If only we consistently harmonize 'genuine love' in our thoughts, words, and actions, then his wish can be experienced day-after-day. However, this is easier said than exemplified. Ali wished that people love each other the way he was loved.
Alhamdulillah ٱلْحَمْدُ لِلَّٰ! Ali exemplified religious inclusion, racial equity, and social transformation instead of magnifying on people's differences and being apathetic. One of Ali's Jewish friends expressed "our differences did not define our relationship, rather our differences fortified our friendship."
Muhammad Ali (Cassius Marcellus Clay Jr.), the Champ, a free, true man of faith, the UN's peace messenger, an interfaith pioneer, champion of civil rights, conscientious objector of war (the fighter who wouldn't fight), a cultural figure, advocate of understanding and peace, the legend, a citizen of the world, our teacher of non-violence, a figure who captured the imagination of all walks of life, the force, a man who belonged to the world, three-time heavy weight champion, our healer of division, the list goes on.
Ali embraced everybody, beyond the boundaries of his hometown in Louisville, Kentucky. He touched people of all walks of life in many countries. He was an inspiration to many. He showed to the world how it is to be human on a majestic scale. MashaAllah, Ali lived a multi-layered, full life! He loved and revered life. He was gifted with an extraordinary life and he witnessed how it is to have one.
During the time of his death, there was a festive harmony, echoing "Thank You, Ali" from all those who went to pay him respect, including the countless global citizens who were glued on their TV screens. It was a touching moment and a beautiful sight to see how such a man who is bigger than life was honored and loved. This was beautifully put together in the documentary– 'City of Ali: Documentary of the Legacy of Muhammad Ali.'
In the Philippines, September 30 (the day of this panel discussion) sealed the National Peace Consciousness Month with a meaningful interchange about the life of Ali, the conscientious objector of war and advocate of understanding and peace. You can access the full-length discussion on this link: https://www.facebook.com/aaliyah.limbao/videos/38640485314153/?d =n.
Incidentally, the following day, October 1 was exactly 46 years ago of the commemoration of the "Thrilla in Manila," Muhammad Ali versus Joe Frazier. It was the final legendary trilogy between two big-named giants, dubbed as one of history's greatest boxing bouts. Well, we know that Joe Frazier was Ali's greatest rival, but they were friends outside the ring. The Ali Mall (Philippine's first shopping mall) in Manila was named in honor of the boxing legend. Ali graced the mall's grand opening a year after in 1976, sharing a speech on how the country's leading merchandizing complex was in honor of Ali-Frazier match "Thrilla in Manila."
Exploring the Life and Legacy of Ali: A Panel Discussion
The day's interchange commenced with the acknowledgement of the participants and succinct message of thanks by Sittie Aliah A. Limbao, ShL, the President of the Association of Lady Shari'ah Counselors-At Law of the Philippines Inc. while U.S. Embassy, Manila, Political Counsellor, Brett Blackshaw gave the welcome message. He expressed that the US embassy was honored to be part of this event and was eager to listen to the panel discussants, who were equally inspired by the boxing legend. Nina Lewis, the U.S. Embassy, Manila, Assistant Cultural Affairs Officer was also appreciated as one of those who are supportive of the ALShariahCALPInc.
The discussion kicked off with the panelists' insights on Ali's influence on Muslim Filipinos concerning religious inclusion and respect to diversity with emphasis on the case of Muslim reverts, on how stardom can be used to foster peace and non-violence, support sports as a tool for social change and how the life of Ali can be incorporated in the peace education curriculum.
I found multi-awarded peace advocate Yasmin Lao's sharing profound. She is the founder of Nisa Ul-Haqq Fi Bangsamoro. Ali's life is instructive, Lao said: a) For women who are experiencing glass ceilings in their lives, socio-cultural, economic, and political barriers to the full attainment of their development as human beings have so much to learn in Ali in terms of personal autonomy and integrity. We need to push back against gender inequality and discrimination. b) For mothers who are raising children in an atmosphere of insecurity with a hope of providing better future for them, has in Ali's mother, Odessa Grady, a role model to emulate. Odessa, a domestic helper, was able to nurture a beautiful soul in an atmosphere of racial segregation. Ali mentioned how her mother, a Baptist, taught him all she knew about God. Her spirituality nurtured in Ali and his brother to treat everybody with kindness… c) For the youth who are looking for role models in an unjust world, they have in Ali an example of how to have a clarity of vision, grit and spirituality and achieve such vision in its glory without losing one's sense of identity and history. d) For men who believe that true masculinity is being an alpha male: fierce, macho, egotistic and a superior gender, they have in Ali an authentic male. As a professional boxer he was fierce, arrogant, and loud mouthed but in his personal life he was soft-hearted and had deep concern for the marginalized.
The beloved, emphatic panelist, revert Robin "Abdul Aziz" Padilla, actor, and philanthropist, asked 'What did Ali plant?' He answered in zest: Nobody can question Ali's courage. No one can say that he was a coward when he was drafted to the Army to fight in Vietnam. He refused, and said My Religion teaches about Peace and non-discrimination. I have no quarrel with the Vietcong; they never called me a Negro. Why will I pick up a weapon and shoot them? Shocked , the Americans called him names including a traitor; his boxing license and championship belt were taken away; he was imprisoned with no job and a legal battle on the side. He was crucified for standing up for his belief that was about peace and equality.
Padilla added that Ali's career was in limbo, but it did not affect his faith and perseverance. He was pushed to the wall, but he fought them NOT with violence, rebellion, or extremism but with the power of his words.
He used the media to fight the system that controlled America. He went to universities that invited him and won the hearts of Americans. His anti-war and justice message became a wildfire! Protest begun against the Vietnam war. Soon after, activists and artists adapted his Peace message. In submission to God's will, humility, and belief in the justice system, he won his case against the draft and got back his boxing license and his world boxing champion belt.
Hon. Ziaur-Rahman A. Adiong, Deputy Speaker, Bangsamoro Transition Authority stated that he is fortunate to live in Ali's generation because he was not only an inspiration to Muslims but to all kinds of people. Ali was a product of his time when the US was tested internally, wrapped up with the issues of segregation especially concerning African Americans. Ali was at the forefront of waging against injustice. He endorsed freedom, equality, and pride in one's identity that protected life. He disowned discrimination, and injustice and used his celebrity status to influence and fought for equity, uplifting the morale of his people of African ancestry.
The civil rights movement reached a wider audience and galvanized people not only in his own hometown but also activists across the globe. He used contact sport in embracing freedom for all classes. The mere fact that we are discussing about him now is a validation of his stand against the injustices and segregation then. Had it not been for Ali, it would be difficult to explain what Islam is to the world when the September 11 happened. From a hindsight, that was one of his legacies.
His fight for freedom and justice resonates deeply with the Bangsamoro people. He is an inspiration of our struggle to self-determination. Adiong quoted one of Ali's famous lines, "I hated every minute of training, but said, Don't quit. Suffer now and live the rest of your life as a champion." In life, there are challenges, let us not quit, like Ali did. Challenges make you a better person.
Asst. Dean Sittie Noffaisah B. Pasandalan of the Mindanao State University (MSU) Iligan Institute of Technology (IIT) shared that as an educator, she uses documentary films to open discussions on sensitive topics such as discrimination. In her university, Fundamental of Peace Education, is a required course; Ali's legacy can be a required material for the class.
She said that Ali was never afraid to advocate for religious inclusion and respect for religious diversity. He was quoted asking people to understand Islam and to accept people of color. He was a representation of self-determination and that one can be free to be what one wants to be.
Pasandalan posited that Ali used his fame to bring awareness to civil rights movements and advocate for inclusivity. He used it for humanitarian efforts and philanthropy. He used his fame to make others happy. Although, he was a boxer, Ali was also an educator. He educated people about "healing" to everyone irrespective of race, religion, or age. He has been quoted saying" if there is no enemy within, the enemy outside can do you no harm" which alludes to inner peace and Islam's greater Jihad, one's fight against oneself. It has been said, he could have been poisoned by his fame and power, but he used those as avenues to do good and giveback. It is a reminder for everyone that we must use our position and power to give service to humanity, just like Ali.
Shukran! We wish to express our earnest gratitude to the US Embassy (Manila), the Association of Lady Shari'ah Counselors-At Law of the Philippines Inc. for inviting us, the representatives of the World Council for Curriculum and Instruction (WCCI) Special Interest Groups (SIG) and Pressenza in exploring the life and legacy of Muhammad Ali in advancing religious inclusion, racial equity, and social transformation. Special thanks too, to the moderator Mr. Salic "Exan" Sharief Jr., founder, FL Inspire Change, Inc. for weaving together the discussion and made it meaningful and memorable. The program ended with the closing remarks of the NCMF Northern Mindanao Chief, Jamaloddin P. Muti, Sh. L.
Together, we continue to promote the highest ideals of our faith traditions and the institutions we represent. May Ali's dream come true. May healing, peace, and love abound on earth!
---
About the Author: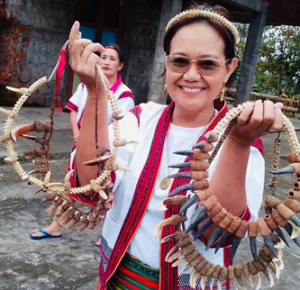 Genevieve Balance Kupang (Genie) is an anthropologist, consultant, researcher, and advisor to individuals and organizations engaged in working for good governance, genuine leadership, justice, integrity of creation, peace, the indigenous peoples, preservation of cultures, and societal transformation processes. She is a peace educator, author, interreligious dialogue practitioner, and resource person with a career in the academe and NGO.