As researched and reported by Perfecto Caparas
By virtue of the Rome Statute of the ICC, the global fight against impunity is now being waged by hundreds of thousands of victims of the most egregious crimes known to humankind. They dare take front and center roles in investigating and prosecuting hitherto untouchable and powerful enemies of humanity.
This rings true in the Philippines, the first Southeast Asian country to face scrutiny by the world's first permanent, independent criminal court, based in The Hague.
The ICC investigates, prosecutes, hears, and tries the most despicable crimes under international law. They are called the "core crimes" of genocide, war crimes, crimes against humanity, and crime of aggression (Article 5).
Vanguards
Under Rule 85 of the ICC Rules of Procedure and Evidence, victims "means natural persons who have suffered harm as a result of the commission of any crime within the jurisdiction of the Court".
"Drug war" victims act as vanguards in demanding that President Rodrigo Duterte and his top officials be held accountable for allegedly carrying out the organized and systematic killing of 12,000 to 30,000 civilians since he rose to power following the 9 May 2016 elections.
The ICC Registry's Victims Participation and Reparations Section ("VPRS") finds that Duterte's "victims overwhelmingly support an investigation by the ICC Prosecutor into all crimes against humanity allegedly committed in the context of the so-called WoD ["War on Drugs"] in the Philippines between 1 November 2011 and 17 March 2019."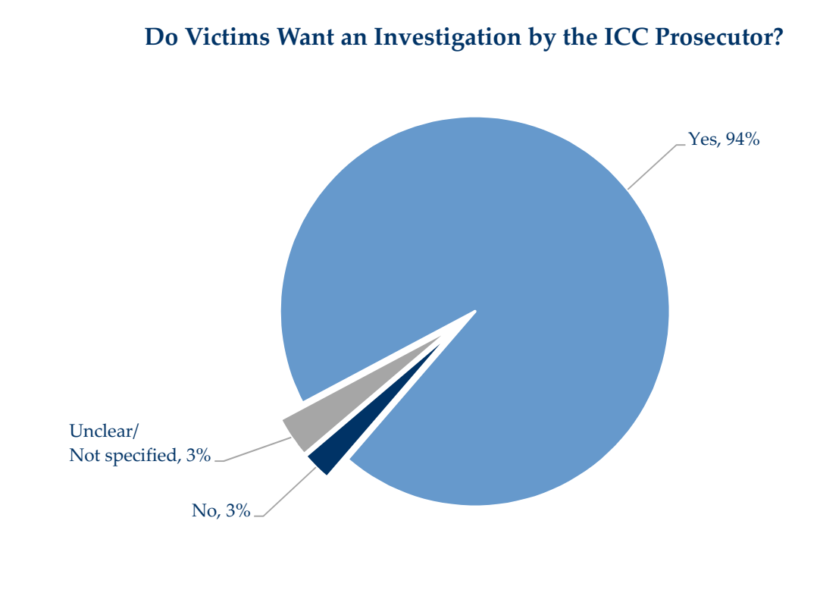 The Registry transmitted its report to the ICC Pre-Trial Chamber I, involving 204 victim representations, on 27 August 2021. These represent some 1,530 individual victims and 1,050 families.
Impunity
The "main motivating factors" why victims "overwhelmingly support" a preliminary investigation, VPRS explains, include – "genuine investigation by an impartial international court; identifying and bringing the perpetrators to justice; ending impunity; preventing future crimes; knowing the truth about what happened to victims and clearing their names of false accusations; and allowing for victims' voices to be heard."
Imploring the ICC Pre-Trial Chamber I to authorize the investigation, a victim representation tells VPRS: "All we wish for is justice for each and every one of us victims. Even if it is difficult to get it here in our country, it is all we can shout for our loved ones."
One victim representation reads: "There is a total impunity here, the police and their cohorts just killed and the President gave the orders to kill in his public announcement that's why the killing continues and this has to be stopped. This is so inhuman and cruel."
Truth
Another seeks to unravel the truth behind the killings, thus: "The victims are in favour of conducting an investigation because according to them, the President's statements on nanlaban ["fought back"] cases and denial of his actions should be investigated for they are false."
Contrary to reports that the killings started only after Duterte was sworn in as president on 30 June 2016, the widespread targeted killings of civilians actually started right after Duterte was proclaimed winner of the 9 May 2016 elections.
Truth be told, the executions targeted not only alleged drug personalities, but eventually victimized political activists as well.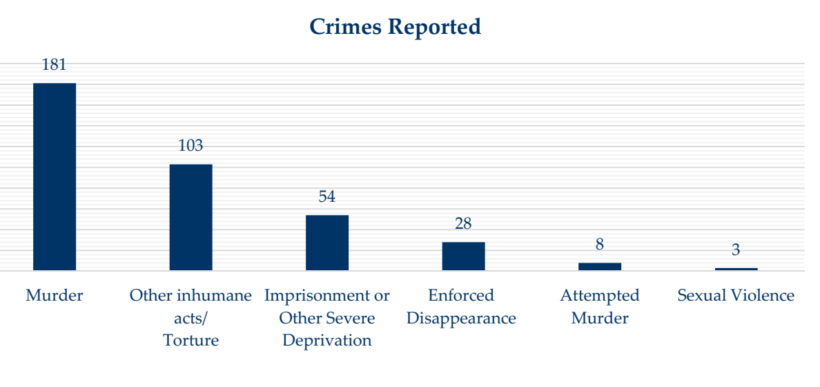 Incentivized killings
After his proclamation as winner of the presidential race, Duterte started exhorting security forces, and even civilians, to kill alleged drug addicts and pushers. He even dangled financial rewards. Duterte boosted his financial incentives with promises that he will pardon and absolve anyone who faced charges due to those killings.
Duterte's post-election pronouncements immediately resulted, based on media accounts, in the summary execution of hundreds of alleged drug addicts and drug pushers. The numbers quickly skyrocketed to thousands. This prompted the international community to condemn the murders.
The executioners even made sure that the extrajudicial killings will be known far and wide by dumping their slain victims' bodies in busy city streets. The killers even left cardboard signs tagging the slain victims as drug pushers who should not be emulated.
Accountability and justice
"All those responsible should be held accountable," according to one victim representation received by VPRS.
Another echoes this call: "But they didn't give my son a chance to live. That's why I'm so mad at Duterte. I wouldn't even wish the same for him in return. I am not a criminal like him. That's why there needs to be a case for my son. […] He really should be jailed. We do not need him to die or be killed. We want him to suffer in jail for what he is doing to our country. For the suffering he is giving to the people of this country and the powerless."
"Duterte must be prosecuted for the many people that he killed," writes another, stressing: "an investigation is important to show the families of those who died that justice can be served."
"Investigate the police, and the higher-ups who ordered them to do it. This was the order of the President of the Philippines."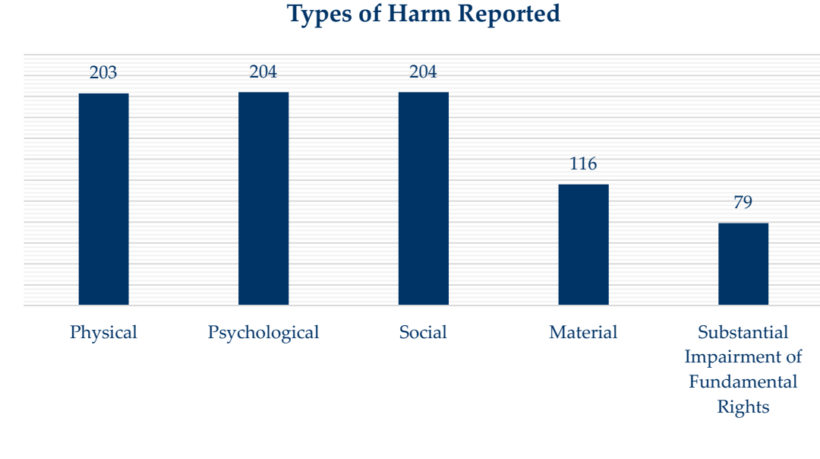 Preliminary investigation
Pursuant to Article 15, then ICC Chief Prosecutor Fatou Bensouda requested the ICC Pre-Trial Chamber I on 24 May 2021 to authorize her office to carry out a preliminary investigation into the systematic and widespread murder of civilians. Bensouda deemed it necessary for the preliminary investigation to cover the period when the Rome Statute of the ICC came into force in the Philippines on 1 November 2011. Duterte, who was Davao City vice mayor at that time, gained notoriety for allegedly ordering the summary execution of alleged criminals in the city. Duterte subsequently held the post as mayor of Davao City on 30 June 2013 until he was sworn in as the Philippines' 16th president on 30 June 2016.
One of the victims' representations clamors for the same scope of investigation: "The investigation should include all [extra judicial killings], illegal detentions, and related persecution acts committed pursuant to the anti-drug campaign of the Duterte administration. The investigation should be national in scope and include Duterte's leadership as Mayor and as President."
Pre-Trial Chamber
The three-member ICC Pre-Trial Chamber I is beating its 21 September 2021 deadline to act upon Bensouda's request for authorization to open a preliminary investigation into the Philippine version of "killing fields".
As the ICC magistrates ponder on their decision, victims – despite great risks to their life and limb – daringly and boldly square off with powerful, untouchable politicians and security officials who commit crimes against humanity with impunity.
One victim remarks: "… we are hoping that God will finally put an end to Duterte's drug war killing the poor and the innocents."
Will the ICC heed their anguished, smothered plea?
Source: The Public Redacted Registry Report on Victim's Representation:
CR2021_07669.PDF (icc-cpi.int)
---
About Perfecto Caparas: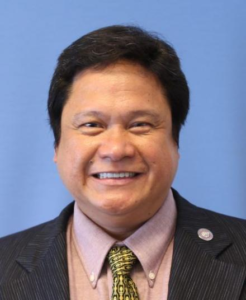 Perfecto Caparas. Writes regularly for Pressenza and Pinoy Publiko. He served as a journalist of The Manila Times, Ang Pahayagang Malaya, The Philippine Post, Pinoy Gazette, UCANews, and ISYU Newsmagazine. He is a licensed attorney and lifetime member of the Integrated Bar of the Philippines.