Music
Words and Music by singer-songwriter Chris Wells
These days, a song like this is hard to come by amidst the slew of mainstream music and videos that dominate the airwaves. A song with lyrics and a melody that harks back to the poet singers and troubadours of the past but sings of today and tomorrow.
The lyrics:
YOU ASK YOURSELF
Your uncle kills your father
smiles to your face
Your mother doesn't seem to mind
You see a dead man
You start to doubt
Start to dread what you might find
The court is saying nothing
Just hold their noses
and make as if they're blind
They treat you like you're seeing things
You're happy to oblige
Might be even happier to leave it all behind
But you ask yourself about yourself, about the others
And you ask yourself: Is it a sin to forgive?
You ask yourself what you owe to the future
How to live, when your world is dying
Is it in the air, my child?
The fog, the taste of failure
The killing shame?
And if we all are feeling it
Who are we to blame?
No way to break the spell of a belief you have not named
The night before our King was shot
He made it to the mountaintop,
He saw the promised land
Do you wonder what he found up there?
Found in himself,
To see so clearly, so clearly understand
Do you ask yourself those kind of questions?
Do you take those questions down to the river?
Do you ask and bet yourself on the asking?
How to breathe, when the fever's rising
See, through the deep denying
Live, when your world is dying
In France they make a kind of cheese
It smells like rotting flesh
A sister says she likes it
it reminds her of her death
When they spoke of end times
Sickness and burning
Did they sense a way to make us whole?
Maybe there's contagion
Of a subtler sort
And the fires that are razing fertilize the soul
OK, there was a warning
Some guy said "God is dead"
It just took a while to land
Sister knows how it goes
The readiness is all
You know it's always today when that time is at hand
So you ask yourself and you wait for an answer
You ask to see, where is the meaning can survive?
You ask… there's the hope for the future
How to breathe
See
Live
Live
Live
Live
The music
An easy beat with a folk feel, the melody lightens up and adds a lilt to the serious message embedded in the lyrics. Listen to it here: https://chriswells1.bandcamp.com/track/you-ask-yourself?from=fanpub_fnb_trk
The message
Like a long narrative poem, the song sings to a listener, a youth and asks, after a montage of images that paints a scenic picture of the world we live in today, to ask questions, to reflect about the future, about what it would take to breathe and to live.
The backstory
As the songwriter recounts…
"I had the idea to write about Hamlet, a young person who finds himself in a world that is totally corrupt, with no references, and tries to find a way of living that is morally valid. I was moved by the courage that implied. The 1st verse is all Hamlet, who "might be even happier to leave it all behind" but decides "to be" and begins to ask himself increasingly deep questions.
The play is also full of images of death and decomposition. There is the famous line "something is rotten in the state of Denmark". And the images of death and rotting kept coming back, maybe because I have recently been reflecting on death, not in a morbid way but to try to clarify the meaning of my life in that context. The Bridge relates to that. By the way, it is a real story, there really is such a cheese and such a nun!
In the 2nd verse, I started to more directly address my children (who are in their 20s) and their generation. It went through a lot of changes. I tried to evoke the particular feeling of these times "the fog, the taste of failure, the killing shame" and make the point that we are all feeling it ("left" and "right") and that even though we are all responsible for our actions, no one is "to blame". To suggest a way beyond the hatred and tribalism. At this point, I was looking for something more hopeful (because some of my friends found the song a bit depressing!) and I thought of Martin Luther King and his transcendent speech the night before he was killed; as a kind of solid and inspiring reference – of courage, moral clarity and a project that goes beyond one's own life.
The other theme has to do with the various "apocalyptic" trends that are so disturbing to us; Covid, climate change, raging wildfires that poison the air. And then I thought of this section from The Inner Look by Silo:
When they spoke of a city of the gods, which the heroes of many peoples strove to reach; when they spoke of a paradise where gods and humankind lived together in transfigured original nature; when they spoke of falls and floods, great internal truth was told.
So the last verse starts with that idea. After a brief reference to Nietzsche (who foretold the inevitable collapse of our outdated values and beliefs), I circle back to Hamlet and that beautiful line spoken minutes before he dies (and perhaps with an intuition that he will die) "the readiness is all".
---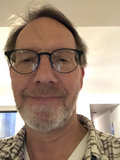 Chris Wells is a songwriter, activist, and teacher based in New York City. He is deeply influenced by the projects and teaching of Silo (Mario Rodriguez Cobos).