(Ramadan Amidst the Covid-19 Pandemic): An interview with Ma'am Amina Tominaman-Mambuay
FOURTH INTERVIEW IN A FOUR-PART SERIES
By Genevieve Balance-Kupang
Ramadan Mubarak! During this Holy Month of Ramadan, I am one with you, our Muslim siblings, as you offer profound prayers, carry out fasting and charitable works, reflect on the Holy Quran, enjoy the gift of your religious community, and solidarity of your partners in the interfaith movement.
As a practitioner of interreligious dialogue and a facilitator of multicultural education, I requested four Muslim counterparts to share their reflections on the Season of Ramadan and how this lingering pandemic is affecting religious celebrations in the Muslim community. They come from Iran, Nigeria, Saudi Arabia, and the Philippines and from different professions: a calligrapher, an educational leader, an arbitrator-engineer, and a certified trainer for nonviolent communication.
 Amina Tominaman-Mambuay (Philippines)
Thank you to all, especially those who read the first three articles in this Ramadan series. Due to unavoidable circumstances, Bisharat Khodadad of Afghanistan could not make it for this fourth interview. Nevertheless, I feel elated to introduce here a Muslim partner, a Marawi-born courageous woman in the interreligious movement. From Mindanao, Philippines, Ma'am Amina is a seasoned  Coordinator of the Silsilah Dialogue Movement in Cagayan de Oro City. She has worked generously and harmoniously through the years with our Christians and  Indigenous Peoples partners in that part of the country.
Along with her husband, Nathaniel, both came to share with my former Manila-based students in World Religions about Islam. They also shared the horrors, impact, and challenges faced by the communities including her relatives who were badly affected by the 2017 Marawi Siege .
My first meeting with her was in 2008 when I was invited by the Archdiocese of Cagayan de Oro (CDO) Justice and Peace Desk to orient them about the "World March for Peace and Non-Violence" (WMPNV), then organized worldwide in more than 100 countries by the Humanist Movement (HM) especially its organism, the World without Wars. The Philippines at that moment was the third leg reached by the WMPNV contingents. Among the 70-plus participants of the seminar-workshop I conducted, I remember Ma'am Amina jolting me with a first-rate smashing question why the HM launched the World March, and from what frame the initiative was based. I do not remember exactly how I answered her then. Needless to say, I am sure, I mentioned about the growing nuclear threat, the folly of the arms race, the proliferation of small arms that kill innocent people, the psychosis behind violent groups, and the trillions of resources spent on pursuits that support the culture of death and division. Anyway, that encounter challenged me to enroll for further studies at the Asian Social Institute, a graduate learning institution oriented towards Justice, Peace, and Integrity of Creation (JPIC).
 Genevieve Balance Kupang: Greetings of peace and joy Ma'am Amina! I am pleased that another Muslim woman graciously accepted the invitation to participate in this series. We wish to know more about yourself, the place you come from, and your belief system about the religious observance of Holy Month of Ramadan.
 ATM: I am Amina Tominaman-Mambuay, born and raised in Marawi City, Mindanao, Philippines.
Ramadan is the 9th month of the Islamic calendar and Muslims around the world observe this month as a month of FASTING (SAWM).  The annual observance of fasting is one of the five (5) Pillars in Islam.
The month lasts for twenty-nine or thirty days and fasting for the day lasts from dawn to sunset.  The dawn meal is suhur and the breaking of the fast meal is the iftar.  During Ramadan, Muslims abstain from food and drink from dawn to dusk. When the sun sets, there is a communal meal called iftar where we break our fast, usually with our family or friends.
It is encouraged that during this month, we devote our time to prayer and the reading of the Qur'an, the Holy Scripture in Islam.
GBK: With this continuing lockdown of the pandemic, I am sure it is doubly hard for all the families and communities affected by the 2017 Marawi Siege. I assume that the community rehabilitation efforts that heavily destroyed your birthplace during the siege have been stalled due to this pandemic.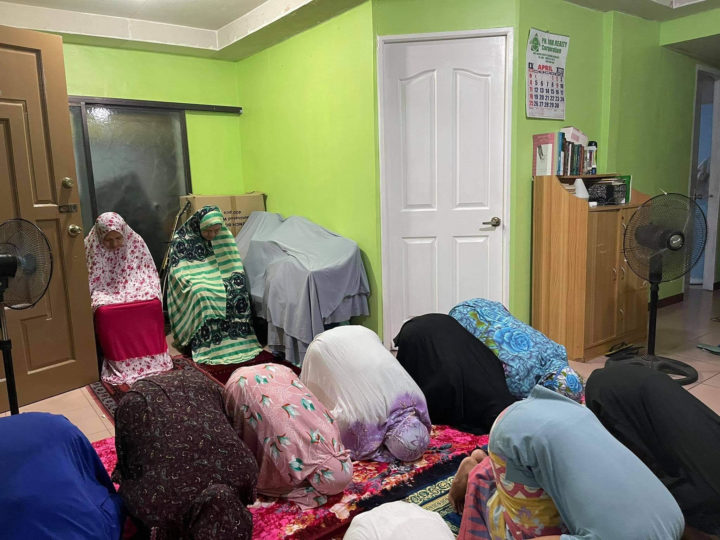 ATM: Muslims believe that Ramadan teaches us to practice self-discipline, self-control, sacrifice, and empathy for those who are less fortunate, thus encouraging actions of generosity and compulsory charity (zakat).
 GBK: During this lingering pandemic, which aspect of your belief system and spiritual practice is helping the Muslim community alleviate the sufferings of people? How is your religion supporting your community to cope with the impact of this life-threatening virus?
 ATM: One important thing that has helped in alleviating the sufferings of the Muslim community where I live is that of sharing what we have with the less fortunate especially food and other necessities. It is our way of showing care and moral support to those who are affected by the virus.  Because we cannot visit the sick, sending messages of care and positive energies via SMS to the families helps a lot.
Through prayers, online lectures, and webinars discussing how to cope with the threat of the virus psychologically and physically are some of the support extended to the Muslim community in general.
 GBK: It has been more than a year that health protocols were enforced. What are the innovative ways of engaging with the broader Muslim community as you spend time for reflection, worship, and connection during Ramadan?
ATM: Ramadan is one of the most awaited months (Islamic calendar) of every Muslim.  Since the pandemic, movements have been limited and even the congregational prayers are being modified because mass gatherings are not allowed. In my family's case, we tailored our own version. Instead of going to the Masjid for our daily congregational nightly prayers during this month of Ramadan and our Friday congregational prayers, we do it at home.  And every after prayer, we share and reflect on the pandemic, the lessons we learn from this unexpected change on manifold levels, and its advantages and disadvantages. This way, we just do not take it negatively because, in our shared reflections, we see the positive impacts of this public health issue.  We share our experience with other friends and relatives and they likewise do the same.
 GBK: Muslims are admired for their recitation and devotion to the 99 names of God. Which one is most helpful for you during this pandemic?
ATM: For me, all the 99 names of Allah are important and valuable but one of the most helpful for me during this time of pandemic is the AL-ALEEM (The All-Knowing, The Omniscient).  During this time of difficulties, I believe that Allah knows what is going on in the heart of every individual and what is in my heart. I do believe that Allah protects and guides me all the way. I fully entrust myself to Allah.  Reciting this from time to time helps me with my anxiety and I believe everything will be fine, In Shaa Allah.
 GBK: As a Muslim, what are your dreams for humanity's better future? What has this critical time of covid19 taught you as a believer of Islam?
 ATM: As a Muslim, my dream for humanity is that there will come a time when there will be an understanding and unity of all. I hope that everyone will respect and appreciate the beauty and uniqueness of each one and that we can live together in harmony.
In this challenging COVID-19 time, I became more open to listen to the problems of others. I give attention to someone who sends me emails or other forms of communication because I know that in this moment, the physical connection is not possible. Since almost everyone is struggling, sharing generously human and material resources whenever possible, big, or small, is our way of helping or contributing to alleviate the difficulties of the moment.
 GBK: Share your message of solidarity and hope for the month of Ramadan amidst the covid19 pandemic.
 ATM: I am one with all those observing the Holy month of Ramadan. I am hopeful that with our prayers, we will be able to face the challenges brought about by the COVID19 pandemic, and other challenges knowing that Allah (s.w.t) is there to guide us. Blessed Ramadan to all the Muslims around the globe.
GBK: Mashallah, Ma'am Amina Mambuay! It is with great joy and deep respect, that I express my sincerest appreciation for your precious time and sharing here. I have learned also from you as much as I gained from the first three that I interviewed ahead of you. Borrowing from the words of Stano, a peace friend from Japan, may the light of your heart shines brighter and brighter to all the corners of the universe. Stay blessed and keep safe. Please accept my warm regards to your loving husband Nathaniel, your family, and our interfaith partners in Cagayan de Oro City.
To our dear Pressenza readers, I thank you for your support by liking and sharing the articles in this Ramadan series:
First, Dr. Tandis Taghavi (Iran) https://www. pressenza.com/2021/04/Ramadan-amidst-the-covid-19-pandemic-an-interview-with-Tandis-Taghavi/.
Second, Dr. Aliyu Yaya Aliyu (Nigeria) https://www.pressenza.com/2021/ 04/Ramadan-amidst-the-covid-19-pandemic-an-interview-with-Dr-Aliyu-Yaya-Aliyu/.
Third, Engr. Ossama Al Azzouni (Saudi Arabia) https://www.pressenza. com/2021/04/Ramadan-amidst-the-covid-19-pandemic-an-interview-with-Engr-Ossama-Al-Azzouni/.
---
About the author: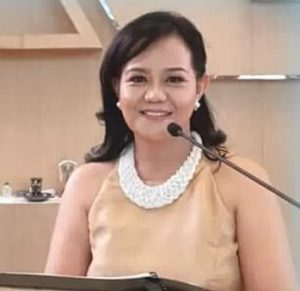 Genevieve Balance Kupang (Genie) is an anthropologist, consultant, researcher, and advisor to individuals and organizations engaged in working for good governance, genuine leadership, justice, integrity of creation, peace, the indigenous peoples, preservation of cultures, and societal transformation processes. She is a peace educator, author, an interreligious dialogue practitioner, and resource person with a career in the academe and NGO.