2021 Multifaith Virtual Iftar Conference in the Philippines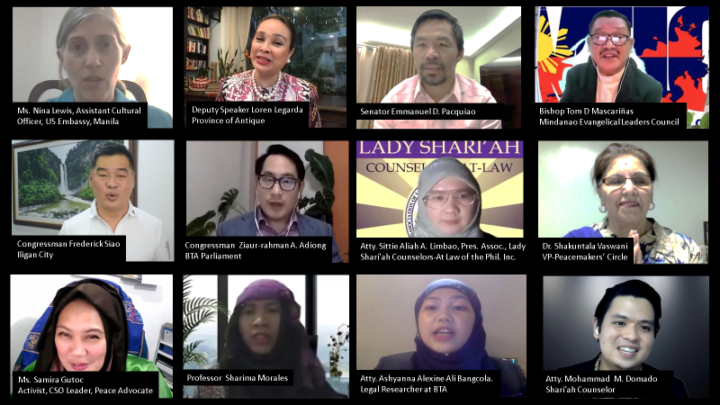 SPIRITUALITY
By Genevieve Balance-Kupang
In Appreciation of the Richness of our Religious Diversity and Experiencing Ramadan through Fasting and Iftar
Radiating one's inner light, gift of presence, and goodwill, multifaith religious and government leaders, the international community, peace advocates, civil society organizations, Bangsamoro government agencies' members, and academe convened on May 7, 2021 for an Iftar Conference via zoom. Thanks to our hosts and the initiative of the US Embassy Manila in partnership with the Association of Lady Shari'ah Counselors-At-Law of the Philippines, Inc. for organizing a series of pertinent Ramadan Forums culminating in this Virtual Iftar Program held during the blessed month of Ramadan.
A warm greeting of Ramadan Mubarak was expressed by all invited resource speakers and guests to the Lady Shari'ah Counselors, Filipino Muslims around the country, and all Muslims worldwide.
From the National Commission on Muslim Filipinos, Datu Rajah A. Pumbaya led the opening prayer.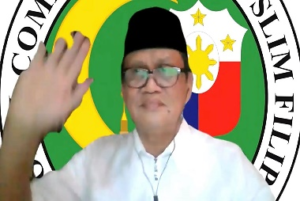 He highlighted that Ramadan is a season to purify the soul, refocus attention on Almighty God, and practice self-discipline with sacrifice and, highlighted the three theme-parts of Ramadan.
The first ten days is Rehmat, (mercy). The second 10 days is focused on Maghfirah (forgiveness). The third and final days is Najat (salvation /emancipation). Ali mentioned the importance of Laylat al-Qadr, known as the Night of Power, considered the holiest night of the year for Muslims. Unspecified, yet it is a night portion certainly found in the last ten days of Ramadan. According to the Holy Qur'an, Laylat-al-Qadr is better than a thousand months. One of the most renowned traditions (Sunnahs) of Prophet Muhammad (PBUH) is the observance of Itikaf (stay-in in the Masjid) in the last 10 days of this holy month.
Shari'ah Counselor Sittie Aliah A. Limbao, president of the Association of the Lady Shari'ah Counselors-At-Law of the Phil. Inc. welcomed and acknowledged the participants. She spoke about their association's projects and advocacies which are supportive of the UN SDGs and related to what I learned as a delegate during the recent UN Commission on the Status of Women. These are peaceful co-existence, empowerment of women and girls, human rights, equal access to education, seeing the beauty of our respective religions, promotion of Shari'ah law and countering violent extremism among others.. Her organization is also currently doing two simultaneous projects with the US Embassy dubbed: "Examining Current Trends of Violent Extremism in South East Asia" and "Empowering Women Leaders and Scholars for Peace and Security in Mindanao." Both projects aim to counter violent extremism and help promote women's empowerment.
The U.S. Embassy, Manila through its Assistant Cultural Affairs Officer Ms. Nina Lewis, gave her valuable message of solidarity and support not only to the Muslims who are celebrating Ramadan but to all non-Muslim participants. She highlighted the continuous support of the US Embassy for programs in Mindanao. A Jew, her heart listening approach to learn from the distinguished resource speakers about the significance of Ramadan is inspiring. She emphasized some similarities of Judaism to Islam in many aspects and traditions.
Representing the lower house, Deputy Speaker and Congresswoman Lorna Regina "Loren" Bautista Legarda, shared a genuine and earnest Ramadan message. Legarda, a well-loved ally of the Muslims and indigenous peoples in her various capacities as a government leader, and former journalist accentuated the value of Ramadan as a precious occasion to show love and big-heartedness for our Muslim brothers and sisters. Her presence shows how she loves and appreciates the diverse Filipino cultures and spirituality. While she spoke, I remember one of her advocacies which is nationalism urging everyone to foster unity of intention and oneness for our country. Legrada is indeed an inspiration because of her relentless pursuit and efforts towards national reconciliation and healing. She has co-authored the declaration of Eid´l Fitr as a national holiday through RA 9177, one "legislation that sought to recognize the richness of culture, the uniqueness of our diversity as a Filipino people, and those Filipinos who have labored to preserve our culture through the history of forebears."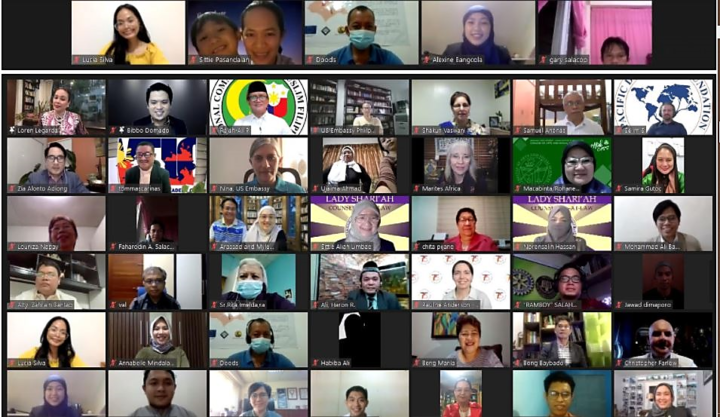 The People's Champ Senator Emmanuel " Manny "Pacquiao articulated the significance of celebrating the role of Faith and Spirituality in the lives of Filipino people. The teachings and values of Islam bind us all, he said, regardless of our religion or tribe-to embrace a shared commitment to respect and serve one another. Pacquiao affirmed that the diverse faiths and cultures in the Philippines is a strength, and not a disadvantage. He said– our pledge to religious freedom must be unshakeable; our strong Emphasis on Freedom of Religious Worship. As we celebrate the essence of Ramadan, we are also reminded that Islam has always been part of our nation, and our ancestry.
Being a Senator from Mindanao, he was privileged to have worked with our Muslim brothers and sisters from various parts of the country. He said "We have a common aim-to promote a community of understanding, peace and harmony. This is why I filed Senate Bill No. 1984 which seeks to add a ninth ray in the sun of the Philippine national flag. This is to acknowledge that along with those provinces representing the existing eight rays of the sun in the Philippine flag, our Muslim ancestors equally fought for Philippine independence against the imperial Spanish colonization. Our history is filled with stories of battles bravely fought by our mostly unrecognized Muslim heroes. Their courageous commitment to protect our nation and our territory deserves to be given due recognition. This should be done alongside with those already recognized in the most heraldic article of national importance, in the Philippine flag. A nation's flag should not only encapsulate a symbolism that survives the passage of time, but one which truly reflects the historical accounts and gives due recognition to those who went through heroic struggles."
MP Ziaur-Rahman A. Adiong shared his experience growing up in Marawi City during Ramadhan seasons, and how this experience shaped his consciousness as a Muslim and his understanding of community service. He mentioned that despite the multiple crises they are facing in Lanao Del Sur and Marawi City brought by the Marawi siege destruction and the pandemic which threatens both their economic and personal health security, many individuals and groups have stepped up to provide for the needy and marginalized through community pantries in the hope to bring about the true message of Ramadhan which are compassion, charity and generosity. These values, Adiong said, are deeply shared with peoples of various faiths. He appealed to Deputy Speaker Legarda and to his fellow Mindanaoan legislators Senator Pacquiao and Rep. Siao to support the urgent passage of the Marawi Compensation Bill authored by Lanao Del Sur Reps. Ansarudding Alonto Adiong, Yasser Alonto Balindong, House Deputy Speaker Mujiv S. Hataman, and AMIN Party list Rep. Amihilda Sangcopan.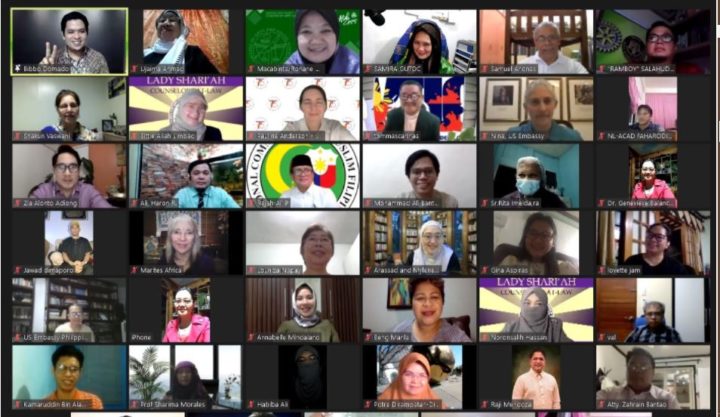 With a deep understanding of the peace issues in Mindanao and the challenging and joyous significance of Ramadan, Bishop Tom D. Mascariñas, Chair of the Mindanao Evangelical Leaders Council shared valuable and deep peace-building insights. He shared a discussion on Minoritization or discrimination: An Assault to Religious Freedom. He said
"Every day in this holy month of Ramadan brings both challenge and joy to all serious believers of God. Challenge in overcoming the carnal demands and wicked desires of the flesh and this sinful world, and joy of overcoming them daily by fasting, which calls for a subsequent daily celebration like this iftar… may God continue to grant all believers' sincere desire of pleasing Him and be in total submission to Him in all things and may God (all praises be to Him) hearken their prayers for divine strength and salvation.
The minoritization of the ethnic Mindanaoan tribes in their homeland is an unfortunate event and sad reality resulting from migration in the search for economic advancement. It successfully ushered in discrimination, an assault on religious freedom, and the sowing of seeds of discord and building walls of distrust that hindered the peaceful and harmonious co-existence of peoples belonging to diverse faiths and cultures. Sadly, minoritization also impeded the process of attaining inclusive growth and development. Like the proverbial "rearing of the ugly head," minoritization blatantly rears the crude and ugly face of an under-developed society."
The good Bishop's journey in understanding the historical perspective of the Mindanao conflict made him realize that they, the present Mindanaoans, are all victims of the cruel context of the past. Like someone aptly said, "there are no victors in war, only victims, who are usually the innocent women and mothers, the elderly and small children." His advocacy and journey to this quest of having a lasting peace have also given him the unique privilege of meeting fellow peace advocates and humbly learned from them essential insights that he sincerely believe would help heal the wounds of the past. Tearing down the walls of mistrust, building bridges of peace, unity, and trust, being involved in practical efforts to become part of the solution and not of the problem of Mindanao and this country, respect, focusing on the similarities of our faith and cultures, committing to be an instrument of peace like the prayer of St. Francis, and love of God, [love of the good] by all faiths and cultures are necessary ingredients in building a better society said Bishop Tom.
Professor Sharima Morales also shared a snippet of her study regarding the minoritization or discrimination: An assault to religious freedom.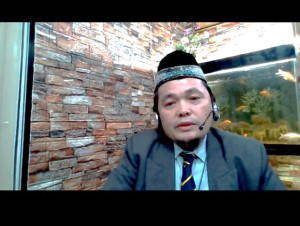 Aleem Datu Haron Ali, Sh. L. called out the beautiful azan or call to prayer, signifying the breaking of the fast. After the simultaneous sumptuous Iftar dinner provided by our host, a presentation of community projects followed led by Association of Lady Shari'ah Counsellors-At-Law of the Philippines, Inc.
Samirah Gutoc, a peace advocate and CSO leader shared a poem which she wrote for the virtual gathering:
To the few who can zoom,
I open my heart to a world
we can't join in one room
I say thanks to you and the world
For standing support in the Moro peace talks
To stop the war, stop the sword
We pray for you India (displacements in homeland, and Palestine, et al)
One patient's pain is the pain of all,
The Ummah
I am a survivor and chronicler,
I am in awe,
Joined the universe of reformers
Red-tagged long before in her wear
Looked down upon for her head gear
We took the soldier not as an enemy
Mediate human rights as his cause too,
His strategy
I took the hate,
to find actions of great
Rejecting the headline of rage and scandal,
Changing the frame,
Helped set up MORO TIMES for all
Indeed, this love for our neighbor, ecosystem, the universe
Is what i take from my RAMADHAN,
Quran's verses
Indeed, what covid19 teaches us,
We find too in the God of all of us
To discipline, diet, persevere, avoid excess
To the youth, create videos, remove this apathetic mess
The interconnectivity reminds that every tissue I throw takes space
from an ant and his place
Quarantine is no excuse
The Quran is a message for humanity,
Make truce
Books, not bullets
Tractors, not tanks.
To government, nothing about us, without us
To all of us, write. Indeed, the ink is mightier than the sword was
Jesus showed, fasting is solidarity for all.
The big must take concern for the cause of the small
These words come from my heart. I hope they touch yours. #RecoverTogether
Representing a minority Hindu community in the Philippines, Dr. Shakuntala Vaswani shared that she is grateful that they can practice their religion with great freedom and without discrimination or any societal pressures. For the last few years, they have been able to celebrate TWO of their great festivals – HOLI, the festival of colors and DIWALI, the festival of lights with the larger Filipino community, at the Mall of Asia and through social media. She said that many Filipino students visit their Temple to learn about Hinduism.
Vaswani's message of Peace from Hinduism or Sanatana Dharma was based on the collective wisdom and inspiration of the great seers and sages of ancient India and complied in the first books of knowledge, the Vedas. To live a life according to Dharma is the foremost message of Hinduism for all. Dharma is to live in harmony with the eternal divine laws of nature, and the moral code of living, that governs all reality and binds us together in harmony. Dharma is thus intricately intertwined into their very process of living. She also highlighted the virtue of Ahimsa or non-violence towards all living things, respecting all and deters all from harming other creatures and nature. Peace or Shanti is not only important within oneself, but it is also our dharma to act peacefully towards others. Peace is needed for the wellbeing of all life. She believes that if we bring peace to others, or at least do not disturb their peace, then the Universe and God will reciprocate by sending peace our way.
She ended her peace message by quoting from Swami Vivekananda:
"If there be righteousness in the heart, there will be beauty in character.
If there be beauty in character, there will be harmony in the home.
"If there be harmony in the home, there will be order in the nation.
If there be order in the nation, there will be peace in the world."
Congressman Frederick Siao of the lone legislative district of Iligan City in Lanao Del Norte Province gave his message of solidarity and peace to all Muslims. He emphasized Islamic teachings of the Holy month and reiterated his advocacies on peaceful dialogues, mutual cooperation and respect amongst his constituents in Iligan City, a very diverse city of different faiths. He echoed the desire of every Mindanaoan for a harmonious, progressive, and sustainable co-existence of all religious groups and cultures.
In her impressive closing remarks, Atty. Ashyanna Alexine Ali Bangcola, a legal researcher at the Bangsamoro Transition Authority and lecturer at the Mindanao State University – College of Law expressed her heartfelt appreciation to the US embassy, the distinguished panels of speakers, the different religious personalities and well-meaning participants for their goodwill and sharing of time as they celebrate their Holy Ramadan. Bangcola has participated in various Model United Nations international conferences in the past where she has won distinctions for her position papers. In the 4th Annual Conference on the Muslim World, she presented her paper on the Bangsamoro Peace Process and the importance of applying principles of interfaith dialogue and reconciliation in order to achieve peace in the region. She also participated in a peace camp held in Davao where she talked about the importance of engaging in interfaith dialogue since people of different religions are able to talk about their faith, not in a confrontational manner, but in order for them to see how similar they are. She herself has participated in an interfaith dialogue webinar organized by LinkED PH on different spiritual perspectives in the new normal.
Bangcola also shared the significance of sharing a meal together. She states, "that is probably why, during Ramadan before the onset of the pandemic, and even during this pandemic, we see Muslims and even non-Muslims have iftar or feeding programs for as many people as they can. It is one of the best examples of compassion. I believe that in this way, the one who feeds and the one who gets fed share a meal together and become family. Though this may be a virtual iftar program, by breaking our fast and sharing a meal together, I believe all the attendees regardless of their faiths have become companions."
What a meaningful Ramadan celebration participated by believers from various faiths! As a researcher of world religions and belief systems, this event was one precious occasion where our presence was a gift, and I felt the joy of learning the richness of our cultural and religious diversity.
The gathering's essence was a reiteration of the multifaith manifesto for peace, and sharing of the love of God and love of neighbor, believing that transformation demands the participation of everyone from every sector, religion, culture, and ideology. As I learned from the Sowing Peace for Mindanao Network in 2008, I stand united as a sister from the Mountain Province, Cordillera Administrative Region with our Muslim-Christian-Indigenous brothers and sisters as we build together a better, safer, and peaceful Philippines along with the wider world community.
---
About the writer: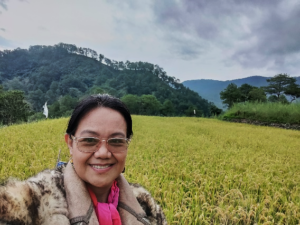 Genevieve Balance-Kupang. An affiliate of the Silsilah Dialogue Movement and a core team member of the Episcopal Commission on Interreligious Dialogue of the CBCP. C-authored a book on World Religions and Belief Systems published by C & E Publishing, Inc., and the series Our Nation, Our World by Sibs Publishing House, Inc. Chair of the Special Interest Groups (SIG) of the World Council for Curriculum and Instruction (WCCI), and a trustee of the Asian Social Institute. A researcher, consultant, anthropologist, and advisor to individuals and organizations engaged in working for good governance, justice, integrity of creation, peace, the indigenous peoples, and societal transformation processes. With a career in the academe and NGOs.