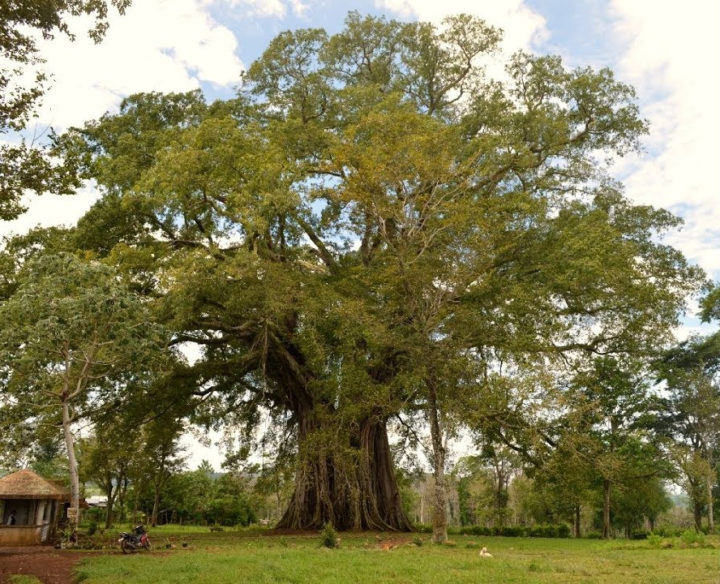 FICTION
Nilang squatted beneath the umbrous shade of an ancient baliti tree. It was high noon and she still had a four-kilometer walk ahead of her to Santa Elena and the parish priest's house. She carried a tampipi with a few belongings in it and a covered rattan basket with four hens inside. She was barefoot. Around her neck, she wore a scapular on a length of brown cord, softened through years of never removing it, not even when bathing in the river. She removed the kerchief tied around her head and mopped the sweat on her neck, on her upper lip and her temples. She did not look around her but gazed blankly at the ribbon of brown rutted earth stretching out ahead, lush green forest cover on either side, hiding away from view slumbering little nests of nipa huts strung out along the country road, never far from a sparkling stream. She wore a plain white blouse of cotton with flared sleeves and a cotton print rectangular cloth wrapped around her waist and knotted over the small of her back. Though faded it was her best skirt. As for underwear, we would say she wore a pair of loose white pantaloons that came down to above her knees, but without elastic, its opening secured with ties to her waist, on the left side. The fact that she wore it marked her as having been instructed by the nuns of Obras Pías, where she had been taken in for three years from age 5 to 8, at a time when her mother took ill and her father could only live with his older son who was old enough to help him in the house and with the planting and animals. He finally lost house and land to usurers and moved to the jungle, then by a miracle his wife recovered and rejoined him.
Petronila Josefa de la Cruz was now a quiet, very religious and obedient girl of fourteen. Her parents lived with her siblings in a hut high in the hills above the river called Agpo-on, almost ten kilometers away from the town of Santa Elena de la Vera Cruz. It was decided that their next eldest child should enter into the service of the parish priest of Santa Elena, Padre Genaro García, in fulfillment of that promise Mang Dencio made to Nuestra Señora de Guadalupe that his child would be consecrated to the religious life if his wife survived her illness. Also because it meant she began to earn a pittance when she reached the age of ten, which helped to pay her family tribute.
Her brother Vinicio was now 16 and a younger sister, Ciriaca, 10, took her place helping at home and in the fields.
And so, for nine years, almost her entire life, Nilang had lived away from her family and was allowed to visit them only for five weeks, in May and June when it was hottest, and don Genaro went away to Maysilo, the Jesuit retreat house outside Manila, for exactly 30 days, plus the week it took him to travel there and another week to travel back to Santa Elena, by caleche and coaster to Manila and then by caleche again from Manila to the big retreat house surrounded by forests and ricefields in Maysilo.
Nila had risen at four in the morning, and after having a plate of morisqueta and drinking salabat with her mother Manang Señang, her father Mang Dencio, Vineng and Sicang she set off down the mountain, accompanied by her brother and three of the family's five dogs. They had covered three kilometers of thick forest in as many hours, following a footpath although Vinicio sometimes hacked through the undergrowth to make way. The dogs were trained to run ahead and around them, sniffing out danger and barking or whining in warning.
When they reached the river, Nilang crossed to the other side on a raft secured to thick, sturdy vines lashed around towering trees on the elevated embankments on either side of the river. The volume of water was less now than during the monsoon. Mang Lilong, an old man who lived in a hut beside the river with his four strapping sons, their wives and children, ferried Nila across the water, his son Andeng guiding the raft with hemp rope from the other side, Vinicio looking on, before heading back up the mountain with the dogs.  Mang Lilong received payment in kind from the people living in the bush for his and his family's indispensable service. Not only did they ferry people back and forth, but they kept that part of the river as free of crocodiles and pythons as possible, being expert hunters.
Once on the other side, the girl followed the well-marked road that passed several small barrios until finally reaching the town of Santa Elena.
Nila pulled out a short length of bamboo stoppered with a plug of banana trunk from the tampipi; it contained coconut juice. She took a sip. Then she fingered the coins wrapped in a kerchief tightly knotted around the cord belt that she wore around her waist. She had to be careful not to lose the money – it was the poll tax that her parents had to pay for the whole year and that Don Genaro collected from the townspeople and those living in the bush who were obliged to pay vassalage.
The road had been reasonably well-traveled until midday, by farmers leading carabaos pulling carts piled with sugarcane, hay, the occasional trap, peasants on foot, then it emptied. It was lunchtime and the sun beat down from its zenith. Nilang put on her conical buri hat and, stoically, stood up to resume her march.
As she bent down to collect her rattan basket with the chickens inside, out of a corner of her eye, from the direction of the thicket, she saw a large shadow flicker past. The sunlight suddenly seemed to flee and the surroundings became inexplicably blanketed by shadows.
Nilang felt goosebumps rise all along her arms and nape, down her back and legs. Instinctively she reached with her other hand for the scapular and began to pray.  She felt rooted to the spot. Unable to move, her body covered with chills where minutes past she had been bathed in damp heat, fear overcame her, and dread. Santísima Virgen, she whispered, Ave María, bendita sea su nombre….
Just as suddenly, the sunlight returned.
Nilang could move again. Her bare feet obeyed and off she sprinted like a frightened deer. Suddenly she stopped in mid-flight – for behind her, she realized, were her bundle of belongings, and the chickens!
She looked back, then turned around. There was the huge, ancient tree surrounded by emerald forest, and at its foot her basket of fowl and tampipi.  Inside this last was the pot of honey that Manang Senang had sent to Don Genaro as a special present!
Heart still beating wildly, Nilang slowly walked back to the tree. Ave María, Virgen Santísima, protéjanos del Mal— she murmured, over and over, without finishing the final word. She dared not even pronounce it: el Maligno.
Then she looked up, at the sky, as though hoping for a miracle, a vision of the Virgin smiling beatifically down on her. She continued to move forward, slowly, step by step, little by little, on the brightly-lit road, as her courage returned. The tree loomed larger. She could hear the hens cackling softly as though calling to her to recover them. Arms limp at her sides, Nilang began striding firmly, closing the final gap between her and the baliti.  As she reached the shade, a cool breeze began to blow, making the wide sleeves of her simple white guinara blouse flap against her upper arms. The dancing air enveloped her body, playfully blowing her long hair across her face, covering her eyes.
It was only then that she saw it: the huge hump of brown earth just behind the tree, off to one side.  She had not seen it!  The nuno ng puso was just there, not two paces from where she had so carelessly squatted!
A riot of flowers grew all along both sides of the road, and Nila began to pluck gumamelas, sampagas, calachuchi and ylang-ylang, until she had filled the front of her blouse with a fragrant mass of blooms.
She approached the mound of earth and, as her parents and grandparents had taught her, whispered an apology and asked permission to continue safely on her journey. Then she lowered the gathered edges of her blouse. The flowers tumbled gently on the mound.
Nilang picked up her basket of fowl and tampipi.  Recovering the salacot that had fallen on the road when she fled, she swiftly walked away, head bowed to the ground, and never looked back.
Footnotes:
A nuno sa punso ("old man of the mound"), or simply nuno ("old man" or "grandparent"), is a dwarf-like nature spirit (anito) in Philippine mythology. It is believed to live in an anthill or termite mound, hence its name, literally 'Ancestor/Grandparent living in the anthill'.
Tampipi:  native clothes chest (made of bamboo, rattan or palm leaves)
Morisqueta: fried rice
Salabat: ginger tea