This post is also available in: Spanish, French, Italian, German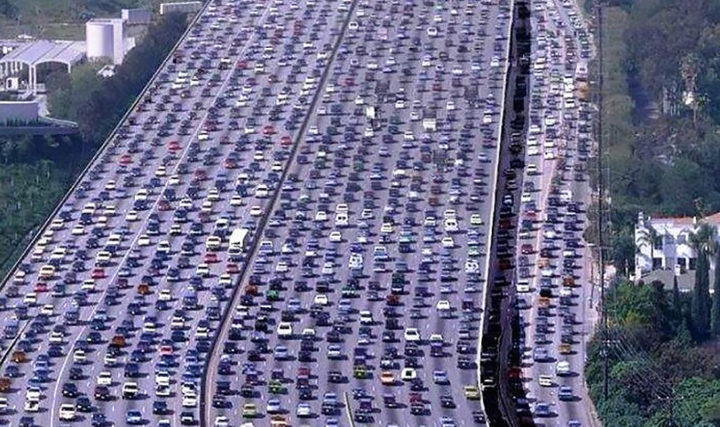 On November 1, the seven-day average for new daily cases of COVID-19 in California was 4,183; on December 17 it was 38,774. The California Department of Public Health announced 379 COVID-19 deaths on December 17, the state's highest one-day total yet, shattering the prior record of 293 set the day before. More than 22,000 Californians have died from COVID-19 so far this year. In addition, 2020 has seen the state's largest wildfire season in modern history, with more than 4 million acres of land burned to date.
For almost 200 years, California has played a fundamental role in shaping American culture, from the 1849 Gold Rush, to the development of Hollywood, to the current dominance of Silicon Valley. "California Dreaming" created the allegory of a paradise on earth, a place where anyone could become rich quick. The state has defined our ideal of modern human beings, with their array of gadgets, their obsession with fame and celebrity, and their pursuit of personal happiness. California has epitomized individualism: promoting individual car ownership over public transport, the house over apartment living, and the dream of having one's own business (started in the garage) or becoming famous at any cost.
This egocentric state of mind has created a disconnect with our environment, with our social fabric, and our society at large. Our individualism is so strong that we have lost the capacity to respond to our common problems. One of the 12 principles of valid action outlined by Silo says "Things are well when they move together, not in isolation." California and most of the Western world have been paying very little attention, if any, to "moving together" and instead have focused their energy and resources on "isolation," with the belief that isolating will make us more secure and less dependent. But the illusion of the self-made person is over.
As an example, people are concerned about when they will personally get the vaccine but, to make it work and really stop the pandemic's spread, we will need more than 30% of the population to be vaccinated. How we get to that 30% milestone should be everyone's current concern. Another example is obesity. Overall, 13% of the world's adult population (11% of men and 15% of women) were obese in 2016. The worldwide prevalence of obesity nearly tripled between 1975 and 2016. It's not an isolated issue, and asking people to follow some diet is not a solution. And the climate change clock is clicking and we are going to need to adjust our lifestyle. Remember: "Things are well when they move together, not in isolation."
Are corporations working to help people economically during this huge crisis? Does the U.S. Congress have the capacity to overcome its partisan divisions in order to pass incredibly important legislation? Will the military agree to lower its own enormous budget so that the government can better help civilians in need?
Most of our present challenges are human made and could be transformed if we are ready to transform ourselves. Understanding that "things are well when they move together, not in isolation" is a good place to start modifying our belief system and re-organizing our priorities. A plane on the runway may be ready to fly, but if each of its motors start running at a different speed or rotating in different direction, takeoff will not happen. What each one of us does is very important for ourselves and for everyone else.