By Jhon Sánchez
In 2010, I met Charlie during Festival de la Palabra, a Puerto Rican celebration of Hispanic literature in New York and San Juan. By 2015, Charlie edited two of my essays published in Bronx Memoir Project, as well as accompanying me to enjoy plantains, roasted pork, and beans at a Bronx cuchifrito. Known for writing about queer and Puerto Rican issues, he comes to scare us with the wonderful stories in Fantasmas—"ghosts" in Spanish—just in time for Halloween.
JS: Before talking about the book, I'd like to hear about your life. You always have a project in mind; founding new presses, participating in anthologies, activism. So, what's going on with you?
CV: Creatively, I've been organizing material for a memoir and working on a screenplay. I've also worked as a consultant for organizations such as the NYC Department of Health on creative writing and storytelling programs, which is a progression of the work I did when you and I met. This means I write grant proposals and build creative writing and storytelling programs, in case any of your readers are interested. PEN America brought me on board as a teaching artist mentor for the program DREAMing Out Loud in 2019, which means I get to work with undocumented writers each spring, a total privilege. I'm also looking at more media-focused writing projects in the future, as well as fiction.
JS: I know you love Edgar Allan Poe. Can you tell us about Poe's influence on your writing and on this book in particular?
CV: I grew up near his cottage in the Bronx, so I knew who he was before reading him. The elementary school I went to offered advanced reading classes for nerds like me, so it was in third grade that I read "The Telltale Heart", as well as Washington Irving's "The Legend of Sleep Hollow" and "Rip Van Winkle". This style of storytelling had an enormous impact on my imagination, which continues today. As for Poe, I've always been a Goth in general, though I think of him as a darker romantic writer. I love how stories play out in his poems, the way his fiction is written in lush and evocative language. I'm haunted by the ghosts of my own past I suppose, the melancholy and visions. There's an urgency in Poe's voice that still moves me. Stylistically, I don't write like him at all (nor would I try). For these stories I went for a more straightforward voice and style, which allows for more suspenseful pacing. I think so anyway.
JS: In your previous books, have you written about ghosts, fear, and the supernatural?
CV: My previous books have featured spiritual and supernatural elements but not as central devices as with the tales in Fantasmas. The tendency has always been there, though more on the margins and in the background. For these stories, it's at the center. Writing these stories was a lot of fun, too. I had to grow a lot as a writer, as simple as they may seem. I enjoy supernatural storytelling very much in general and will likely explore some more in the future. We know so little about our universe. This blind spot offers nearly limitless territory for fiction—including ghosts and the afterlife.
JS: I heard that many of the stories were told to you. Can you tell us how the process of collecting the pieces for this book went?
CV: The original idea was to document everything my mother and I remember about the stories my grandparents and great-grandparents used to tell us. There's a strong oral storytelling tradition in Puerto Rican culture, which found its way to New York with my ancestors. I caught bits of this, though my mother remembers more of it. I documented what she recounted and added fictional elements where needed. Six of the 14 stories are based on family accounts. The rest were invented in a similar style.
For example (no spoilers, promise): "Tiempo Muerto" is based on my mother's paternal grandfather, Juan Serra-Soto. The major events in the story are true (according to him, though he died in 1973), minus the names of his best friend Guillermo and his family. The crime really happened, but I had to give Guillermo a believable motive since we didn't have one. I made one up after researching the Great Depression years in Puerto Rico, a period of widespread suffering and desperation. I love research!   
JS: The book explores different kinds of fear, doesn't it? Can you comment on that?
CV: One of the things I admire about the horror genre is the power of surprise. You can't overuse the same tricks, however, so I researched methods for arousing fear and anxiety such as dramatic irony, one of Hitchcock's favorites. The viewer (or reader) knows there's a ticking timebomb under the table where characters are chatting. The characters don't know it's there, however. We agonize on the edge of our seats, waiting to see what happens. I also experimented with other suspense techniques. Many of the things that scare me show up as well: demonic disturbances, being burned alive, drowning in deep seas. It's helpful for writers to feel the emotions we're hoping to transmit on the page.
JS: In your story "Devil's Burns", you talk about medical experimentation. In the United States, we have a long history of medical experimentation with communities of color. What's the role that stories like this one plays during the current pandemic and political situation?
I started writing it almost eight years ago, so timing really. The cyclical nature of life contributes newer meaning and depth to it, I suppose. Puerto Ricans in the U.S. learn very little about our Caribbean history, so I unearthed as much as I could while working for Festival de la Palabra in San Juan. I bought stacks of books and was horrified to learn about experiments carried out by the monstrous Dr. Cornelius Rhoads and others, the sterilization campaigns and so forth. Puerto Ricans have served as laboratory rats for the U.S. many times over the last century and change, which also inspired the story "Perfect Assassin", based on mosquito virus hysteria. 
JS: By the same coin, we have "Lure," where the one who saves the boy is a shaman, not a doctor. Right now, we face competing narratives: on the one hand, one says we need to listen to the science, and on the other, we need to listen to our spirituality to strengthen the immune system. Could you comment on that?
CV: That wasn't intentional, though the story is about my father and his brother. My dad used to tell me about the tapeworm extraction method in rural Puerto Rico in the 1950s, where doctors were often scare depending on where you lived. And it always terrified me. I created the shaman character to create a feminist contrast; a tall, dark, and manly lady shows up out of concern and gets the job done, as horrific as the procedure is.
I never thought about the science versus "spirit" debate, though I can see where your interpretation comes from given the movement to embalm American society with 17th century values, as spearheaded by conservatives. Plus, I don't equate spirituality with religion at all. If I had children, I'd vaccinate them. I've been administered a number of them over the years and look how fabulous I turned out! (Kidding.)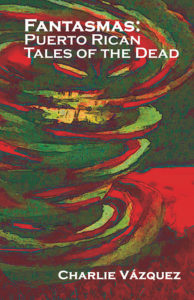 JS: The stories take place in Puerto Rico; some in the countryside and others in the city. Do you think people fear differently depending on where they live? Do you think that New Yorkers have a different experience of fear?
CV: The stories in Fantasmas span from the 1930s through the 2000s and feature characters from various backgrounds and social classes. People tend to fear more when they're uneducated, semiliterate, and religious. Watch a Trump rally for five minutes if you need proof. We fear relative to the time we live in and what we know—and don't know—about our world (terrorist attacks, a government takeover, etc.). For people in other times it may have been the demon lady with wolf fangs that awakens after sunset and snatches children from their beds and devours them by the light of the moon—sight unseen.  
As for New Yorkers, we're a diverse bunch from all the Earth's regions. With so much turmoil and rupture in the world, we have more to fear now than the shadows watching when we turn the lights off. I don't know about you, but these are terrifying times. And I survived the Bronx of the 1970s and 1980s—heroin, murder, AIDS, fires, crack—you name it. Being tested in this way forges an inner strength we sometimes overlook while trying to survive. And the Coronavirus nightmare last winter/spring… what a mortifying experience that was in the South Bronx. It's no wonder horror is popular again.
We're living it.  
JS: Among the stories, tell us what your recommendation would be to read during the night of Halloween.
CV: I would suggest three: "Maidenhair", "Night Wedding", and "The Door". Also, I'd prefer for people to purchase copies through Bookshop.org, since they support independent bookstores. Jeff Bezos is doing fine without us. Gracias mil!
Charlie, many thanks for granting this interview, and I hope we can meet 'soon' at one of our famous Bronx cuchifritos.
---
Charlie Vázquez is an arts consultant and author of Fantasmas: Puerto Rican Tales of the Dead (CV Publishing, 2020), a collection of horror stories inspired by family folklore. His work also appears in the graphic novel collection Ricanstruction (Somos Arte, 2018), which donates proceeds to hurricane relief in Puerto Rico. Vázquez's writing was included in Crashing Cathedrals (ITNA, 2019), an anthology featuring essays by authors on their favorite Edmund White books. He served as editor for the anthology DREAMing Out Loud: Voices of Undocumented Students (PEN America, 2019), as well as having edited the first two volumes of Bronx Memoir Project (BCA Media, 2014/2018). He's the former New York City coordinator for Puerto Rico's Festival de la Palabra and was awarded a Commendation from the City of New York in 2014 for his contributions to Latino literary heritage. He lives in the Bronx. Info/newsletter: www.charlievazquez.com