Save Our Storefronts (S.O.S.) call out until NYS takes action on commercial rent relief!!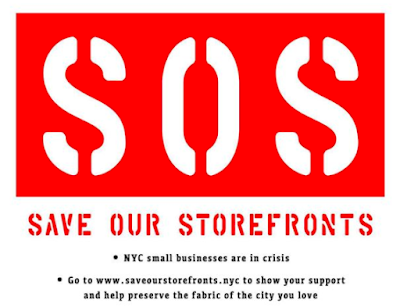 Join us to hear updates about the SOS emergency legislation NYS Bill S-8865 on Wednesday, August 19th, 11 AM
Introduced by NYS Senator Brad Hoylman to the NYS Senate, the bill calls on commercial tenants, landlords and the state to share the burden of the rent crisis. Assembly Member Harvey Epstein's same bill has been placed in NYS Assembly, but does not yet have a number. (We'll make that announcement as soon as we get it.)
The shared-burden model envisions an equation in which negatively-impacted commercial tenants can obtain a proportional amount of rent forgiveness from landlords, and landlords can then obtain a proportional amount of reimbursement from the state. The relief is effective retroactively from March 7th through 180 days past the lifting of the NYS on PAUSE orders. Read more about the proposal. We strongly feel that this shared-burden model is the most fair and practical way to ensure that we get through this crisis intact, together.
At next Wednesday's info session, we will:
Provide a platform to hear many concerns and questions from small business owners and supporters.
Provide tools to help you contact your state representatives and move this emergency legislation forward.
Share information on how you can best spread the word around the state, thus building momentum to ensure a swift passage
Announce our plan for a rally and press conference to be held in compliance with distancing and mask mandates.
Working together, we will find a way to create urgency around this matter and insist that our representatives act decisively. Your story matters to us. The set-backs you are facing are impacting us all. Please join us and add your voice to the fight for rent relief.