Belarus protests: Women line the streets of Minsk to protest Lukashenko's crackdown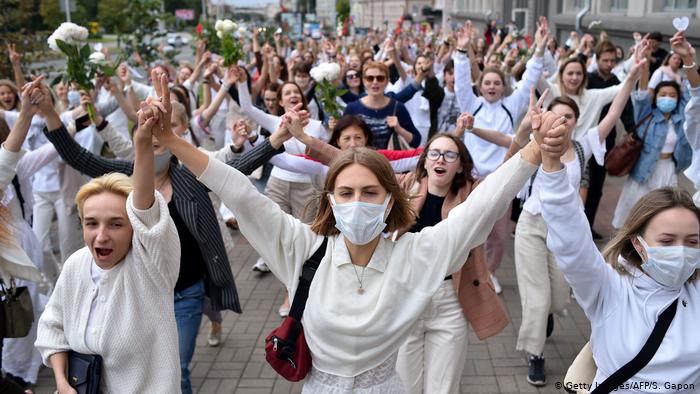 Brutal police crackdowns in Belarus prompted hundreds of women to protest in Minsk. France's Emmanuel Macron raised the issue of "violence" with Russia's Vladimir Putin. The UN has joined the chorus of disapproval.
Hundreds of women took to the streets of Minsk on Wednesday to vent their anger at a crackdown enforced by President Alexander Lukashenko in the wake of protests in Belarus.
Across the Belarusian capital, groups of women dressed in white formed human chains, chanting "Shame!" and called on authorities to stop their violent suppression of protesters.
Some women came together outside a covered food market in Minsk, holding flowers in the air, while another crowd gathered outside a prison where protesters were being held.
Mass protests erupted in cities across Belarus on Sunday after official exit polls showed Lukashenko was on course for reelection. The president's opponents claim the election result was rigged and global leaders, as well as the EU, have expressed skepticism over the validity of the vote. On Wednesday, the government confirmed one of the protesters died after police detained him on Sunday, claiming that the 25-year-old's health "suddenly worsened" while he was in jail. The authorities previously said another man lost his life, allegedly when an explosive device he was attempting to throw at the police exploded in his hands.