New Sentencing Dates for Kings Bay Plowshares 7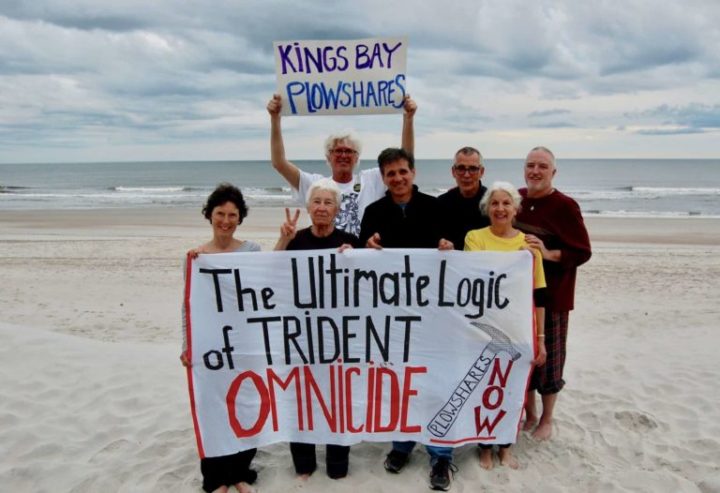 The remaining six Kings Bay Plowshares 7 defendants were granted a continuance for sentencing by
Judge Lisa Godbey Wood of
the Southern District Federal court
of
Georgia
in Brunswick from the end of July until
September 3rd and 4th. Due to spikes in COVID-19 cases in GA and ensuing travel restrictions the anti-nuclear activists
had
asked the court to further postpone sentencing
to
accommodate
their right to be sentenced
in person
in open court, not by video,
witnessed
safely by family, supporters and the press.
The new sentencing dates and times are September 3rd: Carmen Trotta at 9 am, Fr. Steve Kelly at 1 pm, Clare Grady at 4 pm. On September 4 will be Mark Colville at 9 am, Patrick O'Neill at 1 pm, Martha Hennessy (granddaughter of Dorothy Day who co-founded the Catholic Worker movement) at 4 pm. It is possible that there will be further delays depending on the course of the virus over the next month. We will try to keep you updated as we find out more as that time approaches.
The defendants had asked for home confinement during this time of COVID-19, as entering prison, especially for those over 60 years of age with health issues, could be a death sentence. Their request was opposed by the prosecution and the probation department which argued the charges involved a threat to human life (their own) by entering a restricted zone on the base where lethal force is authorized. This would raise the level of the offense and make them ineligible for home confinement. Judge Wood upheld this interpretation in the first sentencing of
Elizabeth McAlister on June 8. At 80 years-old, the eldest of the KBP7 defendants and widow of Phil Berrigan, she was sentenced by video conferencing while at her home in Connecticut. Liz had served over 17 months before trial. The judge
agreed with the
US attorney's request for a
sentence of time served plus 3 years supervised probation and restitution at $25 monthly (of $33,000 owed by all 7 jointly).
We are still urging people to write to Judge Wood not so much to ask for leniency but for justice and not a death sentence. Details are on the website: https://kingsbayplowshares7.org/2020/05/letters-to-judge-wood/

For the momentous 75th Anniversary of Hiroshima and Nagasaki there will be numerous events happening physically and virtually around the world. We urge you to participate as you can to say no to nuclear weapons. The world is lurching towards a new nuclear arms race and treaties to limit them are being discarded. Trillions will be spent on new submarines and new weapons while the coronavirus is ravaging people throughout the world with limited resources available to stop it. Nevertheless there are some signs of hope. The Treaty on the Prohibition of Nuclear Weapons has been ratified by 40 of the 50 nations needed for it to go into effect. Pope Francis has condemned even the possession of nuclear weapons for deterrence as no longer justifiable although the U. S. Church has quite a way to go to catch up.
U.S. vigils and actions are listed on The Nuclear Resister website. http://www.nukeresister.org/future-actions/ Groups normally planning civil resistance on Aug. 6-9 are adjusting plans, with some canceled. Some civil resistance actions, with risk of arrest, are still happening.
The defendants will be participating in local events.
Clare Grady will walk with Buddhist Nun, Jun San, in Ithaca, NY on August 1 at 12 noon. Beginning with a circle next to the pavilion just north of the Children's Garden it will follow the Water Trail loop going north and back for first 3 miles and possibly on up West Hill, totaling approximately 6 miles.
Patrick O'Neill will participate in a remembrance and repentance service on Zoom at 7:30-8:30 am ET on August 6. Details will be on the KBP7 website.
There will be a vigil at the Kings Bay base on the morning of August 6, 10am-1pm. And a Zoom event that evening, #Blacklivesmatter and the Bomb, 7-8:40pm, with Professor Vincent Intondi. Details for both at:https://www.nonukesyall.org