Tsuru for Solidarity Calls for Immediate Humanitarian Release of Immigrant Families and Children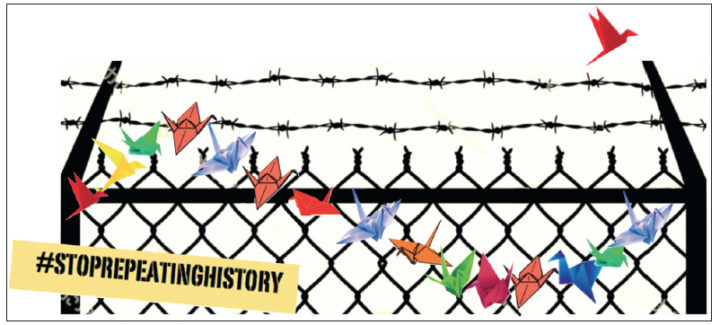 On Wednesday, May 20, US District Judge James Boasberg will have the opportunity to bring justice to thousands of families and children imprisoned in Family Residential Centers by granting their release in response to the lawsuit O.M.G. et. al. v. Wolf. These families, with minor children, continue to be held in violation of the Flores Settlement and at great danger to their health as COVID-19 infections spread through the prisons.
David Inoue, JACL Executive Director, will represent Tsuru for Solidarity, to call for Judge Boasberg to release detained immigrant families for their health and safety and in compliance with the Flores Settlement.
Wednesday, May 20, 2020, 10:00 am EDT
John Marshall Statue, John Marshall Park
next to the E. Barrett Prettyman United States Courthouse
333 Constitution Ave NW, Washington, DC 20001
Tsuru for Solidarity is a nonviolent, direct action project of Japanese American social justice advocates working to end detention sites and support front-line immigrant and refugee communities that are being targeted by racist, inhumane immigration policies. We stand on the moral authority of Japanese Americans who suffered the atrocities and legacy of U.S. concentration camps during WWII and we say, "Stop Repeating History!"
###
The Japanese American Citizens League is a national organization whose ongoing mission is to secure and maintain the civil rights of Japanese Americans and all others who are victimized by injustice and bigotry. The leaders and members of the JACL also work to promote cultural, educational and social values and preserve the heritage and legacy of the Japanese American community.