Demand that Financiers Divest from Fossil Fuels and Deforestation
This post is also available in: German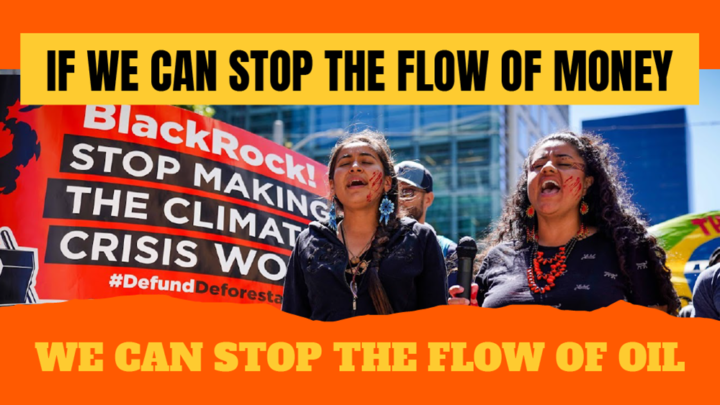 It's undeniable—Wall Street is fueling the climate crisis. And today, Thursday April 23rd, Earth Week NYC is teaming up with the national Stop the Money Pipeline Coalition to demand that J.P. Morgan Chase and BlackRock, two of the biggest Wall Street financiers of climate destruction, divest from fossil fuels.
Simply put, if we can stop the flow of money, we can stop the flow of oil.
Check out the National Earth Day Live digital livestream to hear directly from  New Yorkers who have been impacted by, or are directly vulnerable to, the fallout of our global climate crisis. Tune in to view these Earth Week NYC segments at 12:30PM, 2:30PM, and 6:30PM. Each spokesperson will invite viewers to engage in an action you can take from home: call Wall Street CEOs, send a message to BlackRock, move your money, and/or join GreenFaith in a virtual pray in for the earth.
These are just some of the many ways you can participate today and make your voice heard! In addition, make sure to join our Social Media Swarm, which is taking place all day. Take a look at the toolkit for further instructions and resources.
Corporate finance giants like J.P. Morgan Chase and BlackRock are destroying our ecosystem. Join us today to fight back and hold Wall Street accountable by demanding a future that invests in a Green Stimulus Plan and a Green New Deal. The time is NOW!